What do you know about Beyoglu in Istanbul? Important Information
Important information about the Beyoglu district in Istanbul. Explore Beyoglu's features, living, investment, and ownership. 2021-01-12
Last update
2021-09-16
What do you know about Beyoglu in Istanbul? Important Information
Information about Beyoglu district in Istanbul
Beyoglu is one of Istanbul's most important districts. It is a tourist destination for art, culture, tourism, and entertainment. Its name means "The Regional Patriarch's Son." Beyoglu was also named " Pera" at the Byzantine Empire, meaning "the opposite seashore."
Where is Beyoglu located in Istanbul?
Beyoglu is located on the European side of Istanbul, between the southern part of the Bosphorus and the golden horn, dating back to 4500 years. It is a mosaic collection of Byzantine, Arabic, and Ottoman civilizations, mainly in Galata and Pera. It holds the independence street. Beyoglu is 42 km to Istanbul Airport and 48 km to Sabiha Gokcen International Airport.
Features of accommodation in Beyoglu
Beyoglu captures the hearts of Istanbul people and tourists as it embodies Istanbul's secret, economic strength, and cultural identity. Beyoglu is one of Istanbul's most prominent monuments, the first destination for each tourist, and the renewed journey for Istanbul inhabitants and visitors as it has remarkable beauty and a memorable atmosphere, with distinct buildings, restaurants, and markets. It holds Istanbul's liveliest district, Taksim, and connects to the most famous neighborhoods nearby, such as Besiktas, the independence street, Kadikoy, and the golden horn bay. It has a wide variety of transport lines, connecting it to Istanbul's districts. It is one of the most well-known transport nodes leading to TEM and E5 highways.
Explore the best choices for accommodation and ownership within the residential complexes in Istanbul.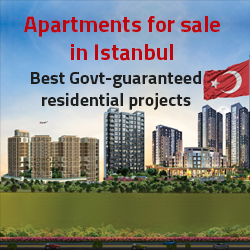 Beyoglu's Best Places
1. Taksim Square
Taksim had a remarkable status in Istanbul since ancient times as it was a center for distribution water to Istanbul's neighborhoods, gaining its name. Now, Taksim Square, Istanbul's lively heart, is a destination for tourists who like to explore history and modernity, enjoy shopping and commercial shops. A mosque is being built nowadays there.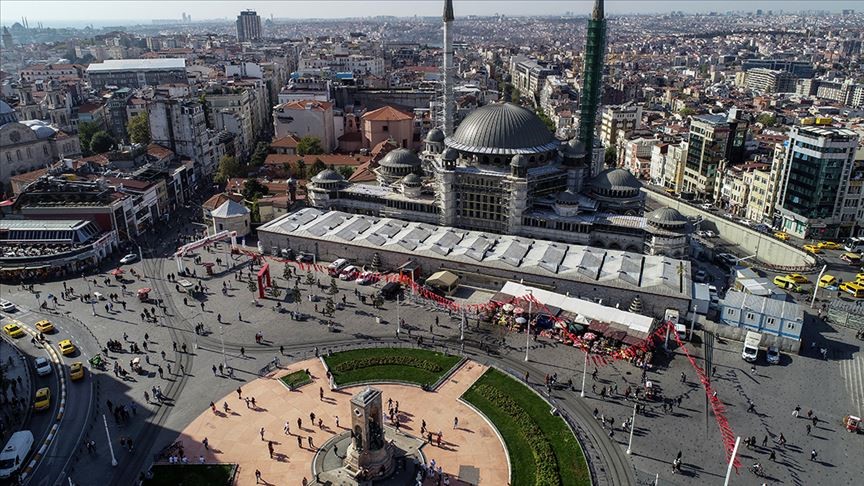 2. Independence Street
It is one of the most famous and popular streets in Istanbul and Turkey. It is about 3 km. It has historical buildings, clothes shops, libraries, showrooms, and theaters. Millions of people visit it daily to enjoy the historical tramway and taking pictures—the tramway dated back to the Ottoman Empire in 1875. The street holds a group of embassies and consulates such as the German, American, French, British, and Roman consulates, not to mention the most popular restaurants with the most delicious Turkish cuisine.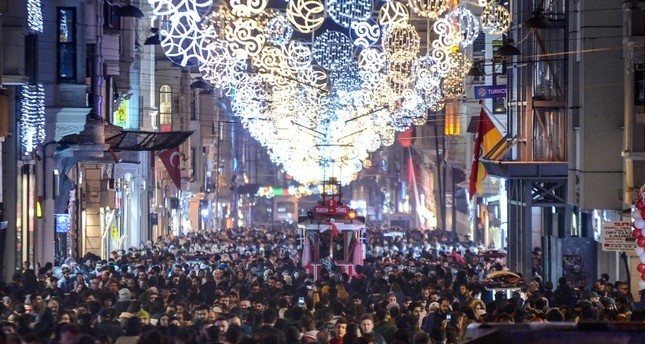 3. Flowers Alley
It is one of Beyoglu's oldest inhabitant places. It turned into a street for selling flowers; it is a destination for all people. This street has a long story, started in Noam theater for performances, music, and plays. This theater was visited by Sultans and princes such as Sultan Abdul Hamid II and Sultan Abdul Aziz. It used to be a street for nightlife before the Beyoglu fire destroyed it in 1879.
The alley is one of the most tranquil and elegant streets as it turned in 1945 into a place for cafes and restaurants serving Ottoman food. Restaurants have the best chefs ever.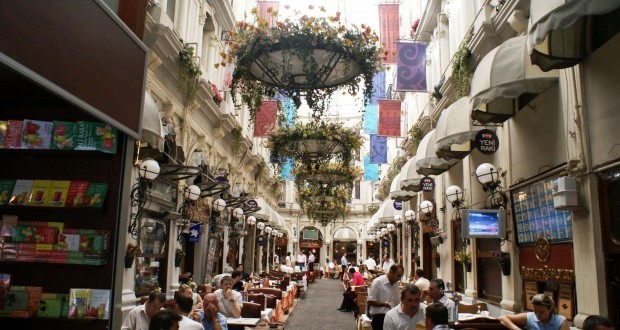 4. Galata Tower
It is known as the tourist compass. The tower enables you to embrace Istanbul's charm, providing a panoramic view of the city as it is 67 meters high. It is a tourist attraction and one of the most ancient towers. The tower was built in the medieval ages. It is located in Taksim, with nine floors. The first seven floors can be accessed by elevators; the next two floors can be accessed on foot. A restaurant and a circular balcony are viewing many of Istanbul's districts on the ninth floor, such as Fatih, Eminonu, Uskudar, Taksim, and the Marmara Sea. The tower is managed by a private tourism company for organizing and facilitating tourist visits.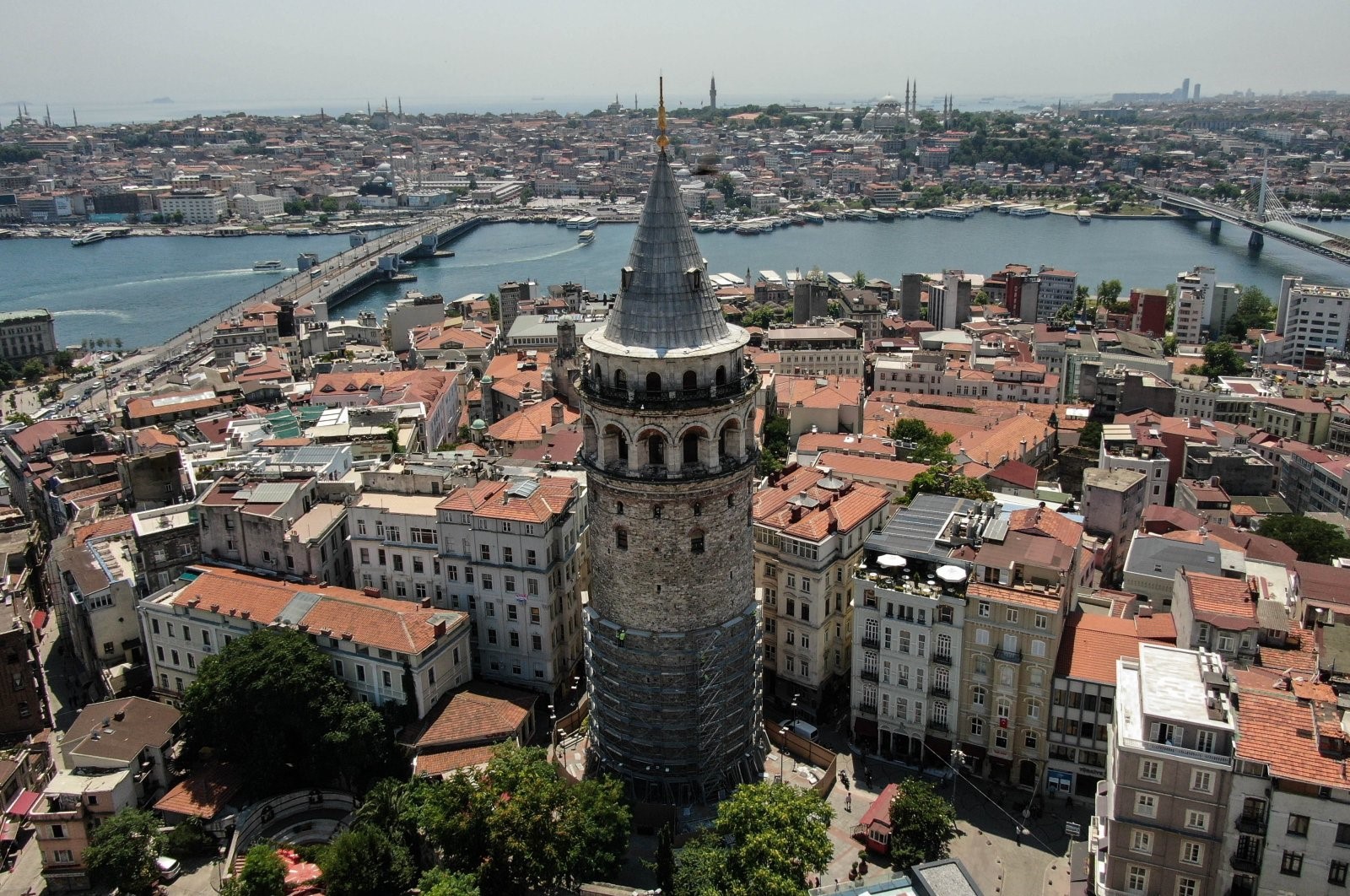 5. Kamer Hatun Mosque
It was named for the Ottoman Sultan Suleiman 1's wet nurse "Kamar Hatun." The mosque was built in 1511 on a 223 m² area. It accommodates about 150 worshipers. It has stone walls, a wooden ceiling with a lead layer, and turquoise tiles around the windows.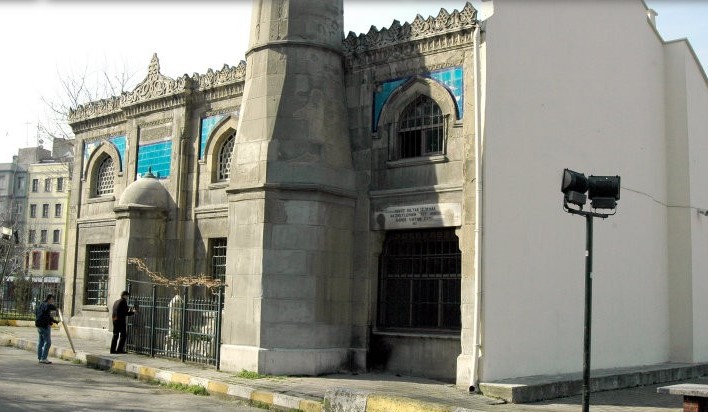 Schools and Universities in Beyoglu
Beyoglu district has a wide variety of educational centers such as schools, institutions, and universities. The education process includes kindergarten, primary, and middle levels. There is a wide variety of public and private schools, such as Galatasaray high school, the most popular school in Turkey, and the German school in Istanbul, a German private high school established in 1868. Not to mention Imam Hatip religious schools such as Beyoglu Anadolu high school.
As for universities, the strategic location of Beyoglu made it close to many major universities such as Beykent University in Taksim, Mimar Sinan University for Fine Arts, Fatih and Istanbul universities in Fatih district, Galatasary University in Besiktas, and the Bosphorus University in Besiktas.
Beyoglu's Infrastructure
Beyoglu is a lively district, full of shops, gardens, buildings, public hospitals, markets, transport, restaurants, luxury hotels, and social facilities, providing all modern demands of residents and visitors.
Features of Investment in Beyoglu in Istanbul
Investment and property purchase are significant in Beyoglu due to its lively and strategic location, giving a chance for ownership and investment in Istanbul. As there are many tourist attractions in the district, investment opportunities increase, such as property, shops, restaurants, and hotels. The district has a wide variety of Turkish and international schools and close to Istanbul's major universities and central areas of Istanbul, such as Fatih, Sisli, and Besiktas.
You can explore apartments for sale in Beyoglu Istanbul. For more information, contact us; our team is here to help you.
It is worth noting that Turkey's investment citizenship program makes one of the most suitable offers for obtaining Turkish citizenship by real estate ownership in Turkey. Investors can get the Turkish passport in three months by investing $250.000. The property owner can rent it out or sell it after three years with high financial returns.
Features of Purchasing an Apartment in Beyoglu in Istanbul
As Beyoglu has the most tourist attractions in Istanbul, it became the ideal address for a lively high-class lifestyle and a wise choice for investment regarding high profit gained by real estate investors. Beyoglu is one of the preferable places for purchasing properties as it holds historical buildings and lively streets for entertainment seekers and convenient transport to Istanbul's areas.
For more information about other districts, check the following:
Edited by Imtilak Real Estate
Did you like our topic? You can share it with your friends.