Buying an apartment in Trabzon 2022: procedures and most important tips
Do you want to buy an apartment in Trabzon? Learn with Imtilak Real Estate the best areas for buying an apartment in Trabzon, and the best offers available. 2022-04-25
Last update
2022-06-14
Buying an apartment in Trabzon 2022: procedures and most important tips
If you want to buy an apartment in Trabzon, but do not know the most suitable areas to buy apartments in Trabzon, or you think of buying a cheap apartment in Trabzon, and thinking if there's a possibility of installments. This article will provide you with answers to all these questions, trying to complete and detail them.
Advantages of buying an apartment in Trabzon
With its strategic geographical location linking the Black Sea states, and the beauty of nature it contains, Trabzon is considered a major landmark, an important tourist center, and a popular real estate investment point these days.
Trabzon has gained a very advanced position among the cities that sell real estate in Turkey, and the volume of real estate investment in it has increased significantly, specifically by Arab investors.
Not only that but there are also important accompanying facilities such as schools, universities, mosques, hospitals, shopping malls, and modern, wide, and developed infrastructures to accommodate this demand for the city and its rapidly increasing growth.
Thousands of kilometers of modern land roads have been built following quality and safety standards, the infrastructure linking Trabzon International Airport has been expanded, and the number of direct flights between major Arab and foreign countries too and from Trabzon has increased.
The best areas to buy an apartment in Trabzon
With time, the increase in the number of investments and investors, in the areas prepared for buying an apartment in Trabzon is increasing, but some areas have advantages over others. Among these important vital areas, the pearl of tourism in the beautiful coastal area of Akçaabat, which is located east of the city of Trabzon and extends over an area of ​​358 km2.
It has all the necessities of a comfortable life, including a vast and advanced infrastructure, and service facilities according to the modern concept. Including Ortahisar district is in the center of Trabzon, and is considered its largest suburb. It contains many ancient historical monuments that express the city's originality and nobility throughout history.
This district is considered a magnet for tourists, due to its location and its green beauty on one side, and the presence of the finest streets and neighborhoods in it on the other.
As well as the Yomra area has a picturesque coastal view, which combines natural greenery and the blue of the clear sea, and has all the necessary services and public facilities.
It is about 15 km east of Trabzon, and its area is 207 km2. As for its climate, it tends to be cold, and its weather is predominantly humid due to its proximity to the sea. There are also vital tourist districts and districts that are no less important than the previous ones Arakli, Arsen, and Maçka.
Read also: Living In Trabzon Turkey - Advantages, Disadvantages And Costs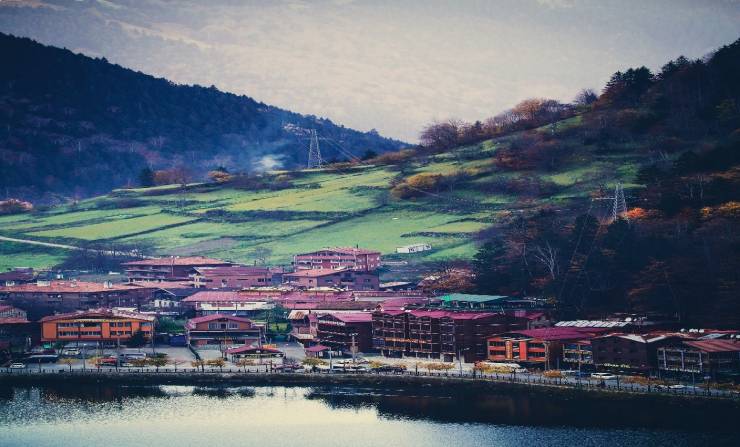 Steps and how to buy an apartment in Trabzon?
For those who want to buy a cheap apartment in Trabzon, or buy an apartment in Trabzon in installments, looking for the tips that help achieve this successful investment project, we offer you some of these specific recommendations for the implementation of this scheme.
Buy an apartment in Trabzon by the sea
For lovers of sea views, the flow of its waters, and the beauty of its clear and calm nature, the city of Trabzon, the bride of the Black Sea, is an important and strategic option. Akçaabat is a favorite sea destination for tourists because of the luxury projects of our company located in this seaside area.
These projects include the Star Residences project, Trabzon Kanuni complex, Sumela Complex, and Akcaabat Towers complex. For more details, you can visit the Imtilak website to check the appropriate offers for you.
Buying apartments in Trabzon in installments
Imtilak Real Estate company offers you the opportunity to pay in installments for vital and luxurious projects and complexes in the city of Trabzon, including those overlooking the sea, with well-thought-out and appropriate installment offers.
The prestigious Akçaabat Towers complex on the city's coastal strip includes a 24-month opportunity. As for the high-level Diamond complex project in Ortahisar, you can pay in installments by choosing one of three offers starting from 12 months up to 36 months. The high-class Lake Park project offers the option of paying in installments for a full year. For more installment options, you can visit the company's website and see the best prices and offers suitable for you.
Buying cheap apartments in Trabzon
If you compare Trabzon to Istanbul, for example, the prices will be significantly different from them. Despite the high price index in general, Trabzon remains lower than other important cities in terms of average prices. For example, in the luxurious Maria Residences complex located in the Ortahisar area, an apartment can be purchased for $33,000 by paying in installments for up to 24 months.
With a stunning sea view, a ready-to-hand-over apartment can be purchased for $34,000 within the Elite Residences project in the beautiful Arakli area.
Read more: Real Estate Prices In Trabzon 2022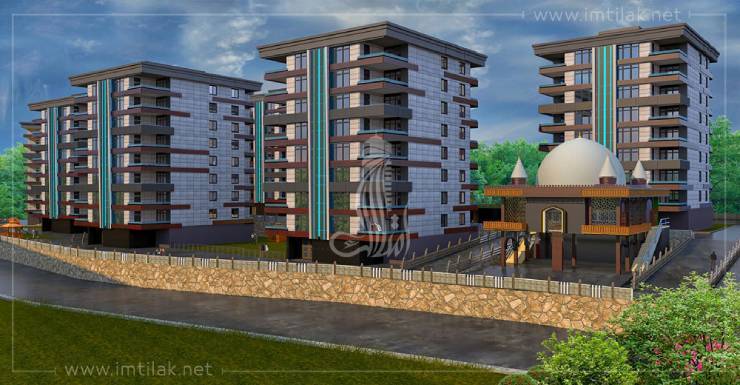 Important tips before buying an apartment in Trabzon
Since this step is one of the important ones and an important turning point in human life, Imtilak company offers you a set of tips before buying an apartment in Trabzon, including:
Study the allocated budget and whether to pay the amount in cash or in installments accurately before signing the purchase contract.
Verify the legal status of the required apartment, by reviewing the real estate registry, and making sure that the title deed belongs to the seller.
Executing the procedures of the ownership contract in the title deed institution only.
Make sure that there is no sign of seizure or mortgage on the desired apartment or property.
Verify the specifications of the property on the ground and their conformity with the submitted offer.
Availability of a real estate evaluation guide, as it is a necessary report to be able to sell the property or apply for Turkish citizenship.
Explore the location's environment and surroundings and accompanying services before purchasing.
Verification of infrastructure services related to the apartment complex or apartment.
Good knowledge before buying the divisions of the property and the possibility of making a change or modification.
Consult an expert and a specialist in real estate affairs to obtain clarification and valuable and necessary advice.
How does Imtilak Real Estate company help you choose the most suitable apartment in Trabzon?
Through a team specialized in real estate affairs, you can contact our representatives who are always ready to provide the advice you want or to check the best offers suitable for you or visit our website.
Edited by Imtilak Real Estate ©
Did you like this topic? You can share it with your friends now.