The Cheapest Neighborhood in Istanbul to Buy a Property
Are you looking for cheap property in Istanbul? Discover the best neighborhoods to buy real estate and save money on your dream home. Istanbul offers a wide range of affordable property for sale, from apartments in the Anatolian region to sea view flats. You're sure to find something that suits you!
Table of Contents
It may seem impossible to find a cheap house in Istanbul, but it is possible with careful research. It is important to take into account the location as well as the amenities in a neighborhood when making a decision.
Kucukcekmece
Kucukcekmece, a district of Istanbul located on the European side overlooking beautiful Kucukcekmece Lake is ideal for investment property due to its proximity to other important locations such as Avcilar or Basaksehir.
Kucukcekmece area is a great option for budget-conscious homebuyers. It offers a range of apartments from one to three bedrooms, with curving balconies, which take advantage of the views of Lake and Sea. There are also tennis and basketball courts and a private spa and gym.
Bakirkoy
Bakirkoy is located in European Istanbul and offers its residents a wide range of amenities. Bakirkoy is home to a botanical garden, an aquarium, and other facilities.
The price of apartments in Bakirkoy varies depending on the size, amenities, and views they offer. Those with sea views are generally more expensive.
The area is home to many shopping centers, including Carousel Mall and Galleria. There are also family-oriented malls such as Capacity.
Esenyurt
Esenyurt is a new district that has gained popularity in Istanbul due to its affordable and competitive property prices. It also offers projects with excellent value for money. Esenyurt's convenient location in Europe provides easy access to highways, public transport systems, and other amenities.
Related: Insightful Guide to Houses Prices in Istanbul.
Sisli
Sisli has become one of the most popular places to buy property in Istanbul. Sisli offers a wide range of properties, from luxury homes to apartments with breathtaking Bosphorus views. This central neighborhood has something for everyone. Sisli is also attractive for families because of its safe school district.
Bagcilar
Bagcilar is located on Istanbul's European Side. It has rapidly become a hub for investment. Bagcilar is attracting international investors because of its prime location and rental income potential.
Atasehir
Atasehir is one of Istanbul's most sought-after districts. It offers all the amenities necessary for a comfortable life.
Sariyer
Sariyer is one of Istanbul's more expensive and upscale districts. The area is known for the beautiful landscapes that line the Bosphorus coast and the Black Sea. This makes it a popular choice for wealthy residents. This is not likely to be the most affordable option.
Check out our offers for the best apartments for sale in Sarier.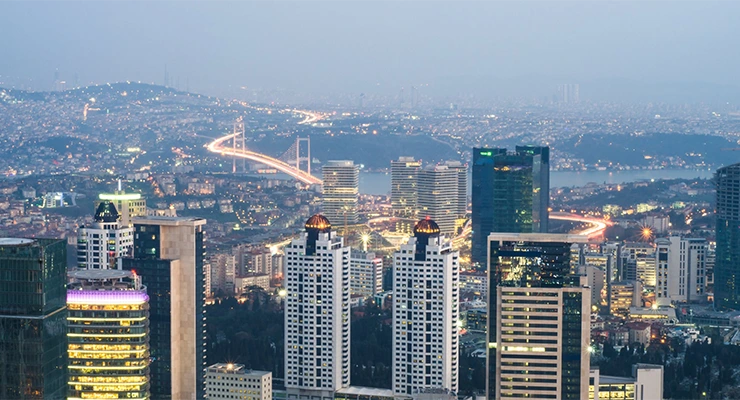 Arnavutkoy
Arnavutkoy area has undergone development in the last few years, despite being a traditionally quieter, less densely-populated area. The prices of properties may vary but they are generally more affordable than those in the city's most upscale areas.
Avcilar
Avcilar, another district in Istanbul's European side, is a place where you can find more affordable properties compared to the central neighborhoods. The proximity of the sea can affect property prices.
Esenler
Esenler, in general, is considered to be one of the most affordable districts in Istanbul. Esenler is located on the European side and contains both residential and commercial areas. Esenler's property prices vary, so you should research the specific districts or neighborhoods within Esenler to get the most accurate information.
Related: Living and Investing in Esenler Area.
How to Choose a Good Neighborhood in Istanbul?
Real estate experts advise that it is more important to focus on the neighborhood than to find a house that meets all your requirements. A house can be fixed and updated, but its location, the feel of the neighborhood, or the neighbors cannot.
Safety
Many homebuyers place safety at the top of their list when selecting a good neighborhood. A low-crime area is not only safer but also helps to keep property values high in the future.
School District
Many families look for a good school district when they are looking for a new home. How can you tell if a district is "good?"
Commute to Work
It is important to think about where you want to work and live, especially if you are looking for a shorter commute. If you don't want to drive yourself, or if it is something that you would rather avoid, consider other transportation options, such as light rail or metro transit buses.
Lifestyle
Couples starting a new family will have different needs in their ideal neighborhood than empty nesters who are looking for a more relaxed pace of living. You should pay attention to amenities such as parks, open spaces, trails, and the proximity of shopping, dining, and local attractions.
Find Affordable Property with Imtilak
It doesn't cost a fortune for you to own your home. There are many low-priced houses on the real estate market. It is enough to hire a local agent with experience. Imtilak, a well-known agent who offers multiple services for clients to discover their dream homes, is one of the most reputable agents. Our website offers thousands of properties at competitive prices. Our team of experts will be more than happy to answer any questions you may have and offer advice. Get a free consultation about your future home by contacting us today.
Edited by Imtilak Real Estate ©
Do you like this topic? You can share it with your friends now!