Everything you Need to Know about Turkey
Important information and a research on Turkey: the location, borders, weather, religion, language, cities of Turkey, its population, tourism, nature, and investment in it. 2015-07-12
Last update
2023-01-11
Everything you Need to Know about Turkey
Table of Content

Official name: Republic of Turkey.
Capital: Ankara
The system of governance: Parliamentary democratic.
Population: 76 million
Labor force: Up to 26 million.
Median age (years): 30
Official language: Turkish
Area: 783 million sq. km
Time zone: GMT +2
Border countries: Syria and Iraq to the south. Iran, Azerbaijan, Armenia, and Georgia to the east. Bulgaria and Greece to the west. Russia and Ukraine to the north.
Turkey's Largest Population Cities
Istanbul: the European Capital of Culture in 2010. Population, in 2013, was 14.16 million.
Ankara: has been selected to be the Capital of Europe for 2010. The population is 5 million.
Izmir: the total population is 4 million.
Bursa: the total population is 2.7 million.
Adana: the total population is 2.1 million.
Dialing code: 0090
Official Currency: Turkish Lira (TRY).
Commercial and economic center: Istanbul.
Gross Domestic Product (GDP) for 2013: up to 2 trillion Turkish Lira, which is about $ 900 billion US dollars.
Gross Domestic Product (GDP) per capita in 2013: 40 thousand Turkish Lira, which is about $ 18 thousand US dollars.
Exports in 2015: 432 billion Turkish Lira, $ 144 billion US dollars.
Imports in 2015: 648 billion Turkish Lira, about $ 218 billion US dollars.
Incoming from tourism: 35 billion US dollars.
Number of tourists in 2015: 36 million.
Foreign investment in Turkey: 15 billion US dollars.
Number of foreign companies in Turkey: 40 thousand companies.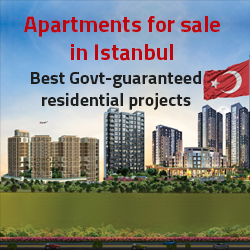 Major Export and Import Markets:
First: Import markets: Russia 11% - Germany 9% - China 9% - United States 6% - Italy 6% - Iran 5%.
Second: Export markets: Germany 9% - Iraq 7% - Iran and Britain 6%- United Arab Emirates 5% - Russia 4%.
In addition to the fact that Turkey is an industrial and commercial country, Turkey is a remarkable destination for visitors and tourists from all over the world who want to enjoy beautiful sceneries like waterfalls, forests, or beaches. Furthermore, Turkey is also distinguished by its historical and archaeological heritage that goes back to the Byzantine era as well as the Ottoman era, which could be still noticed clearly in the mosques designs.
Over and above, Turkey is distinguished by its wonderful markets and luxury restaurants that offer delicious unforgettable food. It is really a heaven on earth, and for that, the investment in Turkey became a destination for Arab investors.
Weather in Turkey
Almost all of the areas of Turkey are covered in green. The climate varies according to the nature of the area, and the temperatures range between 20 and 30 degrees Celsius in the summer, 10 to 15 degrees in the autumn, 13 to 20 degrees in the spring, and it reaches zero in winter in some areas and -15 degrees in others.
In many cities in Turkey, recreational activities are offered to visitors and families through recreational facilities like zoos, quiet parks, theaters, sports games, and various games for children. There are also clubs for children supervised by specialists where entertainment programs are organized. Concerning the tourist programs, visits to public parks, waterfalls, caves, and beautiful bays are provided.
Turkey is a peninsula surrounded by many of seas, and its lands consist of plains with altitude average ranging between 1000 and 1500 meters above the sea level. The special thing is that there are many streams of water amazingly flowing from these plains to pour finally into the sea.
Nature in Turkey
There are many waterfalls in Turkey such as "Kurşunlu Waterfall" which is, by many, considered as one of the most beautiful waterfalls, and actually, it is located just 20 minutes from the city of Antalya on the Mediterranean Sea. Other famous waterfalls are "Manavgat Waterfalls,'' 75 km from Antalya. Near these waterfalls, there are tea gardens and shades of restaurants. You can take a lovely trip here along the ''Manavgat'' River to watch the falling water.
As for the plains, they are numerous and the most famous are those of the Black Sea and the Mediterranean Sea. Turkey has paid interest on the construction of many tourist cities in the Taurus Mountains where rural homes that provide for visitors and families the opportunity to enjoy the beauty of nature and the wonderful weather.
For adventure lovers, Turkey provides the opportunity for climbing and exploring the marine and mountain caves, taking trips on ox carts, in addition to horseback riding, yachting, boating, diving, water skiing, and finally fishing.
There is also an opportunity for golf lovers to practice their hobby here in Turkey. Moreover, air sports, such as flights, hang-gliding, and balloon rides are also available. Moreover, in winter, you can go ice skiing on the Uludag Mountains, near Bursa, which are snow-covered nearly half of the year.
All that makes real estate in Turkey the dream of many people and for that, Imtilak Real Estate backups its customers with all needed advice and help to ensure that they would choose the most appropriate in accordance with their requirements.