Detailed information about Alanya, Turkey
Learn in detail about the city of Alanya, Turkey. Important information about Alanya's history, location, weather, and beauty. Learn about tourism in Alanya and its most important characteristic. 2021-08-24
Last update
2023-03-22
Detailed information about Alanya, Turkey
Information about the city of Alanya, Turkey
History of Alanya
Alanya overlooks the Mediterranean Sea and is bordered by a coast of great beauty and purity on three sides, which made it a peninsula geographically.
Turkish historical sources say that Alanya was inhabited by the Romans as its first inhabitant, then the Byzantines, the Seljuks, and finally the Ottomans, until today it has become one of the most preferred places for foreigners, especially Europeans, to live and reside there thanks to its strategic geographical location.
Weather in Alanya
The climate is considered temperate, with hot summers, but moderate, and in winter it is warm and rainy.
Where is Alanya located?
It is one of the towns of the tourist city of Antalya in southern Turkey. it is also the capital of recreational tourism not only in Antalya but in all of Turkey, 132 km away from the city of Antalya.

A Glimpse of Alanya's Beauty
"Alanya" is the first destination for tourists and is called the jewel of the capital of Turkish tourism, as its coast of great beauty and purity attracts Arab and foreign visitors, and the Alanya district is distinguished by its important historical monuments and monuments.
Tourism in Alanya and its most Beautiful Tourist Places
Beaches
Cleopatra Coast: It is a very beautiful coast, its sand is golden and its waters are bright blue.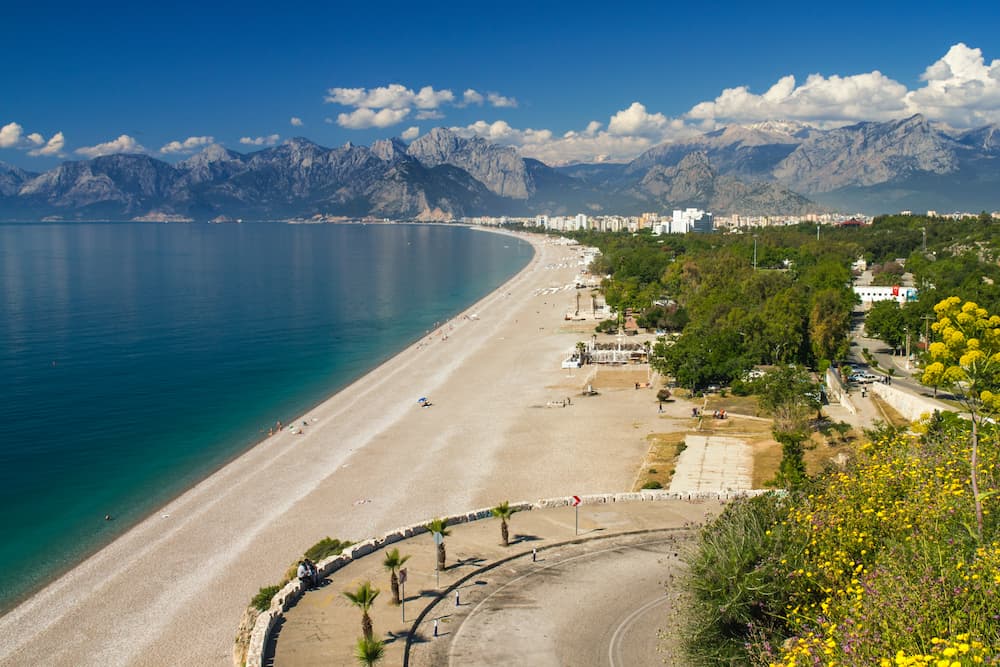 Markets
Alanium Mall: It is a small 3-story mall that provides the possibility to shop for essential needs.
Time Center: It is larger than the Alanium Mall, and is located on two floors. It has stores selling clothes, perfumes, and accessories, along with a supermarket and fast-food restaurants.
Mega Mall: It is a huge commercial market located on the road between the cities of Alanya and Antalya, and it has everything that families need from local and international brands to electrical and electronic household appliances
Castle
It is a Seljuk castle built by the Seljuk leader "Aladdin Kay Kubat" in the thirteenth century, with the aim of providing protection for the city. It consists of 83 facing towers and 140 watchtowers.
The castle has regained its original beauty and prestige, during a huge restoration process that the Turkish government worked on in a manner that takes into account its historical architectural characteristics.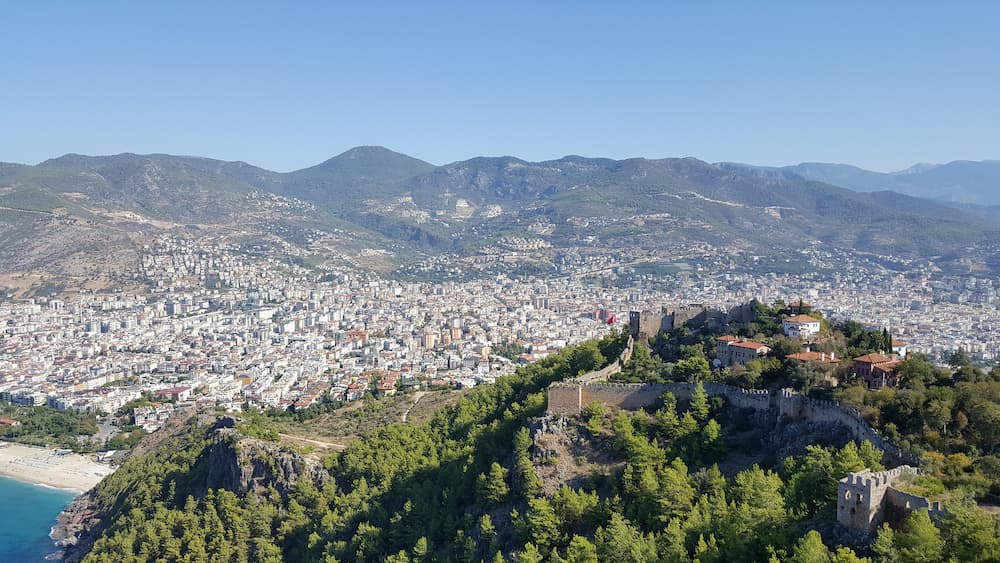 Museum
Since the opening of the Alanya Museum in 1967, The Turkish government has made sure to provide it with all the historical and architectural monuments of the many ancient civilizations that have settled Alanya throughout history, and visitors can access it through slightly priced tickets sold at its gate on arrival.
Infrastructure in Alanya, Turkey
The infrastructure is high in Alanya, thanks for being a  favorite tourist destination, which makes it an integrated service of commuters, parks, shopping centers, medical centers, and universities.
Education in Alanya: universities and schools
There is "Alanya Alaaddin Keykubat" State University, which was established in 2015, and provides qualified higher education in an international educational environment, as it includes eight faculties: (Business, Engineering, Medicine, Education, Tourism, Sports Science, Health Sciences and Dentistry), in addition to three faculties (Sciences, Social sciences, Health sciences).
It also has a number of public and private schools covering all levels of education.
Hospitals and health in Alanya, Antalya
There are state hospitals in the region, and a good number of private hospitals such as (Medical Park - Alanya Life) and health centers that provide high-quality treatment services and within professional medical cadres because the region is famous for medical tourism that is visited by Arabs and foreigners.
Is Alanya Special for a living?
It is particularly special to live because large numbers of European tourists who came to it for their holidays have preferred to continue to stay in the judiciary after being impressed by its natural beauty and historical monuments because all of it encourages stability.
Today's official figures indicate that Alania has approximately 33,000 foreigners, coming from more than 80 countries around the world.
You may also want to read about: Alanya Real Estate Investment: Your Path To Financial Security.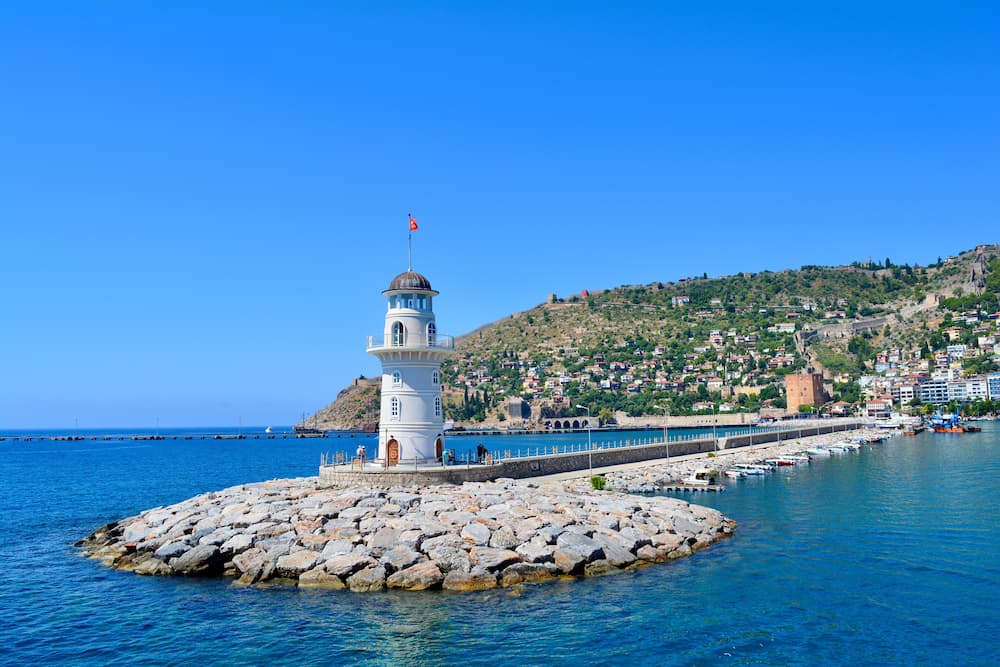 Frequently Asked Questions About Alanya, Antalya, Turkey
Alanya has an area of ​​1,582 km2
Alanya is 835 km from Istanbul.
Alanya is 523 km from the capital, Ankara.
Alanya is 1150 km from Trabzon.
Alanya has a population of 333,000, with foreign residents making up nearly 10% of the district's population, according to recent official statistics.
Edited by Imtilak Real Estate©
Did you like this topic? You can share it with your friends now.