Information about Turkey
In this detailed article, we provide information about Turkey that concerns the investor, the resident, and the newcomer, and sheds light on the various aspects of life and the most important information about Turkey and its cities, its economy and its rise... In this detailed article, we provide information about Turkey that concerns the investor, the resident, and the newcomer, and sheds light on the various aspects of life and the most important information about Turkey and its cities, its economy and its rise.
Map of Turkey in English
Turkey is officially known as the Republic of Turkey, located in the Middle East. It is bordered to the north by the Black Sea and Georgia, to the east by Armenia and Iran, from the south by Iraq, Syria and the Mediterranean Sea, with maritime borders with Cyprus, and from the west by the Aegean Sea, Greece, and Bulgaria. It is a member of the Black Sea Economic Cooperation Organization. The map below provides information about the Republic of Turkey, which is simplified by figures, statistics, and facts.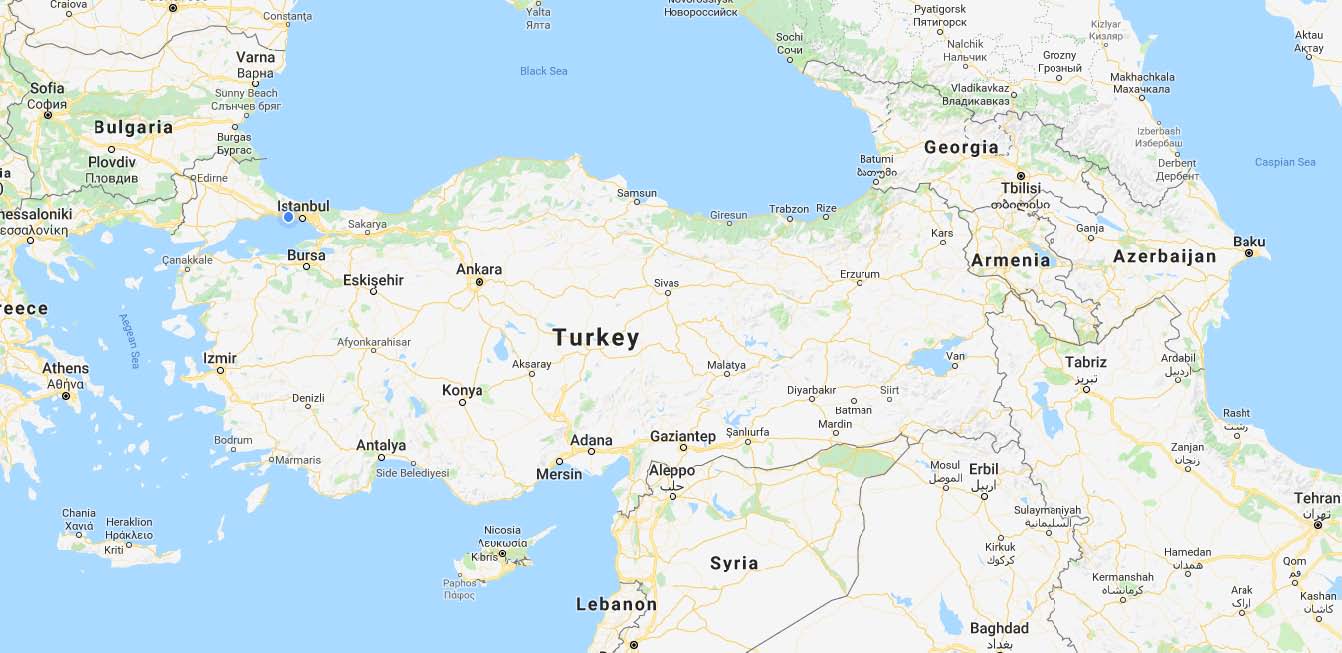 Facts and figures about Turkey
Official Name of Country

Republic of Turkey

Capital City

Ankara

Government

Presidential System of Government

Population

80.8 million (2017)

Labor Force (Population)

31.6 million (2017)

Median Age

31.7 (2017)

Official Language

Turkish

President

Recep Tayyip Erdogan

Area

783,562.38 km²

Coordinates

39° 55' North, 32° 50' East

Time Zone

GMT +2

Neighboring Countries

Bulgaria, Greece, Syria, Iraq, Iran, Azerbaijan, Armenia, Georgia

Major Cities (Population)

Istanbul (15.0 million), Ankara (5.4 million), Izmir (4.3 million), Bursa (2.9 million), Antalya (2.4 million) (2017)

Climate

Temperate; hot, dry summers with mild, wet winters

Telephone Code

+90

Country Code Top-Level Domain

.tr

Electricity Voltage

220 V, 50 Hz

Currency

Turkish Lira (TRY)

Financial Center

Istanbul

GDP

USD 851 billion (2017-Current Prices)

GDP Per Capita

USD 10,597 (2017)

Exports Value

USD 157 billion (2017)

Imports Value

USD 234 billion (2017)

Tourism Revenue

USD 26.3 billion (2017)

Tourist Number

32.1 million (2017)

Foreign Direct Investment

USD 10.9 billion (2017)

Number of Companies with Foreign Capital

58,418 (2017)

Inflation Rate

11.9% (CPI-2017)

Major Exports Markets

Germany (9.6%); UK (6.1%); UAE (5.8%); Iraq (5.8%); USA (5.5%); Italy (5.4%); France (4.2%); Spain (4.0%); Netherlands (2.5%) Israel (2.2%) (2017)

Major Imports Sources

China (10.0%); Germany (9.1%); Russia (8.3%); USA (5.1%); Italy (4.8%); France (3.5%); Iran (3.2%); Switzerland (3.0%); South Korea (2.8%); UK (2.8%) (2017)

Trade Agreements

·         Customs Union Agreement with the EU

·         Free Trade Agreements with Albania, Bosnia Herzegovina, Chile, EFTA member countries (Switzerland, Norway, Iceland and Liechtenstein), Faroe Islands, Ghana, Kosovo, Lebanon, Egypt, Georgia, Israel, Jordan, Singapore, South Korea, Syria, Macedonia, Malaysia, Mauritius, Moldova, Montenegro, Morocco, Palestine, Serbia, Sudan, Tunisia

Traffic Flow

Right
Life in Turkey
Today people from around the world are moving to Turkey to start a new life, to start a new job, or even to feel comfortable after their retirement. The country has advanced significantly in various life conditions during the past few years.
Thanks to its unique geographical location and its rich and varied history, Turkey has become a livelier place for many of its visitors and residents.
But people usually seek to know about similar experiences from the experiments they will experience, and to all those seeking information about Turkey 2018 we want to reassure them that many have already taken advantage of the balanced lifestyle in Turkey, where their new inhabitants come from several European countries, the United States of America As well as the Arab Gulf countries, Thanks to recent amendments to
Turkey's property law
, which abolished the principle of reciprocity, foreigners now have the freedom to buy any property in Turkey, from
apartments
in city centers to suburban
villas
, and there are many options to choose from when looking for
properties in Turkey
.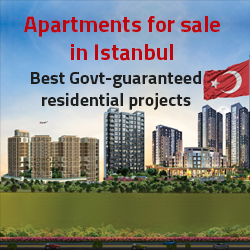 The larger metropolitan areas offer a more modern and integrated environment.
Luxury residences
offer all the daily comforts for its residents such as security, kindergartens, sports, and social facilities, parking lots and shopping malls.
We continue in the following headlines for more in-depth review of information about Turkey.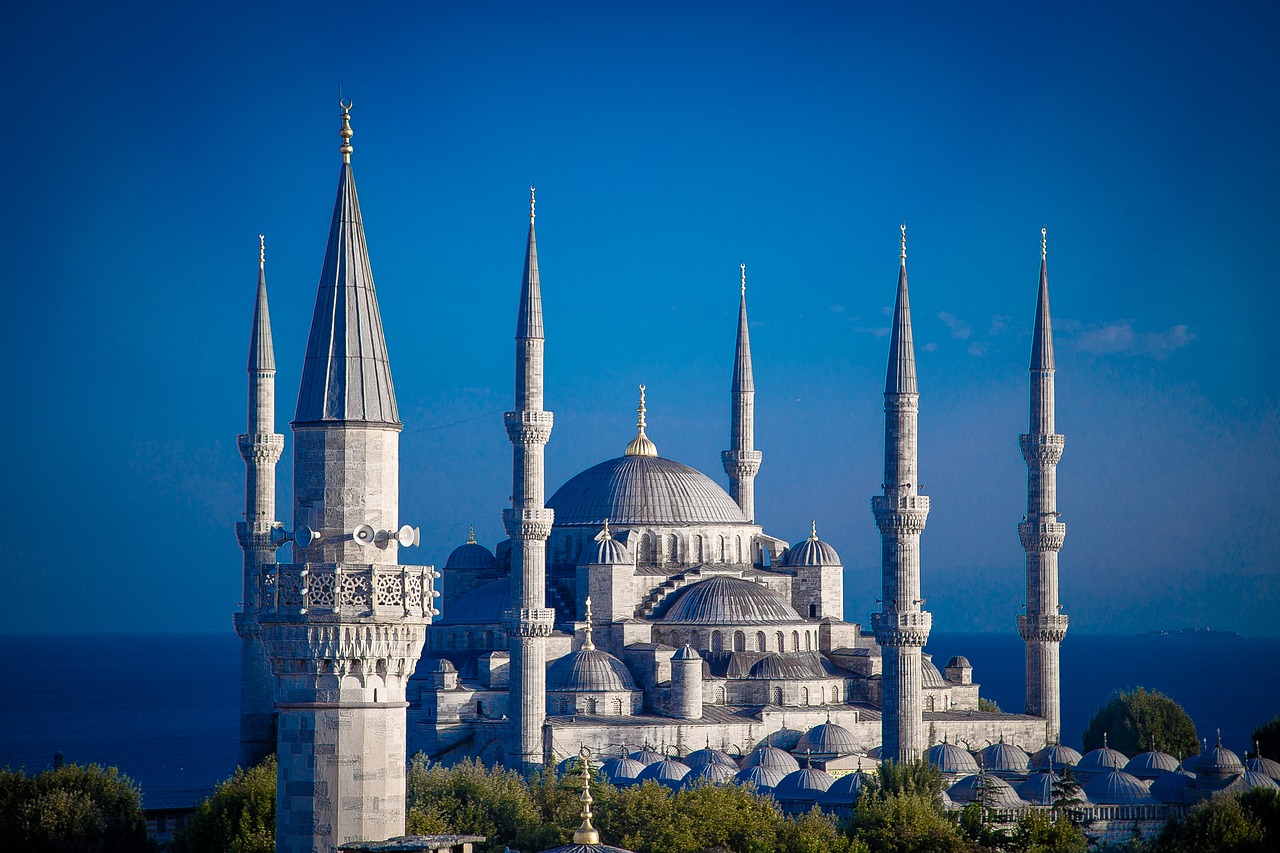 Transportation in Turkey
The transportation system in Turkey is able to take advantage of the country's highly developed infrastructure, with more than
56 airports across the country
, one can fly from one city to another in Turkey in less than an hour. The dual road network and the large highways have facilitated the movement from home to any major city in Turkey.
At the same time, the high-speed rail network has been improved rapidly in the past decade; Turkey's 14 largest cities are expected to be connected to high-speed rail lines by 2023, which marks the centenary of the Republic of Turkey.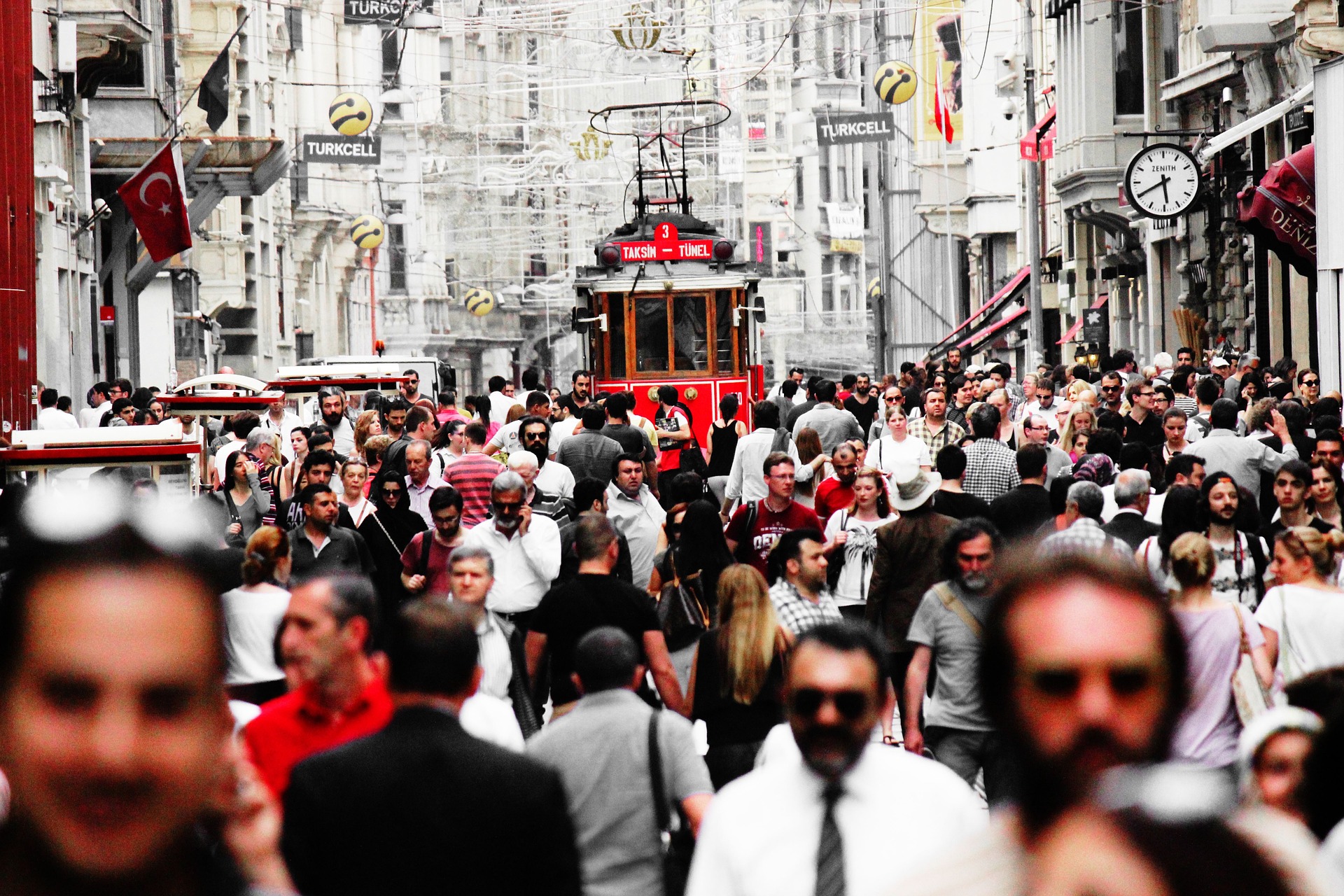 Education in Turkey
The education system in Turkey underwent serious reforms in the last decade, the most obvious is compulsory education now for twelve years, as well as the dramatic increase in the number of schools and other educational institutions. .Turkey has several private schools and primary schools, as well as public schools, In addition,
international schools
are available throughout the country in which only students from foreign passport holders can be enrolled.
Schools offering education are also available in other languages such as Arabic, English, German and French.
Our journey to explore information about Turkey is still full of information, Follow them in the following paragraphs...
Healthcare in Turkey
The health care system in Turkey deals mainly with three different types of hospitals: Governmental, university and private sectors. While social and health insurances are of course subject to the State, private health insurance can also be obtained at preferential prices.
Most
hospitals in Turkey
, both governmental and private, meet and even surpass international standards in the quality of equipment, facilities, and expertise.
Cultural events in Turkey
Individual and collective cultural activities capture the interest of people in Turkey, and countless options are available, such as Arts, hobbies, entertainment, and other recreational activities. One can find in all major cities major shopping malls such as
Mall of Istanbul
, cinemas, theaters, concerts, ballet, opera, and other kinds of cultural activities that await either participants or spectators.
The popularity of local festivals and traditional forms of recreational and marketing activities among the population is also increasing.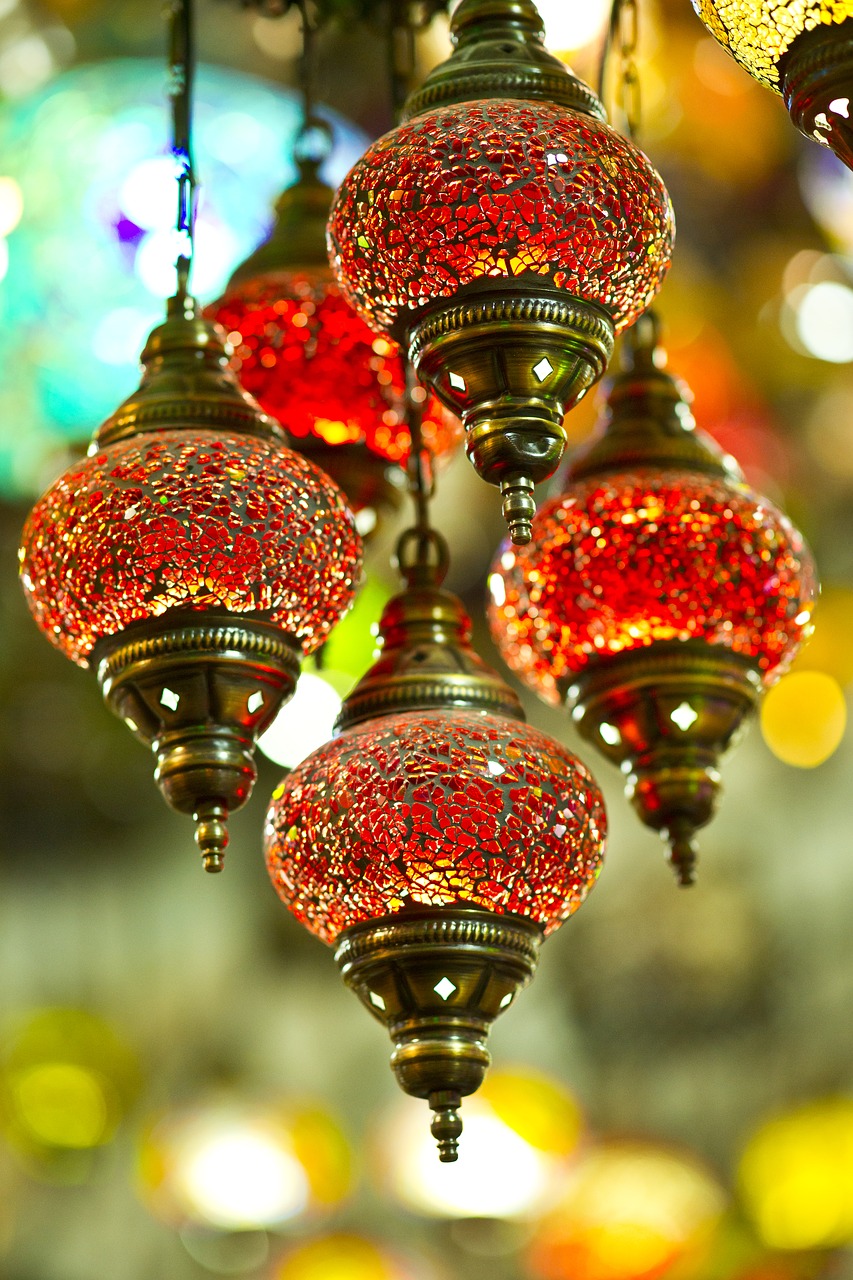 Sports in Turkey
The rich geography and favorable terrain of Turkey have made it an ideal place for alternative sports such as mountain climbing, golf, diving, kayaking, skiing, and sailing. Of course, popular sports such as football, basketball, and volleyball have unparalleled popularity by a large number of players and fans throughout the country.
Geography of Turkey
Situated in the eastern Mediterranean, Turkey is surrounded by three temperate seas and has a varied climate, so it is possible to go skiing in a mountain resort, after a sunbathing on the beach, during the same hours of the day!!
The next paragraph of this article deals with very rich and accurate, economic information about Turkey so follow it with us.
Economic Outlook
The
Turkish economy
has achieved impressive performance thanks to stable growth rates over the last 14 years. The macroeconomic strategy, prudent fiscal policies, and structural reforms have contributed to the integration of the Turkish economy globally, while the country has become a major destination for
the flow of foreign direct investment
in the region.
Average Annual Real GDP Growth Rate (%) 2003-2016:


Source: Quarterly National Accounts of the Organization for Economic Co-operation and Development (OECD) for 2017.
It is expected also that Turkey will be one of the fastest growing economies among OECD member countries between 2015 and 2025.
Forecasts for the average annual growth rate of real GDP (%) among OECD countries in 2015-2025 (In US dollars in 2010 according to purchasing power parity)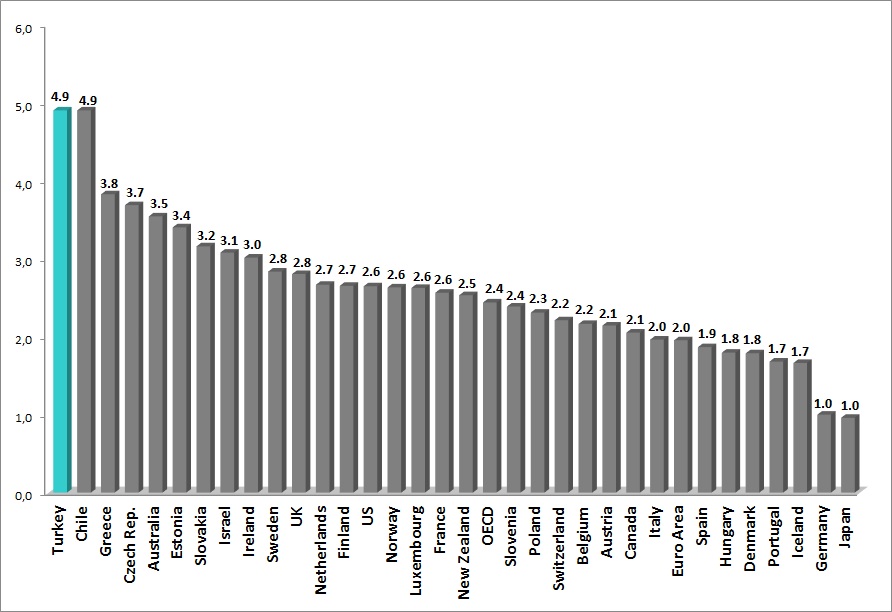 Source: Organization for Economic Co-operation and Development (OECD).
We continue to review economic information on Turkey. In addition to Turkey's stable economic growth, Turkey has managed to control the financial resources available to it. The par value of total public government debt, as defined by the EU, fell to 28.3 percent in 2016, from 72.1 percent in 2002.
Gross domestic product (GDP) rose to $ 857 billion in 2016 after $ 236 billion in 2002, where there has been a surge in per capita GDP, rising to $ 10,807 from $ 3,581 in the same period.
These notable improvements in the Turkish economy also raised the level of foreign trade in which Exports rose to  $ 143 billion by the end of 2016 from $ 36 billion in 2002, while tourism revenues exceeded $ 26 billion in 2017 from about $ 12.4 billion in 2002.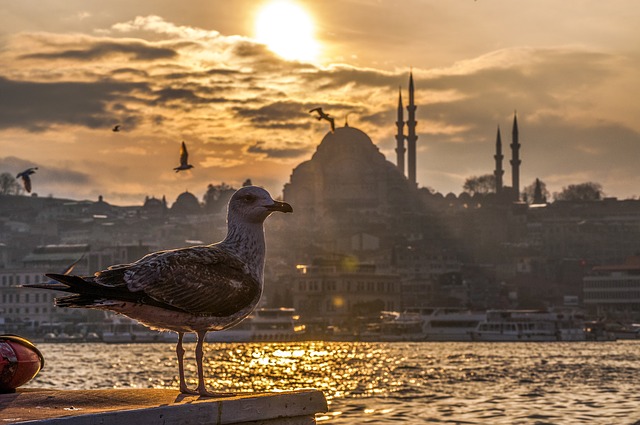 Because of this, Turkey has taken an advanced position in the ranking of global economies, and according to the figures for the GDP for 2016:
The Turkish economy is an institutional economy based on FDI of US $ 180 billion over the last 14 years.

The Turkish economy ranks 17th among the world's largest economies and sixth in comparison with the EU in 2016 (GDP, IMF).

Strong economic growth, with an average annual growth rate of real GDP averaging 5.6 percent over the period 2003-2016.

GDP increased to $ 857 billion, up from $ 236 billion in 2002.

Sound economic policies characterized by a sound financial system.