Living in Alanya Turkey: advantages, disadvantages, and costs
A comprehensive guide about living in Alanya, Turkey, the most important advantages and disadvantages. Learn more about the costs of living in Alanya with Imtilak Real Estate. 2021-10-01
Last update
2023-03-31
Living in Alanya Turkey: advantages, disadvantages, and costs
For those who want to live in Turkey who are foreign citizens, share with us the details of living in Alanya, from the characteristics that they enjoy, to the disadvantages of living in Turkey, to the number of foreign nationalities in which they reside.
Is it recommended to own and live in Alanya, Turkey?
It is necessary to get to know the city of Alanya, and its various components in many areas, which make it an ideal choice to own one of its properties, and live among its wonderful corridors.
Alanya appears as one of the important tourist destinations in Turkey with its rich historical texture, charming natural beauty, warm sea coast, favorable temperate climate, and a large number of archaeological sites in general.
Alanya is one of the most popular living areas for foreigners, who want to own real estate in that area in general, where there is a climate of calm, tranquillity and comfort, which gives residents the pleasure of living among its alleys.
Alanya is also the tourist destination that attracts tourists throughout the year in Turkey, a city that gathers in its crucible all religions and cultures, and hides in its folds various ancient languages ​​and ancient civilizations. We, therefore, advise all willing investors to live in Alanya and enjoy a good life in it.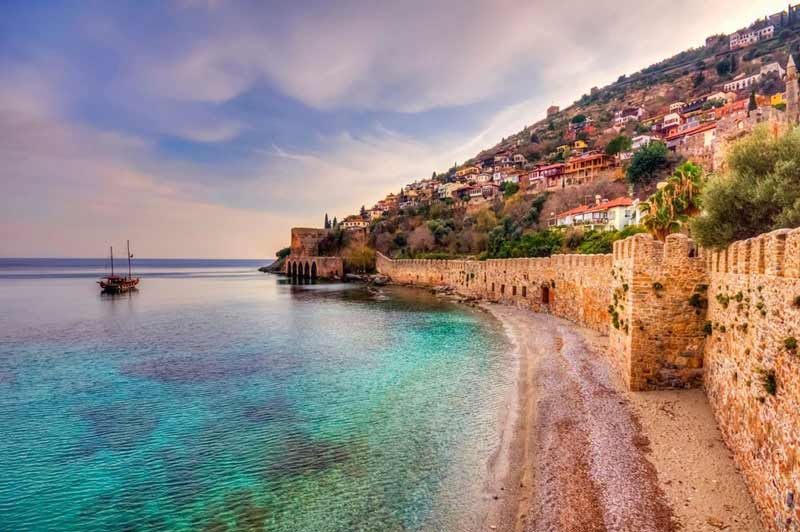 Advantages of living in Alanya, Turkey
Alanya has many advantages that make it a preferred destination for housing and residence, including:
Easy and comfortable lifestyle
Alanya is the perfect place for a comfortable life far from the hustle and bustle of large cities, where all the amenities and tranquillity of its inhabitants are available, so if you want to buy a house in Alanya, live in a calm and comfort climate, there's no better option than this city.
Cheap real estate prices and long-term investments
Alanya has witnessed a great urban activity during the past years, after the establishment of modern and advanced residential complexes, the good use of many urban projects, and the utilization of geographical locations in the construction of residential buildings, which have charming views of the Mediterranean Sea.
Many international financial experts say that real estate is the best long-term investment due to its low risk, and accordingly, the Alanya region has received great interest from real estate investors in order to buy real estate in it, and enjoy upscale living in homes with the latest designs and decorations, at cheap prices compared to other other other areas.
Tourist character
The touristic character of Alanya district in Turkey gives the city a distinctive splendor. The presence of a large group of diverse tourist attractions in it has made it a destination for foreign visitors from all over the world, with huge tourist arrivals annually.
These tourists come to its coasts, its historical features, they enjoy the beauty of its charming nature, and then they fall into its magic, so they can't get out of it to decide to live in it and live in Turkey all their lives.
Mild climate and charming nature
The charming landscape of Alania is blended with a mild geographic climate like the painting of a creative artist whose passion is for the love of this city. The average temperature in this city is moderate and moderate in most seasons of the year, with a relatively cold Mediterranean winter.
The coastal line that connects the Taurus Mountains with the Mediterranean Sea in Alanya, and the presence of many picturesque beaches, such as Cleopatra Beach, Demirtaş Beach and Ince Kom Beach, increases the beauty of the charming nature available in them.
In addition, flowing waterfalls, swampy forests, sea canyons, fresh rivers and dark caves in the region make Alanya a special attraction for tourists in Turkey.
Given the above-mentioned remarkable tourism features and a mild climate, Alanya has become a real-time investment destination, especially in the real estate area, with a growing demand for real estate from all foreign nationalities, with the aim of living in Antalya in general or Alanya in particular in the arms of beautiful nature.
It is worth mentioning that due to the significant increase in the number of foreigners residing in Alanya, an association was formed under the auspices of Alanya Municipality under the name of Alanya Foreigners Association, which takes care of foreigners' affairs and takes care of the demands and problems of foreign nationals in this region.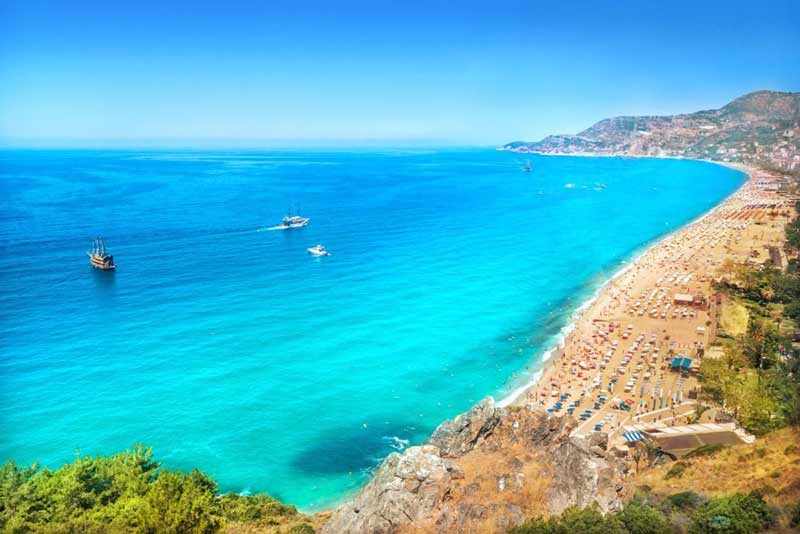 Disadvantages of living in Alanya, Turkey
Alanya is one of the areas where many Russian citizens and foreign nationalities want to live, and according to some Turkish sources, foreign communities make up about 10% of the city's indigenous population and are affiliated with 82 foreign nationalities.
Consequently, you see the European character widespread throughout the region, especially in the tourist seasons in which the numbers of foreign visitors abound, which include most seasons of the year.
As a result of this, it is possible that some Arab and Islamic communities do not prefer this kind of European character in the way of living, and this may constitute a negative factor for living in Alanya.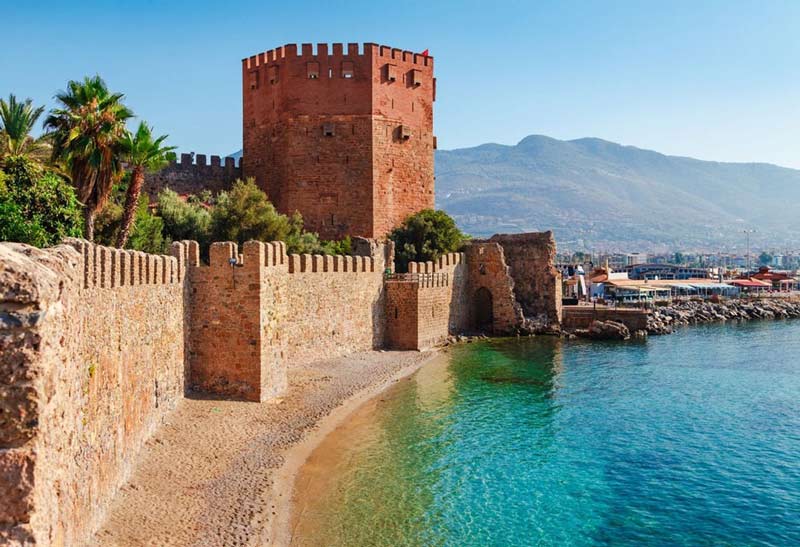 What are the best residential areas in Alanya, Turkey?
The total area of ​​Alanya is about 175.678 hectares, and it is divided into many areas, and the best places to live are: Demirtaş, Mahmutlar, Bayalar, Guzelbagh, Türkler, Avsallar, Inçkum, Okurcalar, Kargicak, Kestel, Tosmur, Oba, Cikcilli, Konakli, Oba and Imicbilini.
One of the most densely populated areas by foreigners is Mahmutlar, which is 150 km from Antalya, and includes many archaeological sites on its flanks.
Some areas vary in their embrace of the population in Alanya. While some people want to live in Demirtaş and Cikcilli, other people find a special taste of living in Avsallar and Kargicak.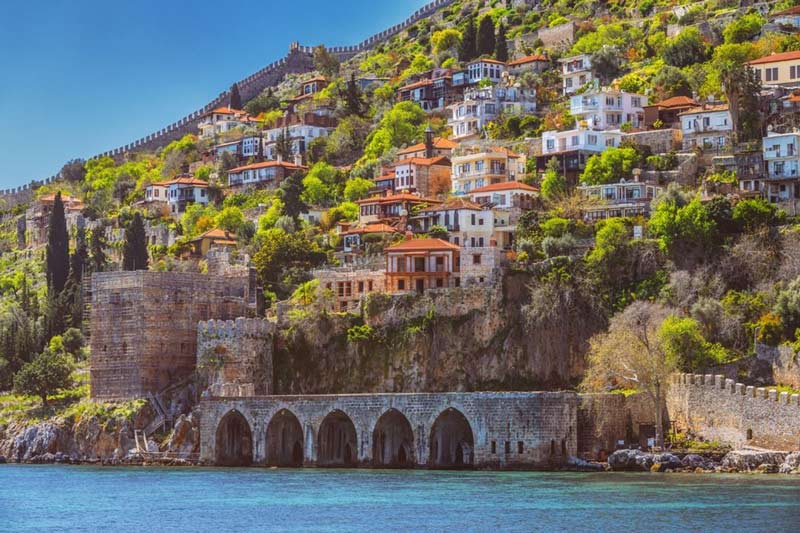 Average cost of living in Alanya
The calculation of the cost of living in Alanya relates to several factors, such as the size of the family, the number of family members and the fact that the apartment is rented or not.
The residential area you wish to reside in also plays a role in determining the cost of living in this city, as there are some neighborhoods that are predominantly touristic, and the prices of apartments for sale or rent are higher than their standard rates.
In addition, the expenses that result from water, electricity, telephone and internet bills are added to the cost of living in Alanya in general.
The following is a table showing some prices at commercial centres in Alanya:
| | |
| --- | --- |
| The product | The price |
| Bread loaf (250 mg) | €0.165 |
| Egg tray | €1.26 |
| 1 kg of chicken wings | €3.31 |
| 1 kg of apples | €0.75 |
| 1 liter of milk | €0.6 |
| 1 kg of cheese | €5.1 |
| 1 kg of tomatoes | €0.72 |
| 1 kg of oranges | €0.68 |
| 1 kg of bananas | €1.41 |
| 1.25 liters of water bottle | €0.25 |
Here is another table that we dedicate to the costs of dining in restaurants in Alanya. In the table below you can find the prices of coffee, water, soft drinks, daily menus, hamburgers and restaurants:
| | |
| --- | --- |
| The product | The price |
| Meal for one in a cheap restaurant | €3.21 |
| Dinner for two in a good restaurant | €12.03 |
| Menu at McDonald's | €2.89 |
| Coffee with milk in the coffee shop | €1.38 |
| A can of Coca-Cola or Pepsi (0.33 liters) | €0.56 |
| Water bottle (0.33 Liter) | €0.21 |
Here is a list of some shoes and clothes prices in Alanya:
| | |
| --- | --- |
| The product | The price |
| Shoes | 34.6€ |
| Pants | 25.4€ |
| Nike sneakers | 46.97€ |
| Dress | 15.62€ |
As for the fees related to some services in Alanya, they are shown in the following table:
| | |
| --- | --- |
| The service | Fee |
| Internet | 13.63€ |
| Monthly water, natural gas and electricity bill for an apartment of 80 m2 | 58.28€ |
| 1 minute on prepaid phone | 0.12€ |
| Monthly nursery fee | 180.45€ |
| Annual tuition fee | 3.240.02€ |
The fees related to the means of transportation are as follows:
| | |
| --- | --- |
| One-way ticket for public transportation | 0.48€ |
| One hour taxi ride | 5.21€ |
| 1 km taxi fare | 0.57€ |
| 1 liter of petrol | 1.04€ |
Turning to the costs of renting houses in Alanya, we monitor the following information for you:
| | |
| --- | --- |
| The home | Rent value |
| Monthly rent of 1+1 apartment in the city center | €187.13 |
| Monthly rent of a 1+1 apartment on the outskirts of the city | €128.32 |
| Monthly rent of a 3+1 apartment in the city center | €256.64 |
| Monthly rent of a 3+1 apartment on the outskirts of the city | €197.82 |
The average minimum wage for employees after taxes is as follows:
| | |
| --- | --- |
| Employee | Salary |
| Accountant | €722.68 |
| Architect | €860.63 |
| Baby sitter | €281.24 |
| Waiter | €420.08 |
| Construction worker | €483.27 |
| Dentist | €2,103.96 |
| Electronics engineer | €1003.92 |
| Engineer | €998.58 |
| English translator | €611.43 |
| Fisherman | €430.76 |
| Housekeeper | €339.98 |
| Lawyer | €1,286.05 |
| Mechanical engineer | €908.69 |
| Doctor | €1,710.58 |
| Nurse | €871.31 |
| Pharmacist | €1,237.99 |
| Secretary | €425.42 |
| Software engineer | €1,057.32 |
| Teacher | €738.70 |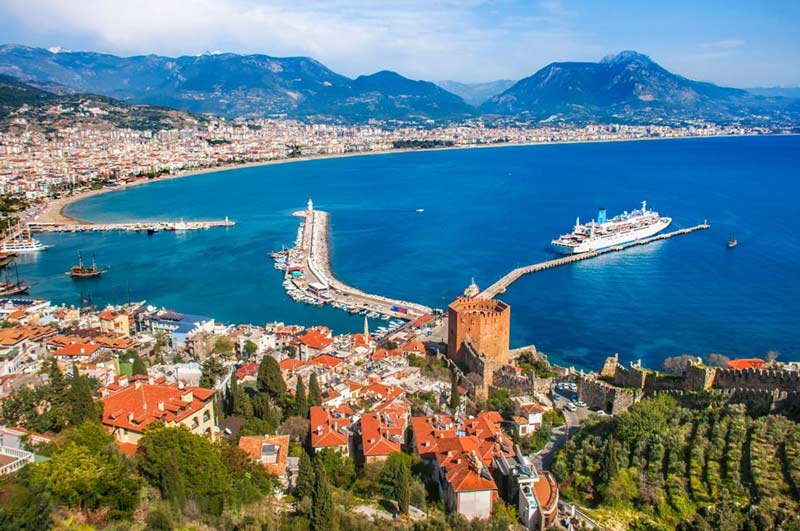 The most important Imtilak real estate projects in Alanya, Turkey
Imtilak Real Estate, the leader in foreign sales in the Turkish real estate market, offers investors the opportunity to own luxury apartments in the Alanya region, within high-end residential complexes, with many service and entertainment facilities, and have panoramic sea views.
One of the most important projects that Imtilak Real Estate offers to businessmen wishing to live in Alanya is the Alanya Park project, which occupies a privileged geographical location in the city center and is close to Alanya beach on the Mediterranean Sea.
One interesting housing project in the Alanya area is the Vanessa Complex, which has beautiful views of the Taurus Mountains, near attractive beaches, and includes ordinary apartments and duplexes, with architectural designs that provide comfort and elegance for its residents.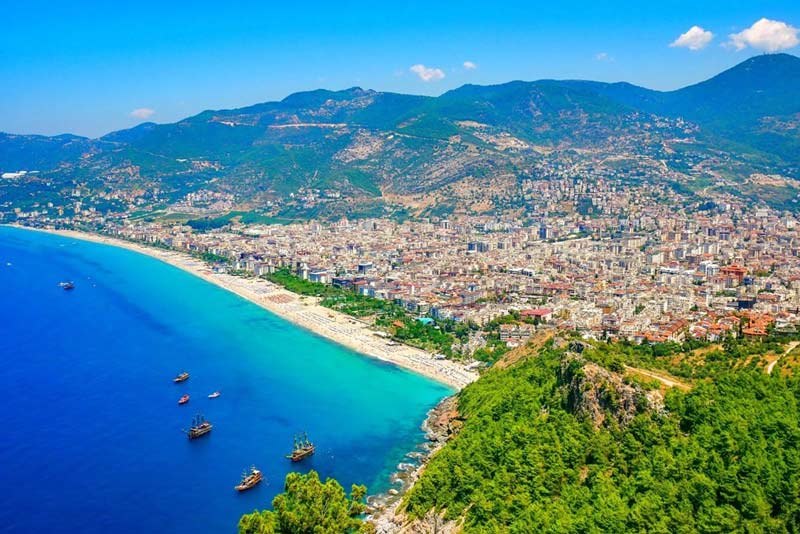 Ownership in Alanya and Turkish citizenship
After the tourist activity in Alanya, and the high turnout of tourists in recent years, the issue of foreign property ownership in Alanya looms large, and the charming nature of the area has attracted many of the owners to buy real estate.
The high demands on the real estate market in Alanya have led to a rise in real estate prices, which has led businessmen to seek to invest in real estate in the area, thus benefiting from government facilities provided by the Turkish government to investors.
Turkish citizenship was a goal that many investors sought to achieve, by purchasing real estate and apartments worth more than $250,000, and this was one of the things that encouraged real estate investment in Alanya.
It should be noted that real estate in the Alanya region is a good part of the real estate sold in the state of Antalya, especially since the real estate available there is an investment opportunity for foreign investors, because of the price licences available there and the variety of patterns that exist compared to other real estate in the different Turkish states.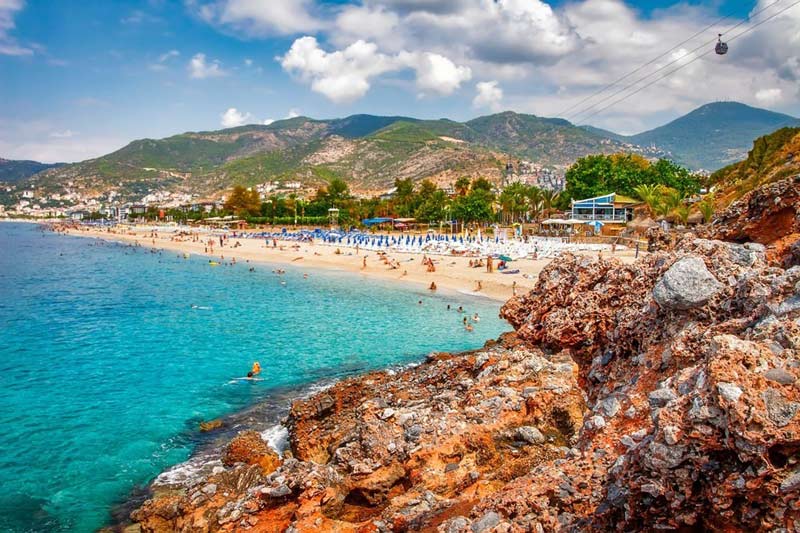 The difference between Alanya and Antalya in terms of location - views - infrastructure
Alanya is one of the most important coastal cities overlooking the Mediterranean Sea. It occupies a distinguished geographical location in the southwestern part on the Turkish map. It is administratively affiliated to the state of Antalya, and is approximately 133 km away from it.
Antalya is located on the coast of the Mediterranean Sea southwest of Turkey, and its territory is connected from the north to the city of Izmir, to the east to Mersin, and is one of Turkey's major tourist provinces.
Alanya region shares with Antalya as one of the best places to invest and own property in Turkey, where the picturesque nature in which seascapes harmonize with mountain scenes.
It is, therefore, natural to find in these regions a wide spectrum of real estate, which is a great opportunity to invest and own real estate, by taking advantage of rental or resale returns, or an opportunity for high-end housing and living in Antalya or Alanya.
In this context, many apartments in Alanya and Antalya enjoy views of the Mediterranean, some of which overlook the landscape of plains, valleys and mountains.
These apartments vary in size and number of rooms, and provide many options for those wishing to buy apartments in Alanya or Antalya alike.
Alanya, on the other hand, has the advantage of being one of the most vibrant municipalities in Antalya, and has a high-quality infrastructure, allowing it to be a self-contained city despite being administratively affiliated with Antalya.
The strong infrastructure of Alanya is represented by the presence of a network of various means of transportation and public roads, in addition to the sea port that specializes in transporting ships in terms of transportation.
In terms of educational institutions in Alanya, students are educated at Aladdin Keykubat University, which has many university disciplines, not to mention many schools and institutes at different educational levels.
Alanya owns public and private hospitals and medical institutions in terms of medical services provided.
Alanya is a vital point par excellence, thanks to its markets, commercial centers, restaurants, hotels and various entertainment centers, which meet all the needs of the city's residents and tourists coming to it.
As for the infrastructure that is available in the city of Antalya, it includes, in addition to all of the above, international airports, seaports, public and private universities, and there are various land, sea and air transport lines.
Given the above information, there are many common factors that combine Antalya, on the one hand, and Alnya, on the other, in terms of the geographical location they occupy, the impressive views of real estate in both cities and their respective infrastructure.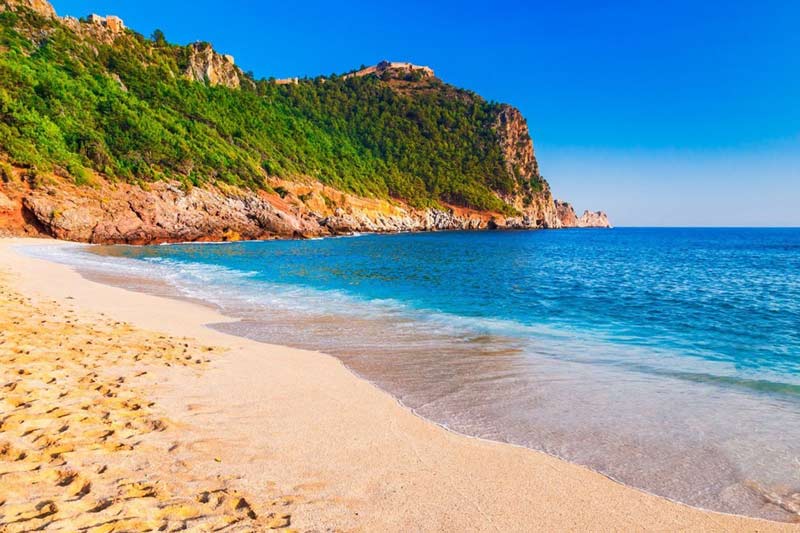 The most important nationalities wishing to own real estate in Alanya
Regarding the foreign nationals who owned real estate in Alanya and decided to live in this tourist area, Alanya Mayor Mr. Fatih Arkemizer stated that about 50,000 properties were purchased by foreigners in this area.
In this context, citizens of Russia, Norway, Germany, Northern European countries, Iraq, Iran and Kazakhstan top the list of foreign nationals who have purchased real estate in Alanya with the aim of owning and residing in it.
In addition, the rate of increase in the number of foreigners residing in Alanya has continued during the period of the Corona epidemic, and according to (ADNKS) population data, nearly 10 percent of the population of Alanya region is composed of foreign nationals, which number is 333,000 people.
The residence of these foreign nationals is concentrated in several places in Alanya, some of them prefer to live in central areas near commercial centers such as Kargıcak, and some prefer to live in areas overlooking the sea, such as Mahmutlar.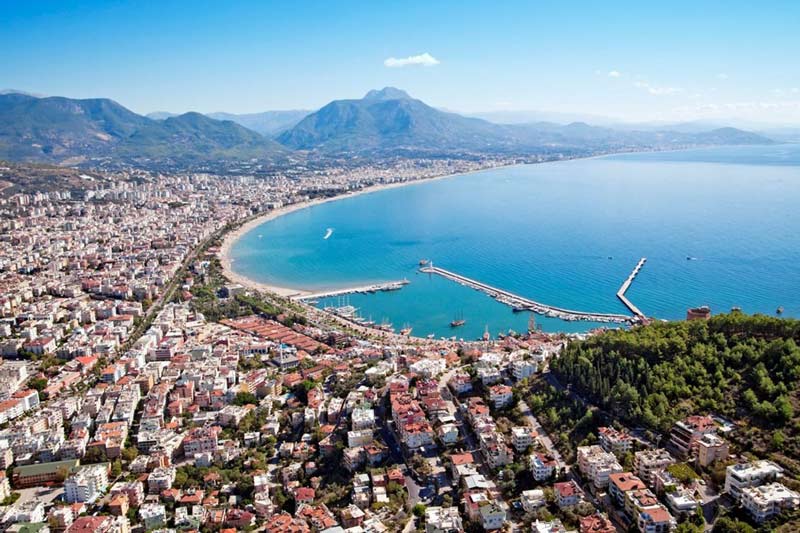 Edited by Imtilak Real Estate©
Did you like this topic? You can share it with your friends now.