Living in Turkey for families: advantages, costs, and best Cities
A detailed guide about living in Turkey for families in 2022, including the definition of the advantages and disadvantages, and the cost of living, is brought to you by Imtilak real estate experts. Also, learn about the best cities in Turkey for families. The specialists in Turkish affairs in Imtilak Real Estate have prepared a comprehensive guide on living in Turkey for families, in which they talk about the advantages of living in Turkey, and the obstacles that can be faced, and suggest to you the best suitable states for families, and the costs of living related to them, learn the details with us.
Is Turkey a good stable for families?
The intellectual and social progress that Turkey has in various fields, the many common links between the Turkish and Arab peoples, and the great similarity in customs and traditions between the two societies, have made Turkey a preferred destination and a point of stability for many families of foreign investors.
In addition, Turkey, with its qualitative transition at all levels, its cheap cost of living compared to other European countries, as well as its investment elements that guarantee success in real estate projects to a large extent, has made a good home and has become a good place for all investors looking to settle for a decent life for their families.
Turkey, with its distinguished lifestyle, the nature of the living system in its society, and the simplicity of living in it, has improved stability for the families of Arab investors in particular.
What are the advantages of living in Turkey for families?
Life in Turkey is of high quality in terms of the presence of many standards that achieve a decent life for families, a sense of security, a sense of tranquility, respect for religious rites, maintaining the rules of the neighborhood, and spending enough time with family. In addition to various health and educational services, which is one of the first standards that those wishing to live with their families in Turkey aspire to achieve.
On the other hand, surveys conducted by Expat Explorer show that Turkey ranked seventh in the world, in terms of quality of life and living in addition to work.
According to this survey, 62% of foreigners living in Turkey said that their quality of life has improved compared to their countries of origin, while 52% of these people said they find more time, to focus on their hobbies, family, and career.
55% of foreigners say they can provide for their desires such as securing a car and a better house, and 69% say they feel safe, and as a result, many foreigners prefer Turkey every year.
In addition, the geographical location of Turkey, which is located at the intersection of the continents of Asia and Europe, the huge area occupied by Turkish geography, hosting of many civilizations throughout history, and the presence of many diverse cultures in it, raises the standards of quality of life in Turkey spiritually and culturally for foreign families.
Regarding the aforementioned survey, 72% of foreigners in Turkey are attracted to the tourism that Turkey enjoys, which increases the advantages of high-end living in Turkey for families, where tourism is rich in historical monuments, scenic natural features, and the diversity of multiple architectural structures throughout scattered from Turkey.
One of the main advantages of living in Turkey is access to health care in public and private hospitals, through the availability of all medical services around the clock, the medical support it provides to all without exception, and the possibility of quick access to all health centers.
Turkey is also one of the most prominent countries that offer high levels of education at different levels of education. The Turkish system of education depends on solid scientific foundations and a strong infrastructure. There are many Turkish universities occupying an advanced position at the international level, and many Arab and international schools are spread which adopts Arabic and English as the main language of education in different parts of Istanbul.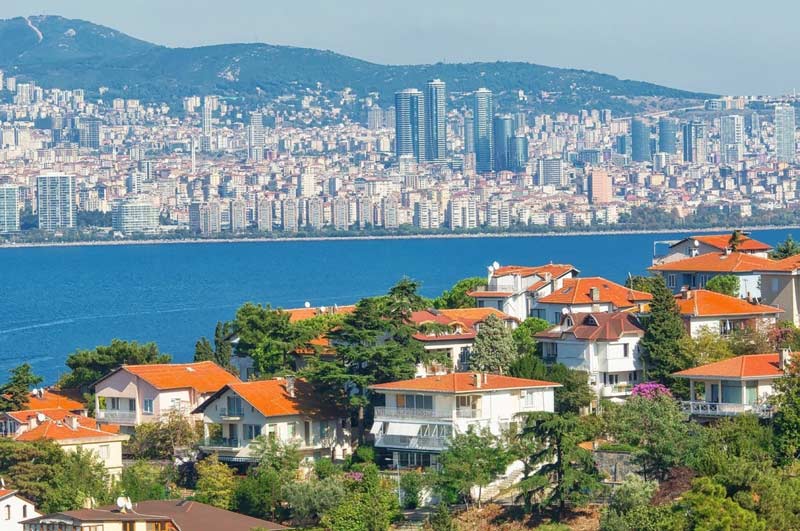 Disadvantages of living in Turkey for families
There are few disadvantages related to living in Turkey for foreign families, for example, those who live in Istanbul will suffer from a stifling traffic jam and will find it difficult to reach the place they want on time due to traffic congestion, but this can be solved by moving through metro and Metrobus lines, which are among the fast lines in the city.
As for families who like to live in a quiet and calm atmosphere, the hustle and bustle in the major states, such as Istanbul, Ankara, and Izmir, will make one of the disadvantages of living in Turkey, but on the other hand, there are many states such as Tekirdag, Sakarya, and Izmit, which are calm and devoid of all noise factors, which are at the same time close to the state of Istanbul.
It is possible that learning the Turkish language at first constitutes an obstacle for families to adapt to Turkish society, or an obstacle in the issue of educating children in schools and universities, but a large number of Arab and international schools, and the multiplicity of universities that teach in English, comes as an ideal solution to overcome this problem.
Turkey's best cities for families
The huge geographical extension of the Turkish map over an area of ​​approximately 783,000 km, and the administrative division of the states into 81 states, makes the choice of housing among these states confusing for families, but Imtilak Real Estate experts in the affairs of living in Turkey will facilitate this matter for you, by providing an idea of Turkey's best cities for families:
Istanbul: This state constitutes the first choice for families to live in for investors, as it is the economic capital of the country, which extends over an area of ​​two large continents, in which many elements of successful investment are concentrated, and a variety of international schools are spread throughout it, and nearly 60 public and private universities, in addition to the most wonderful tourist places in Turkey.
Ankara: The second state in terms of the geographical area in Turkey, and the political capital in which most embassies, consulates, and ministries are concentrated, and it owns a large number of private and governmental universities and has a strong infrastructure in the health and service fields, which makes it one of the most important options for family housing in Turkey.
Antalya: The country's tourist capital, famous for its sea coasts and picturesque nature, and the presence of a large number of tourist attractions in it, and one of the most ideal areas for housing in the state of Antalya is Alanya, this region is famous for its calm, tranquility and mild climate, and has attractions that attract many foreign tourists to live in it.
Bursa: Many investors prefer to live in Bursa, which is the ancient capital of the Ottoman Empire. It hosts a huge number of old Ottoman buildings. It is famous for its charming green nature, and its culture, customs, and conservative atmosphere are similar to the countries of the Middle East.
Cost of living in Turkey for families in 2022
The fluctuations in the exchange rate in the Turkish lira and the instability against the dollar in the past few months caused a difference in many of the scales of the cost of living in Turkey for families, as prices witnessed an unprecedented increase in all living directions in Turkey.
But in general, Turkey can be classified among countries balanced between income and monthly expenses for families, for example, home rental costs vary from one place to another in Istanbul. It's possible to rent a 2+1 apartment in good condition and medium space in one of the regions central Istanbul, starting from 8,000 TL per month, and this amount may double exponentially with the price of this apartment in one of the luxury residential complexes in Istanbul.
As for the costs of food and drink, they are relatively low compared to other European countries, and many Arab countries, where the monthly costs for food and drink reach approximately 10,000 TL.
With regard to the prices of bills registered in residential apartments, the gas, electricity, water, and internet companies issue monthly bills for continuous services without interruption, as the value of these bills varies according to the volume of household consumption, and in general, the value of these bills combined can range between 1,000 and 1,500 TL on average.
There are living costs for families in Turkey with regard to the expenses of medical care and health insurance services, which are paid during the extraction of residence, and other expenses related to tuition fees in schools and universities, and transportation costs and transportation fees in the city.
Edited by Imtilak Real Estate©
Did you like this topic? You can share it with your friends now.