The most important and most beautiful tourist places in Antalya
Learn about the most famous, best, and most beautiful tourist places in Antalya, and the value they add to the city, including beaches, museums, and natural and archaeological places. 2022-06-01
Last update
2022-08-27
The most important and most beautiful tourist places in Antalya
In this article, Imtilak Real Estate company presents some of the best and most beautiful tourist places in Antalya and refers to the great value that tourism in Antalya brings to real estate investment and real estate purchase.
What is the tourist value of Antalya?
The tourist value of the city of Antalya deserves the title of the capital of Turkish tourism as a result of a great effort made by the Turkish government represented by the presidency of the municipality in Antalya, which provided a strong infrastructure and provided many high-end recreational facilities for visitors.
Antalya's tourism value rose when investors began to establish huge tourism projects, such as resorts, chalets, and hotels, in places that received great demand from tourists, providing them with a comfortable stay, and ensuring them both entertainment and fun at the same time.
The tourism value of Antalya is clear given the huge numbers of tourists it receives annually, as the statistics highlighted by the Anadolu Agency indicate that the number of tourists in Antalya exceeded 8,962,000 tourists during the year 2021.
Why does Antalya attract tourists from all over the world?
Antalya is a point of attraction for visitors from all over the world, as it has many advantages:
Antalya enjoys around 300 sunny days all year round.
The region has a coastline, 600 km in length, with sandy beaches, stunning views, and a Mediterranean climate, which makes it a preferred area for settlement and housing.
The D400 motorway connects all the coastal resorts and the main city center.
Antalya combines the advantages of large cities in terms of services, shopping, and liveliness, and the advantages of resort cities in terms of calm, space, simplicity, and nature.
Antalya is one of the most important tourist centers in the world.
The best shopping centers in Turkey are in Antalya.
Antalya has a good reputation as one of the main points of the Turkish Riviera.
Antalya has a large number of large and interesting seaside resorts.
There are many tourist places in Antalya, such as beaches, plains, waterfalls, valleys, natural baths and resorts on its coasts, many historical monuments, and other mosques and churches.

The most beautiful and best tourist places in Antalya
1. Antalya beaches
Antalya beaches extend over a length of approximately 640 km and are among the favorite destinations of millions of tourists, who go to it annually to relax on its golden sands and warm waters.
Most of the tourist beaches in Antalya hold the blue flag, which takes into account international tourism standards, and most of them are distinguished by their central locations, and their coasts extending on the shore of the Mediterranean Sea, with its many activities and various social and recreational events.
Among the most important coastal beaches in Antalya are the following:
Lara beach
Konyaaltı beach
Women's beach in Antalya
Olympos beach
Belek beach
Kaputaş beach
Kleopatra beach
Damlataş beach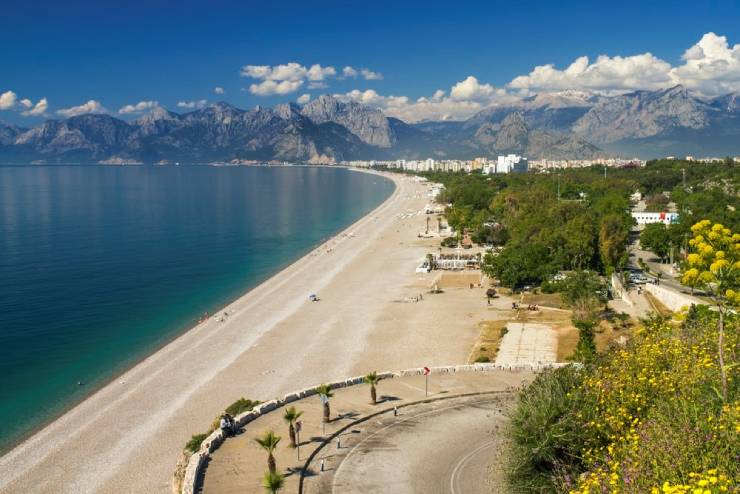 2. Antalya waterfalls
The waterfalls that flow from the tops of the mountains in Antalya are one of the most important natural tourist places that receive many foreign tourists. These waterfalls are located in the middle of green forests, with trees wrapped together, which makes the beholder stand enchanted in front of an aesthetic painting.
Here is a list of the most beautiful waterfalls in Antalya:
Düden Waterfalls
Kurşunlu Waterfall
Manavgat Waterfall
Lara Antalya Waterfalls
Uçansu Fall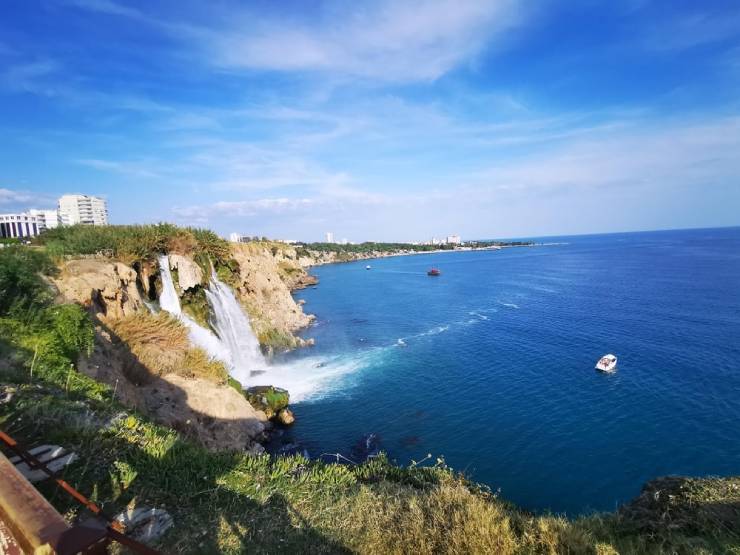 3. Old town Kaleiçi
The old town of Kaleiçi, which is located in the eastern part of the center of Antalya, is one of the most beautiful tourist places in Antalya. As this city boasts of its Byzantine, Roman, and Ottoman monuments, it preserves its Ottoman imprint and its historical archaeological character, which is clear in the city's shape, mosques, minarets, walls, and columns.
These historical monuments are evident through its old urban-style houses, and its shops that display traditional antiques and handicrafts, in addition to the types of spices, sweets, and other products that tourists usually buy.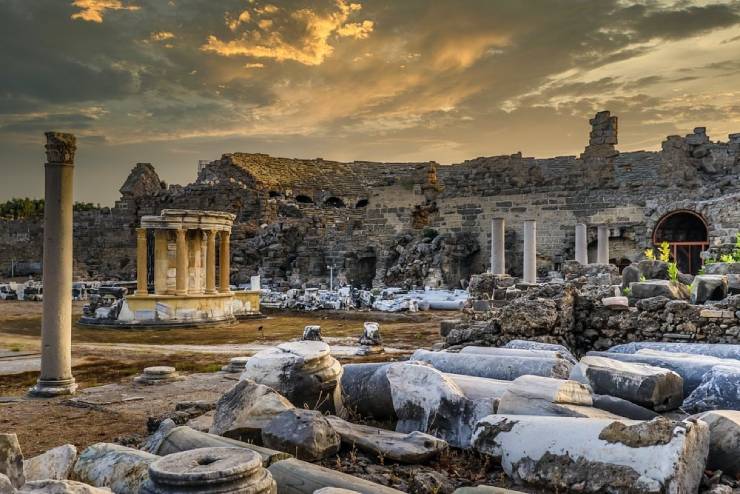 4. Antalya Shopping Malls
The shopping malls are among the most important tourist and commercial investment centers in Antalya. They contain shops that sell the most famous local and international brands, and there are many restaurants and cafes that offer the most delicious Turkish and Western food.
Besides, there is the entertainment aspect of shopping malls that guarantees fun for visitors coming to Antalya, where there is a special section in the shopping malls for games and movie theaters, and this is another aspect that can be used as an investment in Antalya malls in general.
Among the most important malls in Antalya:
MarkAntalya AVM
ÖzdilekPark Mall
Depo Outlet
TerraCity Mall
Erasta Mall
Shemall Antalya
Mall of Antalya
Agora Mall Antalya
Antalium Premium Mall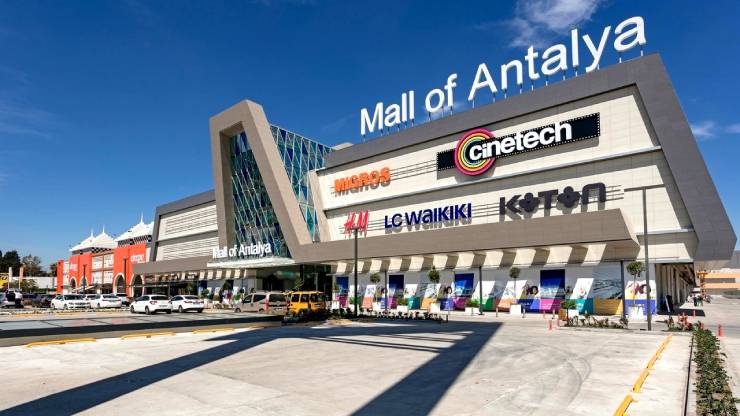 5. Antalya Parks
Due to its green suit in the spring and summer, its rich entertainment facilities, its crystal-clear lakes, and its fresh rivers, the gardens are among the best places for tourism in Antalya and are classified as one of the main places for hiking and rest for tourists and local residents in the state.
Among the most important parks in Antalya:
Ataturk Park
Karaalioğlu Park
Termessos Garden
Antalya Zoo
Kepez Park
Falez garden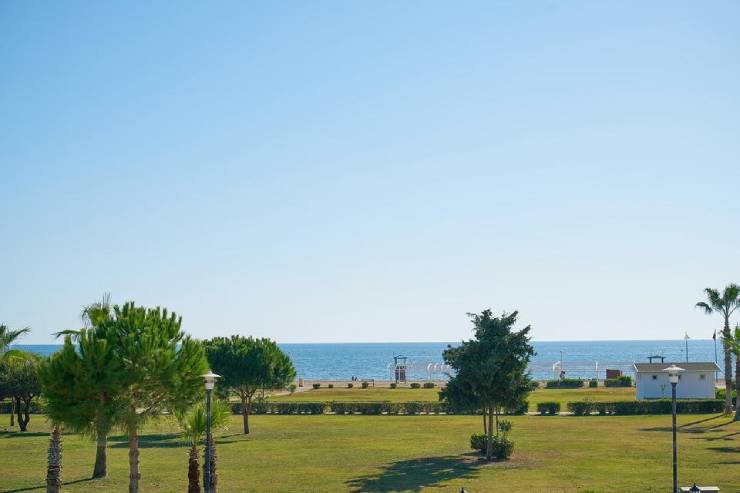 6. Antalya Resorts
For relaxation, holidays, and recreational activities, Antalya resorts are the ideal and suitable place for that. All the tourist facilities available in these resorts are prepared to receive the new tourist season in Antalya.
On the other hand, tourist resorts are among the most important fields that can be invested in, especially in Antalya, which receives huge tourist numbers every year.
Among the most prominent resorts in Antalya:
Land of Legends Resort
Royal Holiday Plus Resort
Titanic Resort Antalya
Bellis Deluxe Hotel
Dolphin Imperial Hotel
Kaya Palazzo Golf Resort
Sea Life Family Resort
All the mentioned resorts are classified as 5 stars, occupy locations close to the central areas and coastal beaches, are easily accessible from the international airport in Antalya and are characterized by their comprehensiveness of all tourist facilities that make the visitor spend an integrated holiday.
Read more about: Living in Antalya Turkey - Advantages, Disadvantages, and Costs.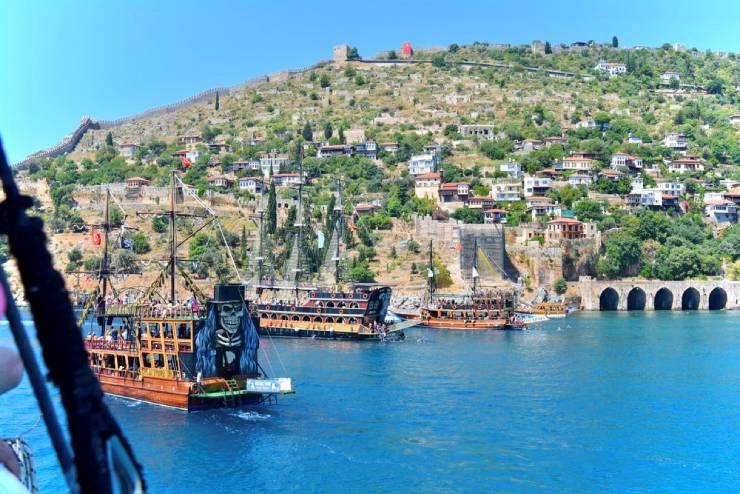 Tourism investment opportunities in Antalya
There are many investment opportunities related to tourism facilities in the capital of Turkish tourism, Antalya. It is necessary to keep pace with the huge numbers of tourists who visit this city in the millions annually and to secure the necessary facilities that allow them to spend an ideal vacation in Antalya, so tourism investment opportunities appear in the following areas:
Investing in the hotel business
Investment in shopping malls
Investing in restaurants and cafes, especially in locations near the beaches.
Investing in chalets and homes suitable for summer holidays.
Investing in resorts
Investing in recreational facilities such as gyms, amusement parks, and cinemas.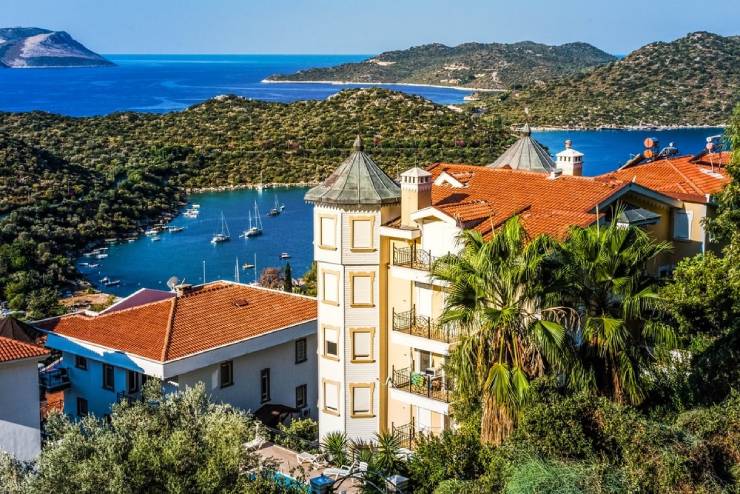 The value added by tourism to real estate in Antalya
There is no doubt that the great tourist value that Antalya enjoys among the Turkish states is reflected in real estate in its various regions, and this is confirmed by real estate experts in Imtilak Real Estate company. The value that tourism adds to real estate plays a major role in the demand for real estate investment in Antalya.
In this context, the natural facilities of beaches, plains, waterfalls, and other tourist facilities are a magnet for tourists to buy a property in Antalya, and thus enjoy a comfortable stay among its green areas.
For those wishing to invest in Antalya real estate, the diversity of the tourism investment sectors that we talked about in the previous paragraph provides a solid ground for the multiplicity of investment advantages that can be available in the service of those wishing to invest.
Edited by Imtilak Real Estate ©
Did you like this topic? You can share it with your friends now.