Hotel Residences for Sale in Turkey
Browse our selection of hotel residences for sale in Turkey and find your dream property today. Discover the best hotel apartments to enjoy the comforts of a home.
Properties found: 17
USD

EUR

SAR

AED

KWD

OMR

QAR

BHD

JOD

DZD

YER

TRY

GBP

CHF

CAD

AUD

CNY

RUB
The idea of luxury living has been transformed by hotel residences, which offer a seamless fusion of the conveniences of home with the great services and facilities of a recognized resort. This cutting-edge fashion has been increasingly popular in Turkey in recent years, enticing discriminating people looking for a distinctive and opulent lifestyle. You've come to the perfect site if you're interested in learning more about this intriguing idea and the advantages it provides.
We will dig into the world of hotel apartments in Turkey in this blog article, explaining what they are and why they have evolved into desirable options for investment and luxury living. Imagine waking up in a tastefully furnished home, where every aspect has been carefully planned to provide both elegance and usefulness. Imagine yourself receiving the best resort-style services, making use of a variety of amenities, and living a lifestyle that is unmatched.
What is an Apartment Hotel?
A type of accommodation called an apartment hotel, commonly referred to as a serviced apartment or extended stay hotel, combines the facilities and features of a regular hotel with the convenience of a fully furnished apartment. It provides a versatile and inviting living area that is perfect for both short- and long-term stays.
Apartment hotels accommodate a range of visitors, including families, business travelers, and those looking for short- or long-term housing. They provide a practical substitute for conventional hotels, especially for individuals who want more living space or the ability to prepare their own meals.
The Benefits of Buying Hotel Apartments in Turkey
The benefits of purchasing hotel flats in Turkey might be numerous. The following are some major benefits of purchasing hotel apartments:
They Provide A Guaranteed Rental Income
A rental management agreement that ensures a set amount of rental income is frequently included with hotel units. In spite of occupancy rates, this gives property owners the assurance that their investment will provide steady rental returns. Investors who desire a consistent income stream without the inconvenience of managing the property themselves may find this to be particularly alluring.
You Don't Have to Perform Maintenance or Repairs
When you own a hotel unit, the hotel management company is normally in charge of maintenance and repairs. They handle the regular upkeep chores, such as cleaning, fixing, and renovating, making sure the place is kept in good condition and up to the standards visitors demand. Owners are spared the time, price, and inconvenience of handling these matters themselves.
Get the best deals on Hotel Apartments in Istanbul.
They Offer Good Rental Returns
There is a significant demand for lodging, especially hotel flats, as a result of Turkey's expanding tourist sector and reputation as a holiday destination. The combination of this high demand and the well-established marketing and reservation channels used by hotel management companies can give owners favorable rental returns. High occupancy rates and affordable rental prices may assist to provide enticing rental income.
Ability to Diversify an Investment Portfolio
Investors can diversify their investment portfolios by purchasing hotel flats. Investors can spread their risk and lessen their reliance on conventional investment vehicles by adding a real estate asset with a guaranteed rental income component. An investment portfolio might benefit from stability and protection against market changes because of this diversity.
What is the Difference Between Hotels and Hotel Apartments?
Tourists frequently stay in hotels for shorter periods of time, but they lack kitchens. Hotel apartments are utilized for extended periods of time and are completely furnished, much like residential apartments, but they also include the full range of hotel amenities as an added feature.
Top 5 Features to Look for in a Serviced Apartment
To guarantee a pleasant and enjoyable stay, there are a number of important elements to look for when choosing a serviced apartment. The top five qualities to look for in a serviced apartment are as follows:
Location
The serviced apartment's location is quite important. Find an apartment that is conveniently located in a nice neighborhood close to services, transit, and tourist attractions. Think about things like accessibility, safety, and the distance to your desired locations.
Check out this wide range offers of Sea View Houses in Turkey.
Arrangements with Local Service Providers
To make your stay better, a decent serviced apartment will have agreements with nearby service providers. This may involve agreements with adjacent eateries for room service or special rates, access to laundry facilities, plans for transportation, and suggestions for nearby sights or tours. These arrangements can increase convenience and improve the quality of your trip.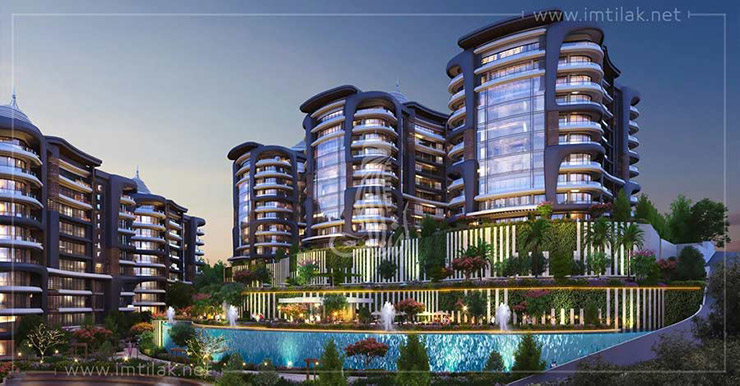 Television
To keep you entertained while staying there, a serviced apartment need to include a television with a wide selection of channels. A comprehensive selection of local and international channels, including news, sports, and entertainment alternatives, are ideal for apartments.
Fully Equipped Kitchen
Having a fully functional kitchen while living in a serviced apartment is one of its benefits. Look for apartments with a kitchen that includes necessities like a dishwasher, microwave, stove, and refrigerator. Having a kitchen allows you to make meals whenever it's convenient, which is especially useful for extended visits or for people who have special dietary needs.
Learn more about How to Buy Apartmetn in Turkey.
A 24-hour Reception
A serviced apartment with a round-the-clock reception guarantees that help is accessible whenever you need it and gives you peace of mind. Your stay may be made more pleasant and convenient by having a manned reception desk around the clock, whether you have questions, need maintenance assistance, or need advice.
Buy a Hotel Apartment in Turkey with Imtilak
Imtilak is a leading real estate company in Turkey that offers a wide range of hotel apartments for sale in different cities and regions of Turkey. Imtilak also has a professional and experienced team of real estate consultants, lawyers, and translators who can assist you. Our company provides the best services with the best competitive prices and flexible payment plans for real estate investment. Contact us today and learn about the opportunities available in the market!
Edited by Imtilak Real Estate ©
Do you like this topic? You can share it with your friends now!
Istanbul Region Report


The most favorite cities for foreign investors
The nationalities that owned the most in Turkey