Hotels for Sale in Turkey 2023 In Distinctive Tourist Areas
Are you looking for a hotel for sale in Turkey? Investment opportunities with high occupancy rates in the tourist cities of Turkey, Bursa, Istanbul, and Trabzon
No results about ( Hotels for Sale in Turkey | Imtilak Real Estate )

Investment for Tourism in Turkey
Turkey is characterized by its geographical proximity to most Arab countries and enjoys cultural and civilized ties with them. In addition to the morality of Turkish citizens is tolerant. Not to mention the picturesque nature that adorns it. Like the stunning green Trabzon Mountains, the pure blue Bosphorus waters, Bursa Falls, and many areas with attractions and monuments that enjoy the charming atmosphere. It has a mild climate in summer and winter, making real estate investment in the tourism sector a lucrative option by looking for hotels for sale in Turkey.


Not only that; Turkey is one of the preferred options for expatriate foreigners looking to move year-round with their families. Therefore, hotels in Turkey are widely available on different types and categories and are visited by millions of foreigners and Turks every year.
Hotels for Sale in Turkey
Occupancy rates in Turkey hotels in 2019 were around 85 percent year-round. Investment in the tourism sector by buying a hotel in Turkey is, therefore, a lucrative investment. Especially for those looking for hotels for sale in Istanbul Turkey, and the permanent profitability in the tourism sector in Turkey by investing in hotels for sale in Antalya Turkey or other cities with pioneering tourism activity.
The average room rate in tourist seasons is between 130 and 150 euros per day in good hotels. The numbers are even more so among many in high-end hotels. Thus, with such high occupancy rates, it is difficult to find a better real estate investment better than this.
It is well known that giant companies are looking for hotels for sale in Turkey permanently; because of its profitable investment returns.
Tips for Buying Hotels in Turkey
The 3, 4 or 5-star hotels and resorts are the preferred destinations for most Arab tourists coming to Istanbul, Trabzon, Bursa, and other Turkish cities. It is fruitful to choose an exceptional hotel, with fruitful business and ready to own and profit.
When looking for hotels for sale in Turkey, it is advisable to choose a newly built hotel. The rooms and suites will be modern. Its location should be near the historical places or beaches that are popular with tourists, not to mention the local and service facilities of the city.
If you find a hotel for sale in Turkey with a great history of attracting thousands of tourists and guests over the years, your deal will definitely be a win-win.
If you choose to buy from hotels for sale in Turkey, make sure the hotel has a permanent license from the municipality. However, it is allowed to be renewed and moved to a more modern and sophisticated stage year after year.
When you decide to find a hotel for sale in Istanbul Turkey. Imtilak Real Estate will provide you with the best options and offers to buy hotels for sale in Turkey in various tourist cities, of all types: such as investing in small hotels for sale in Turkey or within hotels for sale Antalya Turkey with a profitable return.


Turkey's thriving tourism, which attracts visitors from all sides, is supplying Turkey's hotels with increasing numbers of tourists and visitors. Turkey's hotels are known for their luxury, views throughout the Turkish cities. As in the tourist city of Istanbul, par excellence, or other cities famous for attracting tourism strongly. As the city of Trabzon, Antalya, and Bursa, which has become a place full of charming facilities, besides its richness and wonderful natural diversity.
Figures for the first half of 2019 indicate an increase in the number of tourists arriving in Turkey, with an increase of 13.2% compared to the same period last year.
The number of visitors to Turkey during this period reached about 18 million foreign tourists. Arabs have an abundant share of these figures, especially from the Arabian Gulf region.
Russian and German Tourists topped the list of foreigners arriving in Turkey during the first half of 2019, according to published data from the Ministry of Culture and Tourism and the Turkish Statistical Authority. The number of Russian tourists reached more than two million and 700 thousand tourists.
On the other hand, the number of German tourists estimated at more than one million and 800 thousand tourists. Bulgarian tourists reached about one million and 200 thousand tourists.
Imagine how rich the hotel sector in Turkey is, especially during the most popular tourist seasons during the year.
The hotel sector is one of the most successful investment sectors in Turkey, due to its high profitability in the high seasons. For example, in the first half of 2019, the total revenues of tourists to Turkey amounted to more than $ 12.660 billion. The average foreign tourist spending was approximately $ 469, according to official reports.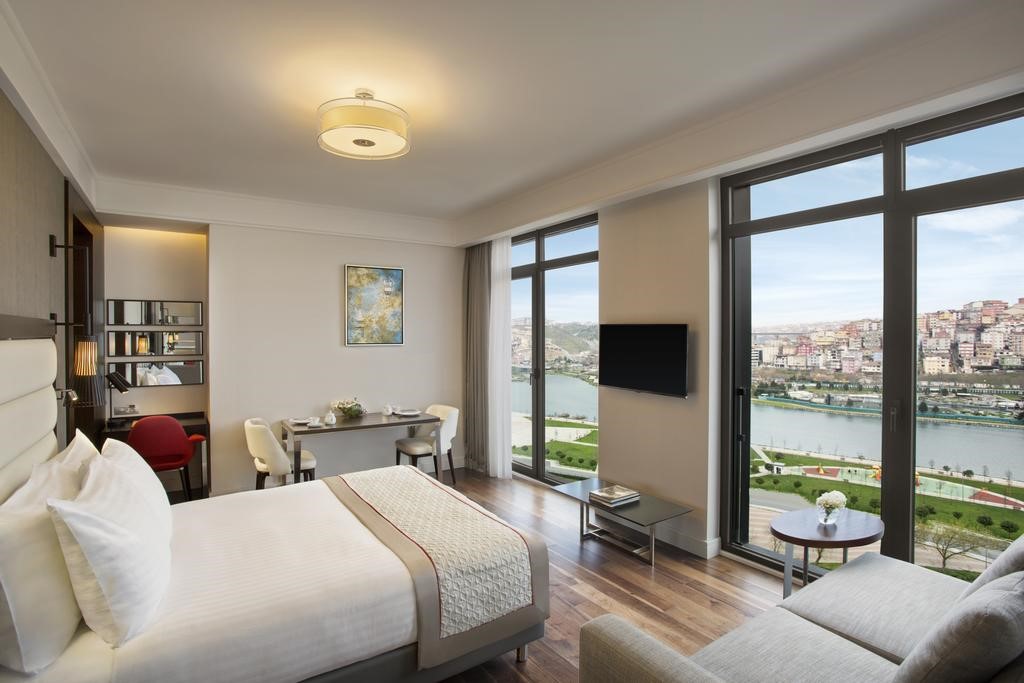 The Growth of Tourism in Turkey
Some Turkish specialists believe that the reasons for achieving this rise and growth in the tourism sector are due to several factors, most notably:
Turkey's tourism diversity. In recent decades, every tourist area or city has become an independent destination for tourists, from more than 180 countries around the world.
Plans seek to develop the reality of the tourism market and achieve a record in the history of tourism within the Turkish territory. By securing the arrival of more than 50 million tourists to the country by the end of 2019.
Turkey also aims to double the number of tourists by the centenary of the founding of the Turkish Republic in 2023. Increasing their numbers from 50 million tourists with returns of fifty billion dollars to the tourism sector annually to nearly seventy million visitors and 70 billion dollars.
Hotels Investment in Turkey
Turkey has become famous for new tourism models that were not known before, which supported the tourism sector and investment in general. Their fame has recently increased significantly, including:
Therapeutic tourism: where the recent increase in Turkey as a leading therapeutic and cosmetic destination, offering the best therapeutic services at affordable prices and with high expertise.
Turkey is also famous for its giant medical cities and the largest in Europe, where the most accurate treatments and surgeries. Turkey is in the top ranks of liver transplantation. The most advanced robotic heart surgery. As well as hair transplantation and dental operations that have become famous in Turkey recently.
Religious tourism: or what follows from what is known as halal tourism. This sector is particularly popular with those wishing to learn about Turkey's religious monuments. In addition to enjoying the tourist facilities in a committed environment.

Shopping tourism: Large numbers of visitors also visit Turkey especially from neighboring countries, with the aim of shopping from its rich markets, and its goods of high quality and competitive prices.
Tourism Success Influence in Turkey and Hotels 
There are many incentives in Turkey that have made it a popular tourist destination among the top destinations of tourism lovers from many countries, such as European and Arab tourists.
Turkey has an important cultural heritage, a captivating and charming nature, and tourist facilities to varying degrees, which enable the tourist to determine its destination according to its spending and economic capabilities.
Buying Hotel in Turkey By Imtilak Real Estate
Imtilak Real Estate provides its staff with more than 200 employees and experts in Turkish real estate. In addition to its strong and experience over the years, the reality of investment in Turkey, real estate acquisition, and legal affairs, the best investment opportunities within hotels for sale in Turkey. Especially in Turkey's most attractive cities for tourism and recreation, such as Istanbul, Trabzon, Antalya, Bursa, Sakarya, and other important cities.
In addition to our services, which include the follow-up of Turkish citizenship documents for those who buy property in Turkey, within the conditions that comply with the regulations determining the rules for obtaining Turkish citizenship in return for ownership of a property.
Edited by: Imtilak Real Estate ©
Did you like our topic? You can share it with your friends now!
Istanbul Region Report


The most favorite cities for foreign investors
The nationalities that owned the most in Turkey