Property for sale in Bursa Turkey 2023
The best bursa turkey real estate can be found at Imtilak Real Estate. The highest quality specifications at the most appropriate and cheapest prices. (Apartments, villas, farms, and lands in Bursa), check our offers and contact us.
Properties found: 20
USD

EUR

SAR

AED

KWD

OMR

QAR

BHD

JOD

DZD

YER

TRY

GBP

CHF

CAD

AUD

CNY

RUB
What are the advantages of owning real estate in Bursa, Turkey?
There are many reasons for owning real estate in bursa and investing in Turkey in general and Bursa in particular, because of its luxurious and distinctive properties in the heart of the stunning nature, which made it a destination for many investors. Its beautiful atmosphere, charming views, and famous mountain, which made it a coastal geographical environment besides the mountain, where life is characterized by ease and the availability of work areas and various types of housing.
It is characterized by the proximity of residential complexes to commercial places, which provides recreational facilities, and places where youth, children, and all family members can entertain at all times. It also has many tourist attractions and many archaeological sites, all of this and more, which made people look forward to residing in it and living on its lands.
Real estate investment in Bursa is characterized as a guaranteed investment far from risks. Because the prices of apartments are constantly rising, and this leads to increasing demand for them. Real estate in Bursa is one of the largest growing and profitable sectors in Turkey, which made it a magnet for many investors. Given its luxurious and distinctive properties in the heart of the stunning nature, it has made it a destination for many foreign investors, especially Arabs, as well as facilitating laws and guaranteeing the rights of foreigners who wish to own property for sale in bursa and Turkey in general, including obtaining a lifelong residence permit (renewed annually) by simply owning a property, in addition, to easily obtaining Turkish citizenship through investments in real estate, and obtaining a Turkish passport, which allows entry to most countries of the world without a visa.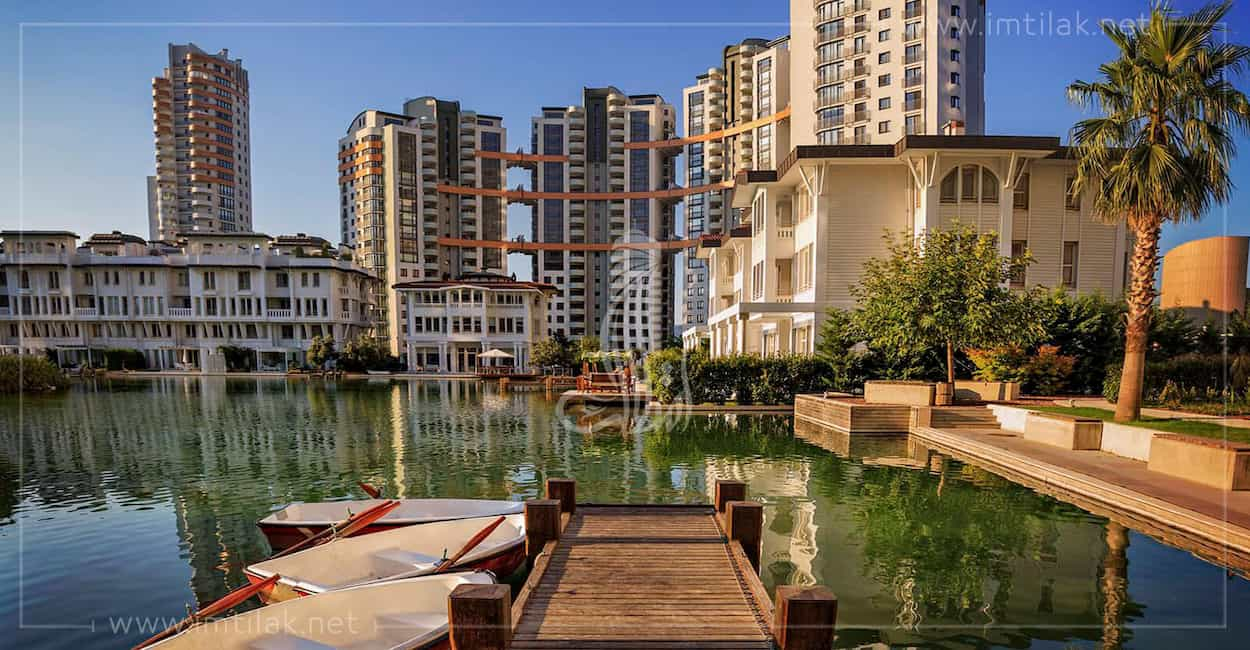 Real estate offers for sale in Bursa by Imtilak Real Estate
Bursa is characterized by the large number of apartments prepared for investment, and the diversity of its areas and its natural sea and interior views, in addition to the diversity of the number of rooms, their spaces, and their location. Imtilak Real Estate offers different and competitive offers to invest in residential apartments in Bursa within the best luxury complexes with distinctive locations, such as the Modern Bursa Complex, within a strategic location close to public transportation and the city center and is characterized by its spacious gardens and distinctive facilities.
It also includes 51 buildings with luxurious architecture and is the recipient of many international awards. The complex has a lake that gives it more of the charm of nature and is characterized by its green spaces extending over 70% of the entire project land area. Marmara, the third richest area in the world in oxygen, with a privileged location that combines views of the green nature and the Marmara Sea.
Imtilak Real Estate offers villas for sale in Bursa, Turkey, in the Terraces Bursa villa complex, with the best and finest specifications, in a distinct area overlooking the sea, with modern and modern designs, equipped with all amenities and luxury, with the best services and prices with the possibility of installments. Within the "Bademli" area in Bursa, one of the world's richest regions in oxygen, which ensures a healthy life for the residents.
What makes the project important is its proximity to the highway that connects the city center of Bursa with the seaport that connects Bursa to Istanbul. The project consists of a complex of villas containing 20 two-story villas built on an area of ​​20,000 square meters, with an option 4+1/6+2, including the steam room (Sauna), a private swimming pool, open and closed together, a car park, a terrace for each villa, and an outdoor dining area, each villa is secured by surveillance cameras and 24-hour security.
Land for sale in Bursa
Bursa is characterized by having a variety of lands, which meet the needs of those wishing to invest with its varying areas, from large, small or medium lands, making it suitable for private villas, closed villa complexes, or luxury apartments. It is also characterized by its proximity to main roads, In addition, there are sea views of many lands and excellent profit returns.
Farms for sale in Bursa
Bursa is the most suitable city for buying or investing in farms and is characterized by the increasing demand for buying farms there. Due to the appropriate climate, and the distinguished nature, with its areas spread in distinctive areas, where farms are often rented in Bursa. In general, the purchase of agricultural land in Bursa, or the investment of cow farms in Bursa, or the investment of poultry farms in Bursa, is one of the investments that have witnessed a rise noticeably in recent years. Bursa is a leading city in agriculture. God has blessed it with fertile soil, a favorable climate, and abundant water sources, which make investing in farms with guaranteed returns.
Imtilak real estate services for those wishing to own property in Bursa Turkey and invest in Bursa
Imtilak Real Estate offers the opportunity to own real estate in Bursa, by offering many options for each investment type. There are pre-sale services, including airport reception, assistance in choosing a place of residence, in addition to providing specialized real estate consultancy, with real estate tours throughout Bursa, and there are after-sale services, which includes the title deed, receiving the property, and verifying its compliance with the contract, issuing a residence permit, opening a bank account, preparing the property and its annexes for use, in addition to managing the affairs of the property: such as renting it or reselling it, and following up on taxes, fees and bills related to the property.
Edited by Imtilak Real Estate©
Did you like this topic? You can share it with your friends now.
Bursa Region Report


The most favorite cities for foreign investors
The nationalities that owned the most in Turkey