Villas for sale in Izmit, Turkey 2022
Special offers from Imtilak Real Estate on villas for sale in Izmit, Turkey 2022, including multiple options of cheap villas and others with a sea view. Contact us now!
Properties found: 3
USD

EUR

SAR

AED

KWD

OMR

QAR

BHD

JOD

DZD

YER

TRY

GBP

CHF

CAD

AUD

CNY

RUB
12/2022
Buruj Izmit IMT - 614
Villas for sale in Izmit, Kocaeli, within a luxury investment complex, and villas suitable for obtai...
Starting at
400,000 $
12/2023
Babel Villas IMT - 613
Villas for sale in Izmit, Kocaeli with a luxurious architectural style characterized by its modern d...
Starting at
320,000 $
5/2022 Real Izmit IMT - 625
Villas for sale in Izmit in one of its most beautiful areas, within a luxury villa complex, with man...
Starting at
340,000 $
What are the advantages of buying a villa in Izmit, Turkey?
Many real estate investors or those wishing to own a property in this beautiful city, with many advantages, have the idea of ​​owning real estate and buying a villa in Izmit, Turkey. What are the most important advantages of real estate ownership in Izmit villas?
Izmit is one of the ideal options for those wishing to own or invest in real estate near Istanbul, due to its close proximity.
A tourist area with modern features, where the city has characteristics in harmony with nature.
Stunning natural scenes and a pleasant climatic environment
Its proximity to important and famous tourist centers such as Istanbul, Sakarya, Bursa, Sapanca Lake, and Kartepe highlands famous for snow skiing.
The city is also characterized by the availability of acceptable economic activity and adequate life services.
Prices of villas in Izmit, Turkey
Imtilak Real Estate company presents special offers within Izmit villas, whether they are ready or under construction, with beautiful architectural designs, and ideal housing specifications, at acceptable prices starting from $275,000, or around it.
Some of these models can be found on the website of Imtilak Real Estate company, as part of a group of competing options for the neighboring city of Istanbul, both in terms of the area of ​​the property or its price.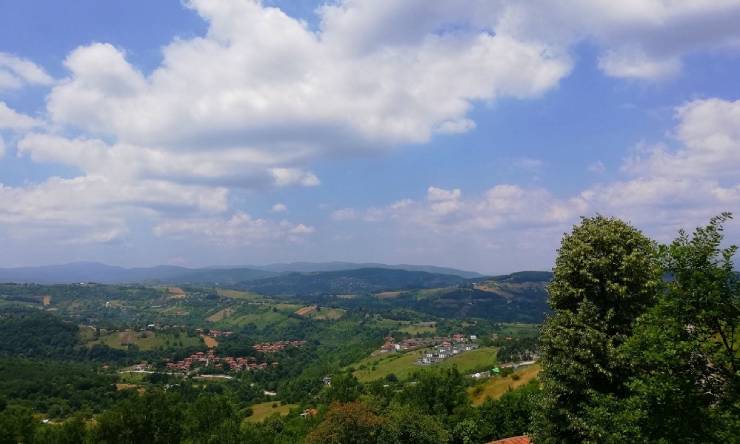 Offers for villas for sale in Izmit, Turkey 2022
Izmit is a very important real estate hub for those looking for peace and stability near the wonderful Istanbul so that the resident can combine Istanbul's civilizational features with Izmit's aesthetic features, with a calm aspiration of course.
Villas for sale in installments in Izmit, Turkey
For those interested in installments, their dream villa with distinctive specifications according to a specific budget, they can take advantage of Imtilak Real Estate offers for installments within the Buruj Izmit villas project, whose prices start from $352,000 (on the date of writing the article), with installment plans that extend over two years, with an initial payment of 40% of price value.
The project is characterized by a number of features in each villa, such as a separate entrance and a private garden, and each villa has its own swimming pool, private parking spaces for each villa, a children's playground, surveillance cameras, and 24-hour guarding, all with beautiful sea views.
Cheap villas for sale in Izmit, Turkey
As for those aspiring to get the best offers for ownership in Izmit villas, they can contact directly one of the representatives of the marketing team at Imtilak Real Estate company to discover the best special opportunities and renewable offers available within the city or in its beautiful countryside.
An example of this can be presented from the Babel Villas project, which offers the option of owning in installments in the 4+1 villas of the project, with prices starting from only $275,000 (on the date of writing the article), which is in fact a price equivalent to the price of a medium-sized apartment in the neighboring city of Istanbul.
The project includes some additional features, including:
A private garden with a distinctive design for each villa
Private parking for each villa
Separate swimming pool for each villa
Children's play park
Surveillance camera system
Villas for sale in Izmit with sea view
Izmit embraces a beautiful sea bay bearing its name (the Gulf of Izmit), which is surrounded by a group of mountains and green hills on both ends.
For lovers of sea views and who want to own villas for sale in Izmit by the sea, our options in Imtilak Real Estate company expands to offer a number of ideal opportunities to own Izmit sea-view villas at a special price, especially compared to the nearby city of Istanbul.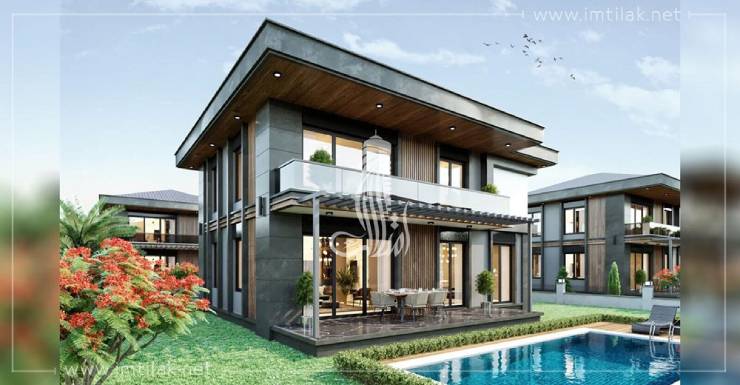 Imtilak Real Estate services for those wishing to buy a villa in Izmit
Imtilak Real Estate company offers the most prominent real estate ownership opportunities in Turkey, through residential projects, luxury villas, and others, simultaneously, we offer a range of several free services.
Imtilak Real Estate's subsidiary office in Izmit meets the aspirations of the customers, by attracting the most important investment opportunities and ownership offers in the most important city projects in villas for sale in Izmit, Kocaeli, all at the most appropriate price with the best service, within a wide range of features that ensure a smooth and safe process of ownership, in the most important residential complexes that achieve your satisfaction, all for free, with facilities that include all stages of ownership, and with unparalleled professional service.
Imtilak real estate services are divided into two main sections:
Before-sale services include:
Reception from the airport to the accommodation.
Hosting services.
Real estate consultancy.
Field tours
After-sale services include:
Organizing the purchasing and brokerage process.
Opening a bank account in the name of the buyer.
Receiving the property and verifying its conformity with the contract.
Assistance in obtaining a real estate residence permit.
Processing and following up on the files of applicants for Turkish citizenship through real estate ownership.
Preparing the property for housing and use (decoration, furniture, modifications...).
Managing the property by renting it and reselling it if desired, and following up on its taxes and bills.
As well as other services that rarely meet all in one place, with nearly 10 years of experience in this important sector, and benefiting from the services of our huge and experienced team in the real estate field.
Edited by Imtilak Real Estate ©
Did you like this topic? You can share it with your friends now.
İzmit Region Report


The most favorite cities for foreign investors
The nationalities that owned the most in Turkey