Villas for Sale in Turkey 2021
Villas for sale offers in Turkey, Villas for a fast sale and small villas for sale. Do not look for villas for sale in Europe, as Turkey is closer and the villas are suitable for our eastern culture
Properties found: 39
USD

EUR

SAR

AED

KWD

OMR

QAR

BHD

JOD

DZD

YER

TRY

GBP

CHF

CAD

AUD

CNY

RUB

Those who want to search for villas for sale in Turkey are increasing day by day, as this type of real estate has become preferred by more portions of people, as it is more spacious and comfortable for housing, and relatively less expensive if compared to other real estate options.
Luxury Villas for Sale in Turkey
The Smart Apartments system has appeared in Turkey, which is ahead of our time. With highly advanced and luxurious technical capabilities, that reduces time and executes vital tasks in accordance with the latest artificial intelligence systems.
The diversity in offers and prices is one of the most important factors attracting investors to own villas for sale in Turkey, which is shown in:
Many distinct internal and external designs of villas, and varying rooms at request, and on the website of Imtilak Real Estate, you can review the most Villa complexes all over the Turkish cities.

These villas enjoy the most luxurious and advanced equipment, such as steel interior kitchens, marble floors, and luxurious wooden decors.

Turkey's villas are located in full-serviced complexes, as if they were a small city with everything you may need to live in an environment with a distinctive level of luxury, these complexes include private and independent swimming pools, a Jacuzzi bath, high-quality finishes and a large balcony overlooking the entire city with stunning panoramic views.

You will find villas for sale in Turkey on the sea with different views. These villas have windows stretching from wall to the wall, and a spacious balcony, with views of the entire city and landscape.

Excellent facilities and services, are for the housings within the complex of villas. The designs of these villas are equipped with all the outstanding facilities and services. It includes private and independent swimming pools, Jacuzzi, high-quality finishes, and large balcony overlooking the entire city with stunning panoramic views.

Some complexes also have cafes and restaurants as well as markets with everything the family needs, not only that, but also football, basketball and volleyball courtyard, as well as distinctive and ideal environment for children with private gardens, children's games, and pools equipped with high levels of safety. Altogether, in such environments you'll find everything you need in one place.

Quiet picturesque locations away from the hustle, noise, and bustle of life in the city.

The varying prices for villas: and among them you will find small or large Turkish villas according to what suits your budget and desire.
Through the Imtilak Real Estate website, you can take a comprehensive look at a range of classy villas in "villas for sale in Istanbul", and you can also browse the photo gallery of Villas for sale in Antalya. Wherever you are, you'll find Imtilak preset next to you with a range of the best and most powerful offers and services.
Watch video: Villas for sale in Istanbul within the most spectacular maritime city, Deniz Istanbul
One of the featured offers also is the charming, attractive, and beautiful villas for sale in Turkey by the sea, therefore, it is an opportunity to live in a high, stable, and quiet environment, side to side with beauty of the nature, as the threads of the sun meet the blue water of the sea at sunset surrounded by the green gardens, painting you a marvelous, calming, and comforting scene.
Turkey's Villas- The Best Choice in Europe.
The booming tourism activity in Turkey is considered as an important investment factor. Where a huge number of millions of tourists travel to it every year. Making investments in villas and luxury properties that tourists prefer in Turkey a thing with guaranteed profit.
That is why many experts believe that choosing Turkey when thinking about buying a villa is the best option in Europe, because:
It includes many tourist and historical attractions that attract millions of visitors to it. This gives a major advantage to tourism investment in the real estate sector. An ideal opportunity to rent or even offer villas in Turkey for sale.

The distinctive and strategic location linking Europe and Asia. Turkey is the heart of the world, and the prices of its villas please the investors! And the investor can find various golden deals in it to buy luxury villas overlooking the sea from the pioneers of developing real estate projects in the Turkish market.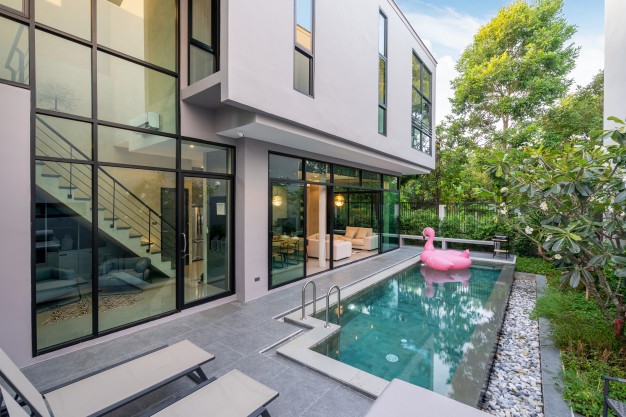 Villas Prices in Turkey- Cheap Villas for Sale in Turkey
The options for buying and paying for villa lovers range from villas for sale in Turkey in installments to others under construction, with an advantage over cash and early payment, as discounts sometimes reach up to 20% and more.
You can get a full idea about the prices of villas by reading the list of projects within this page, or by reading our article titled: On the Prices of Villas in Turkey and the Factors Affecting Them. By reading the article, you can get a complete idea about the types of villas in Turkey and their prices in US dollars and Saudi riyals.
All these reasons prompted the interested people to search and buy a villa in Turkey, due to the good investment return for this type of property.
Villas for Sale in Turkey Suitable for Trukish Citizenship
The Turkish economy has witnessed a qualitative revolution in various fields, and that development has reflected positively on the real estate sector in particular, and the sale and purchase of villas has flourished in all Turkish cities, especially after the last amendments in the investment law and the Turkish citizenship.
The Turkish government provides various facilities and tax exemptions in the real estate sector. And encourages the establishment of high-end real estate projects for foreign and Turkish investors alike. To meet the aspirations of the promising real estate market, and according to the laws themselves without discrimination, as there is no difference between them in treatment or taxes, with large facilities available for foreign investors.
Within the framework of these facilities offered to the investors, and to encourage real estate projects, the Turkish government gives an opportunity to obtain Turkish citizenship in exchange for a real estate investment of 250 thousand dollars in Turkey.
Thus, it is a great opportunity to own and settle by buying a villa in Turkey, investing it, and acquiring Turkish citizenship.
In the promising Turkish city of Trabzon, where nature and beauty are, please take a tour in the offers of Imtilak "villas for sale in Trabzon", where you can find a range of distinctive options with reasonable prices.
Watch the video: Villas for sale in Yalova
Reasons to Buy Villas in Turkey
The strategic places in which these villas are located, , as most of these villas have enchanting and fabulous views, near vital areas and all the public facilities and services.

The development in prices of villas in Turkey is clear, especially the 2021 villas, where buying a villa and using it for an investment purpose generates a percentage of profits to its owners which is not a small, whether by renting them to tourists and visitors in short term, annual rental, or even for resale later.

There are independent villas, shared villas, Rove villas, duplex villas, villas with apartment system, classic villas, villas for ownership, investment villas... There are unlimited options for villas for sale in Turkey, and you only have to choose the appropriate one for your requirements.

Villas of Turkey have unique advantages, combine between several properties, such as housing, stunning views, investment, even obtaining the Turkish citizenship.
Especially here on the website of Imtilak Real Estate, we provide you with many options for buying luxury villas in distinct places in Turkey, it is also our pleasure to provide services of after-sales such as furniture from the most luxurious brands in furniture market in Turkey, in addition to the services of leasing and managing property of all kinds.
Istanbul Region Report


The most favorite cities for foreign investors
The nationalities that owned the most in Turkey