Villas for sale in Istanbul 2023
Best offers for villas for sale in Istanbul 2023. Small villas, luxury villas, cheap and old villas, and villas for sale in Istanbul with sea views and the Bosphorus. There are installment offers, contact us to buy villa in istanbul.
Properties found: 10
USD

EUR

SAR

AED

KWD

OMR

QAR

BHD

JOD

DZD

YER

TRY

GBP

CHF

CAD

AUD

CNY

RUB
What are the advantages to buy villa in Istanbul?
In Istanbul, they are very beautiful, with different locations, diverse designs, competitive prices compared to those in Europe, well-developed surrounding infrastructure and proximity to vital places, as well as other factors such as the quality of accessories and clefts, and Istanbul contains many faults in different regions and in multiple areas.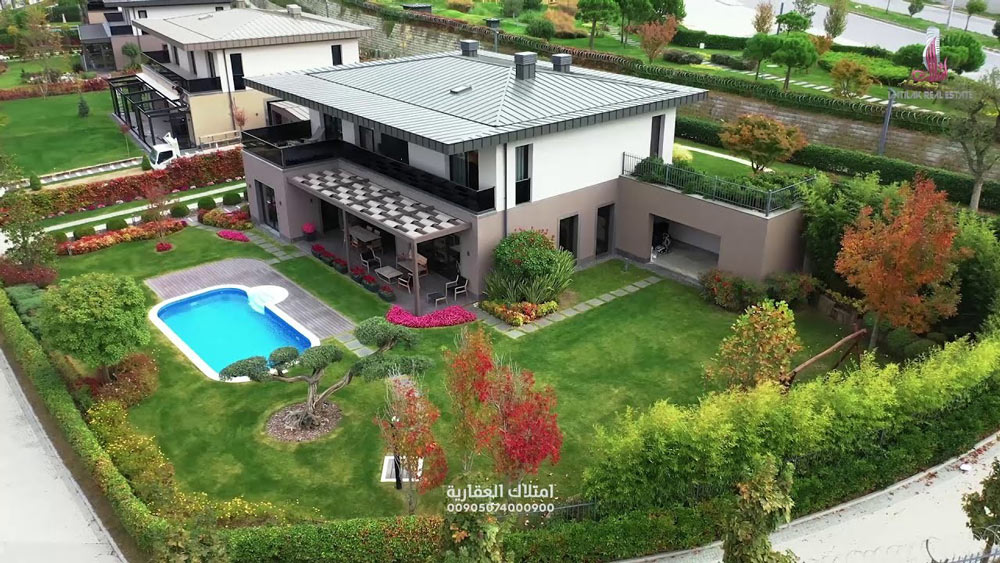 An overview of the

villa price in istanbul 

2022
villas price In Istanbul 2022: average dollar prices vary according to the quality, size, and location of the villa, its proximity to the city center, and in general the price starts at $270,000. The price can be as much as $1.5 million for large, luxurious villas, known for their space and beauty.
What are the best areas to buy villa in Istanbul?
It is up to the customer's desire, as the villas overlooking the sea have their own distinctive color. In general, there is Beylikduzu, and Buyukcekmece, where the villas have wonderful sea views. Bahcesehir, Silivri, Çatlıca, Arnavutköy, and in general, the strategic locations of villas in Istanbul are very many.
Offers of villas for sale in Istanbul by Imtilak Real Estate
Istanbul villa for sale by the sea
Villas with sea views in Istanbul have a special splendor, so the option to search for villas for sale in Istanbul overlooking the sea will be the first choice for comfort and recreation like: Tracha Palaces, Villas Of Light Complex, Paradise Golf Villas, In Beylikduzu there are Marmara Palace villas and Marina Marmara Villas.
Villas for sale in Istanbul on the Bosphorus
The location on the Bosphorus is one of the most beautiful villas in Istanbul, where there are historical villas and palaces designed according to a system with a classic character. The most prominent of these areas on the Asian side are Beykoz, Uskudar, Kandilli, and on the European side, beautiful Sarıyer, and the Besiktas region.
Luxury villas for sale in turkey istanbul
Istanbul has many locations for luxury villas, including Riva Villas in Beykoz, located on the Asian side, and on the European side, Traca Palaces, Green Reserve Villas, Al-Noor Complex Villas, and Western Mahalla villas in Sisli villas Yesil valley.
Small Istanbul villas for sale
Yesil valley villas in Sisli, Green Reserve Villas in Buyukcekmece, and Riva villas in Beykoz are small villas, and there are other areas with multiple options for spaces.
Old villas for sale in Istanbul
Old villas in Istanbul are available, such as the villas overlooking the Bosphorus in Istanbul, and these villas are famous for their high prices.
Cheap villas for sale in Istanbul
This type of villa is spread in the outskirts of Istanbul. Yesil valley villas located on the Black Sea shore on the Asian side of Istanbul are cheap villas, and Buyukcekmece villas are available at cheap prices in Istanbul compared to istanbul villas in other regions.
Istanbul villas for sale in installments
All offers to buy villas in the most prestigious areas of Istanbul, whether for family housing or for rental, investment, and monthly financial returns, can be obtained through convenient installments options offered by Imtilak Real Estate.
Imtilak services in the field of selling villas in all areas of Istanbul
Imtilak Real Estate offers its integrated services for selling villas in Istanbul, through its office in Istanbul, and its services include, in addition to installment services, pre-sales, after-sales, and during-sales services, by receiving the customer from the airport to the hotel, helping him choose the place of residence, and providing specialized real estate consultancy, and accompany him on tours throughout Istanbul. We also have a team specialized in following up the procedures for the title deed, receiving the villa, verifying its conformity with the contract, getting a residence permit, opening a bank account, preparing villas and their accessories for use, in addition to managing villa affairs, such as renting it, reselling it, and following up on taxes, fees, and bills of the villa.
Edited by Imtilak Real Estate©
Did you like this topic? You can share it with your friends now.
Istanbul Region Report


The most favorite cities for foreign investors
The nationalities that owned the most in Turkey