Eyupsultan District in Istanbul - Discover it in Detail
A comprehensive guide on Eyupsultan in Istanbul. What are the best places for accommodation and investment in Eyupsultan? What are the features of investment? 2021-01-08
Last update
2022-01-13
Eyupsultan District in Istanbul - Discover it in Detail
Eyupsultan in Istanbul in Detail
As you are reading about Istanbul's most popular areas, remember that the first thing done by the Ottoman Sultan Mehmet Fatih was to locate the monument of Ebu Eyup El Ensari when he conquered the city on 29th May 1453 AD.
Where is the Eyupsultan district located?
It is located on the European side of Istanbul, overlooking the golden horn bay. Its land area is 223.78 km². Eyupsultan is close to Istanbul's liveliest places, such as Taksim 7 km, Fatih 3 km, new Istanbul airport 37 km, and Sabiha Gokcen airport 50 km.
You might like to read about Esenler in Istanbul and Bagcilar in Istanbul.
Accommodation Features in Eyupsultan
Eyupsultan district, Istanbul's inhabitants' hearts destination, is unique due to its religious and spiritual values as it holds the shrine of Ebu Eyup El Ensari, who was martyred near Istanbul. He used to be the flag bearer of Prophet Mohammed's army; peace be upon him. He is a religious symbol for Turkish people as few companions were buried in Istanbul compared to those buried in Greater Syria and the Hijaz.
Eyupsultan offers accommodation seekers with atmospheres full of religious rituals and heritage, encouraging them to consider living in Eyupsultan. It has many enticements; it is located in central Istanbul, close to the most popular tourist places as Fatih, Sultan Ahmed, and independence street. Besides, Eyupsultan has a special symbolism in Ramadan that Turkish people and Arabs in Istanbul seek prayers of Ishaa and Taraweeh at Ebu Eyup Mosque.
We recommend reading our article on the advantages, disadvantages, and cost of living in Turkey in this context. 
Tourist attractions in Eyupsultan
Eyupsultan Mosque
It is one of the most significant architectural monuments in Turkey. It was built five years after Istanbul's conquer in 1458.
The mosque is rectangular-shaped; its central dome rests on eight pillars. There are also semi-domes and the shrine of Ebu Eyup El Ensari, with a fountain in the middle and a hundreds-year-old colossal tree in the mosque's yard.
The mosque's outer yard is open to the street through two gates. The inside yard has 13 domes resting on 12 pillars.
The shrine of Ebu Eyup El Ensari is one of the most shrines in Istanbul. He witnessed the oath of allegiance to "Aqaba," the conquest of "Badr" and "Uhud" with the Prophet Mohammed; peace be upon him. The Prophet Mohammed stayed at his home when he came to Madinah as a migrant, where he stayed with him for seven months until he built a room and a mosque.
The mosque lies on the golden horn bay coast, having a charming view at night, bringing tranquility and happiness to visitors.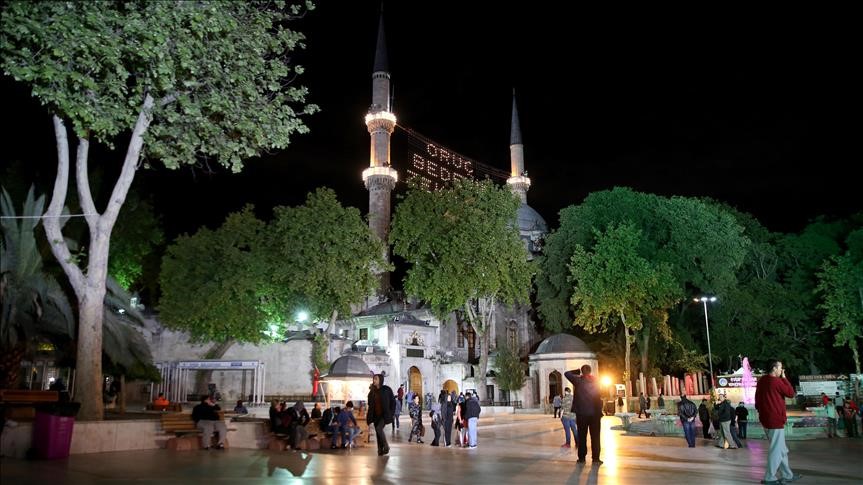 Taraweeh prayer at Eyupsultan mosque has a special spiritual taste for Arabs in Istanbul. Istanbul municipality is keen on organizing collective dinners for thousands of fasting visiting the mosque daily. Families accompany their children to enjoy the decorations such as the banners light with phrases like "Welcome to the Sultan of Months" and "There is no Allah but Allah, Mohammed is the Messenger of Allah."
Eyupsultan Cable Car: Watch Istanbul from Sky
Eyupsultan district has Pierre Loti Hill with a charming view of the golden horn bay and the Bosphorus, which can be reached by Pierre Loti cable car trip that is short and fast.
The Istanbul municipality established this cable car on 30th November 2005. It is 384 meters long and 55 meters high. The trip period is two minutes and a half. About 3500 tourists use it daily, setting off every five minutes. Every cabin accommodates eight people with 650 kg, made up of only two stops.
You might like to read our article on tourism investment in Istanbul.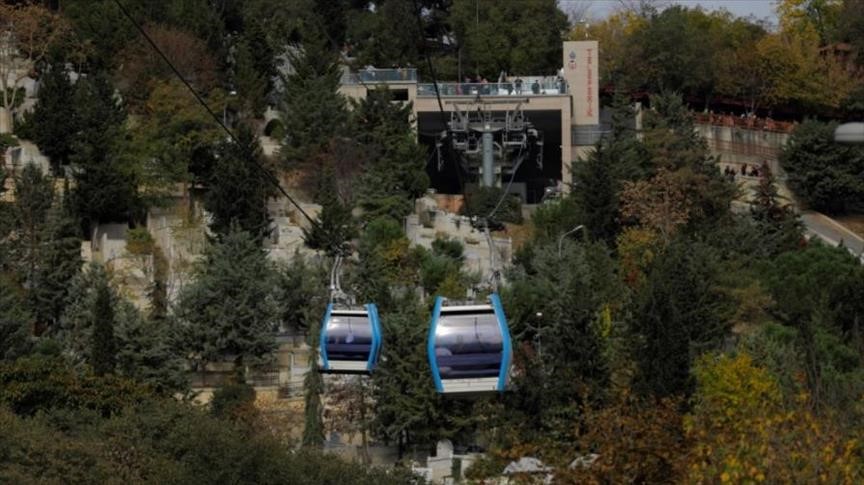 The cable car takes tourists on a trip over Pierre Loti Hill, where they can enjoy family meetings and buy souvenirs.
They can have Turkish tea in the fresh air in the most famous café, watching the city from above, enjoying the beauty of the view of the golden horn bay, and taking pictures.
Visitors can use telescopes to watch Istanbul's tourist attractions such as Galata Tower, Sultan Ahmed Mosque, Ayasofia Mosque, the bay's bridge, and Eyupsultan Mosque. 
The hill got its name after the French writer Pierre Loti, who used to compose his poems there. He chose to settle in Eyupsultan in Istanbul, where he wrote two novels about himself.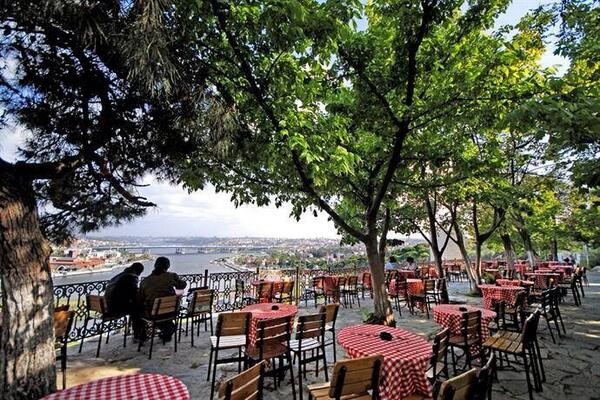 Isfanbul Theme Park
Istanbul is one of the biggest entertainment cities in Turkey and the Middle East in 2022. It is one of the places-to-visit on a family's schedule. It is a destination for families and tourists to spend an exciting day. It is enormous, with 600.000 m². 
The entertainment city, opened in 2013, has 50 various games such as water games, water slides, car games, the death train game, and roller coaster ride.
The entertainment city offers exhibitions for heritage antiques, trendy clothes shops, not to mention Turkish restaurants with the best cuisine, giving the trip a sense of happiness and enjoyment.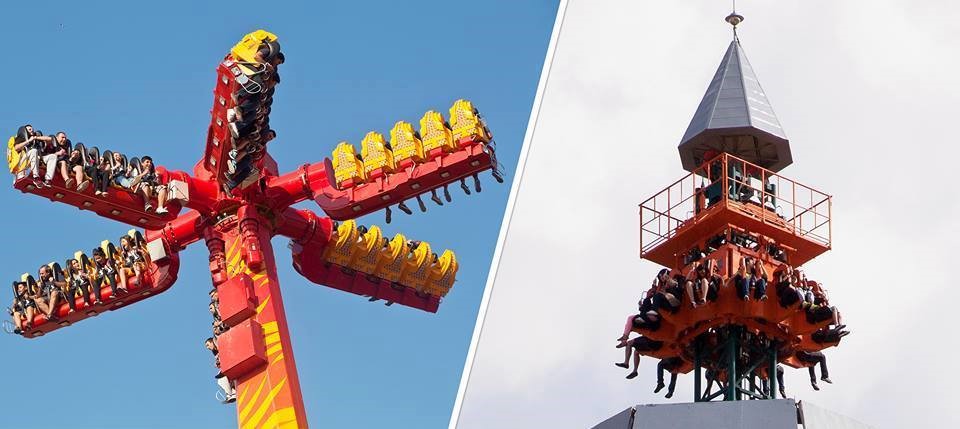 Schools in Eyupsultan
There is a wide variety of schools and public and private universities that public schools are free for foreigners. The teaching language is Turkish. Arabic, English, and French are also taught at intermediate and high schools.
Here is a list of schools in Eyupsultan:
1. Private Turkish Zinde Schools
They are well-advanced schools in science and technology, delivering education for kindergarten, primary, and intermediate levels in both Turkish and English.
2. Imam Hatip Turkish Schools
They are of an Islamic flavor and one of the choices for those who prefer learning the Holy Quran, Hadeeth, and Religion. It is worth noting that Imam Hatip students can enroll in all universities.
3. International Amjad Al Oruba School
It is a certified school by the Ministry of Education in Turkey and the Libyan Ministry of Education. It is located in Eyupsultan. It is 8 minutes to Yorum Istanbul complex, 8 minutes to Hayat Tepe, 7 minutes to Fatih and Aksaray,12 minutes to Taksim, 20 minutes to Mall of Istanbul, and a 12-minute walk to Bayrampasa metro station.  
Address: Nisanca, Davutaga Cd. 26-1, 34050 Eyupsultan/İstanbul
Universities nearby Eyupsultan
Halic University is a private university located in Beyoglu, delivering teaching in English and Turkish. It was founded in 1998, having many colleges such as Medicine, Architecture, Arts, Fine Arts, and Business Administration. 
Istanbul Ayvansary University is located in the Balat neighborhood, delivering teaching in Turkish and English. It was founded in 2016, ranking 152 in Turkey, having many specializations such as Architecture, Economy, Fine Arts, and Social Sciences.
Eyupsultan has a strategic location near Istanbul's most well-known universities, such as Gerrehpasa University, Bahcesehir University, Altinbas University, Kadir Has University, and Aydin University.
Hospitals and Health Care Services in Eyupsultan
Turkey has a robust medical infrastructure, so does Eyupsultan as it has a group of public and private hospitals. Here is a list of the most prominent ones:
Eyupsultan Public Hospital: It is one of the most prominent hospitals in the European side of Istanbul, delivering medical services and run by the Ministry of Health.
Avrupa Safak Private Hospital: It is located in the Osmanpasa neighborhood, delivering the finest medical services for patients.
You can find more information about Medical Sector in Turkey.
 Infrastructure in Eyupsultan
Eyupsultan has diverse service facilities; the most famous one is the nearby coast overlooking the golden horn. There are a wide range of distinctive public parks for family picnics, not to mention restaurants by the municipality, serving food at affordable prices, such as Osmanli Park restaurant in the Alibeykoy neighborhood.
A tramway line was opened on the banks of the golden horn (Eminonu – Alibeykoy). Discover Istanbul's Transport in detail.
Sultaneyup's Markets And Nearby Malls
Some local bazaars around Eyupsultan Mosque appeared, selling artifacts, beads, dates, scented oils, and Islamic books.
1. Istanbul Forum Mall
It is a shopping and entertainment center, having many clothes trademarks at affordable prices.
2. Axis Mall
it is very close to the Fatih district. Though it is small compared to other malls in istanbul, it has international and local trademarks, as well as a cinema hall, restaurants, and cafés overlooking the metro station. Are you looking forward to investing in Istanbul and looking for a distinctive office in the city center? Discover Imtilak Real Estate offers in Axis Offices.
Investment Features in Eyupsulatan
Eyupsultan's historic dimension gave it tremendous importance as a center for investment, trade, and tourism for Turkish and Arabic investors alike.  As Eyupsultan has a strategic location in the heart of Istanbul and has all the needed investment facilities, it became a residential area with transport, schools, hospitals, and universities.
Imtilak Real Estate is ready for help for those interested in real estate investment step by step to get the best properties in Eyupsultan.
Explore Imtilak's best offers within apartments for sale in Eyupsultan. For more information, our team is here for help.
It is worth noting that the Turkish citizenship program has the best offers for obtaining Turkish citizenship by property ownership; investors can get the Turkish passport within three months when investing $250.000. The property owner can invest the property by renting it out or selling it after three years with high-profit returns.
Features of Purchasing an Apartment in Eyupsultan
Purchasing a property in Istanbul is determined by the district's features; here are the most important factors for choosing Eyupsultan for purchasing a property:
The Islamic and conservative nature of Eyupsultan provides a sense of peace and ease of mind for residents.
The district's beautiful architecture
New-style residential projects
Its geographic location nearby Istanbul's most prominent monuments
The developed infrastructure
Having international and Arabic schools
Nearby the most well-known universities in Istanbul
It is close to the new Istanbul Airport, 37 km, and Sabiha Gokcen Airport, 50 km.
It is close to the most famous malls and shopping centers.
Having entertainment places
Reasonable property prices
Rising real estate investment opportunities
Holding the most well-known historical monument, the shrine of Ebu Eyup El Ensari, a tourist attraction
Explore more about Istanbul's districts:
Edited by Imtilak Real Estate
Did you like our topic? You can share it with your friends.