Cheap apartments for sale in Bursa, Turkey in 2023
The best offers for cheap apartments for sale in Bursa are provided by Imtilak Real Estate company within the best areas and with the most wonderful views. Check our offers and contact us for more information.
Properties found: 1
USD

EUR

SAR

AED

KWD

OMR

QAR

BHD

JOD

DZD

YER

TRY

GBP

CHF

CAD

AUD

CNY

RUB
12/2025
Bailon Residences 1060 - IMT
Apartments for sale in Nilufer Bursa, in a promising investment complex, suitable for obtaining Turk...
Starting at
145,000 $
Are apartments in bursa cheaper than in Istanbul? What are the average real estate prices in Bursa? How can I get cheap apartments for sale in Bursa?
In this article, we try to fill a knowledge gap on this subject while clarifying this with a number of vivid examples from Imtilak Real Estate projects.
Advantages of owning and buying an apartment in Bursa
The Turkish state of Bursa meets Istanbul at its location, sharing the Sea of Marmara from its southern side, and the two cities are connected by shipping lines, as well as road transport routes across Kocaeli.
Bursa has occupied an important position among the most prominent Turkish cities, due to its central geographical location between Ankara and Istanbul, the diversity of its environment, and the beauty of its nature.
In addition to its comfortable residential character, and its industrial development based on its high population density compared to other Turkish cities, whose population at the date of writing these lines in 2022 exceeds 3,147,000 people.
Bursa has been fortunate in terms of tourism for its fascinating nature and ancient history. Many investors or those wishing to own real estate in Turkey did not hesitate to search for its abundant options with high specifications and acceptable prices when compared to its neighbor Istanbul.
Despite the convergence of average real estate prices between the cities of Bursa and Ankara, the price discrepancy with Istanbul by 51% was an important reason to increase the demand for ownership in its luxury real estate opportunities at very affordable prices.
In the same context, it is useful to note that the average price per square meter in Bursa among all types of built real estate (both old and new) at the date of writing this article is 4,858 TL, which is equivalent to approximately $327.5, which is the same figure in the Turkish capital, Ankara, with a difference less than only 2 TL.
While the average price per square meter in Istanbul is 9,954 TL, which is equivalent to about $670, according to the Zingat website, which specializes in real estate.
Cheap apartments for sale in Bursa
To talk about cheap apartments for sale in Bursa within modern residential complexes, we discuss some of the projects marketed by Imtilak Real Estate company in the city, with the most famous areas that are witnessing a great demand for real estate ownership in them:
Cheap apartments for sale in Mudanya, Bursa
It's one of our suitable investment opportunities to own at an affordable price in Mudanya, Bursa: The luxury housing project Yeşil Bursa.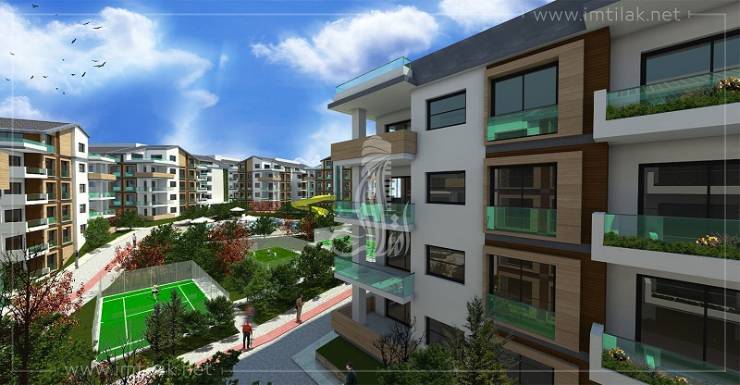 Located in Mudanya, which is classified among the most beautiful areas of Bursa on the Sea of ​​Marmara, which is distinguished by its colorful architecture and beautiful alleys decorated with traditional houses with tiled roofs, some of which date back to the Ottoman era, and which are also adorned with its picturesque beaches and fresh air.
Yeşil Bursa is a large residential complex, with a limited number of apartments. The project's land area is: 15,559 m² and the garden area is 3,000 m². The project includes 140 spacious apartments spread over 11 buildings.
The project is located one kilometer from the seashore and includes many recreational services suitable for all family members, such as various playgrounds, swimming pools, gardens, a gym, round-the-clock security protection, a kindergarten.
The apartments' spaces start from 150 m² for a 3+1 apartment, and the price is $102,000 only. In fact, it is a large and relatively cheap apartment compared to its price and many features.
Cheap apartments for sale in Nilufer, Bursa
The Kayapa complex is located within the Nilufer district, which is one of the rapidly growing expansion areas in the green city of Bursa.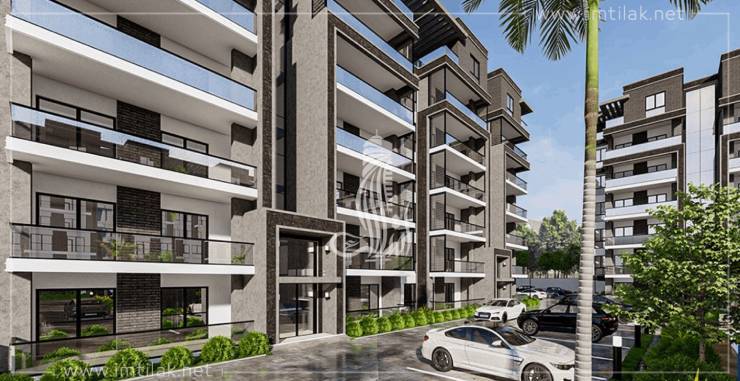 The project offers spacious apartments at affordable prices, in three different styles (2+1, 3+1, and 4+1 duplex), with multiple options in terms of space.
The project land area: is 3,500 m², and includes 6 buildings, each with a height of 7 floors, and the number of apartments is 71.
The project contains a number of various service facilities, including a swimming pool, a gym, hobby rooms, and children's play areas in the garden.
The apartment spaces in this project start from 94 m² for a type of 2+1 apartment, and the price starts from $61,000.
Cheap apartments for sale in Osmangazi, Bursa
It's one of the cheapest modern real estate projects in the Osmangazi district of Bursa is the elegant Prestige Bursa project, which occupies a land area of ​​15,000 m², and the project includes 7 buildings and 504 apartments.
The project also includes integrated service facilities such as swimming pools and a gym, in addition to a sauna and massage room.
The spaces of the apartments in this project start from 105 m² for a 3+1 apartment, and the price starts from $75,000.
Cheap apartments for sale in Yıldırım, Bursa
Vita Complex is one of the projects of Imtilak Real Estate company in Yıldırım.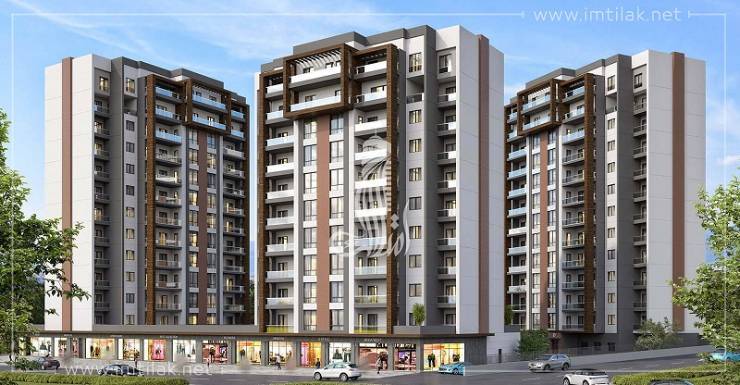 The project location is distinguished by its centrality in the middle of the most beautiful, important, and largest central areas on the slopes of Uludag Mountain in the green Bursa, which derives its name from the name of the Ottoman Sultan Bayazid Yıldırım.
The project also distinguishes its proximity to many monuments and tourist attractions in Bursa, such as Uludag National Park, the historic Great Mosque, the famous Bursa cable car.
The project's land area is 8,000 m², and it includes 4 residential buildings containing 176 apartments of 3+1 and 4+1 types. The prices of 3+1 apartments start from $104,000 for an apartment of 138 m².
How does Imtilak Real Estate company help you buy a cheap apartments for sale in Bursa?
The offices of Imtilak Real Estate company are located in the most important Turkish cities, to cover the largest possible number of the most active real estate places in the country. Therefore, your direct contact with Imtilak Real Estate or through our branch in Bursa, Turkey, will offer you the opportunity to learn about several models and real estate offers that are suitable for you.
Imtilak Real Estate company meets your ambition to own all types of green Bursa real estate, through its wide offers that suit diverse segments and owners of different capabilities within the cheapest apartments in Bursa, with full professional services starting from the moment you arrive in Turkey until getting the desired property, in addition to the distinguished after-sales services that Turkish citizenship services include real estate investment, decoration, resale, property management.
Edited by Imtilak Real Estate ©
Bursa Region Report


The most favorite cities for foreign investors
The nationalities that owned the most in Turkey