Apartments For Sale in Taksim 2022
apartments for sale in istanbul taksim in cash or in installments, within residential complexes that provide all services, close to transportation, and next to the most important historical areas in Istanbul
Properties found: 5
USD

EUR

SAR

AED

KWD

OMR

QAR

BHD

JOD

DZD

YER

TRY

GBP

CHF

CAD

AUD

CNY

RUB
Within apartment for sale in istanbul turkey taksim suitable for families and businessmen, you can find the best specifications that give you a special touch of luxury, sophistication, and splendor.
If it is true that each city has a heart, then Taksim area must be the vibrant heart of Istanbul, due to its famous distinctive landmarks and markets that know no sleep. This explains why a large segment of investors is seeking to buy apartments for sale in istanbul taksim or within the nearby neighborhoods, like the luxurious neighborhoods of Şişli or the high-end Nişantaşı.
Apartments for sale in Istanbul Taksim- Rich History
Taksim is one of the most famous regions on the European side of Istanbul, where sights of the historical landmarks of the city take you to another whole world, combining rich history with glittering present. Here, the civilizations meet, races mix, and the area is always crowded with tourists and visitors.
It is not possible for tourists -whether of Arab or European nationality- to not visit Taksim area, which is charged with unique historical and urban icons, or not to think about owning one of the most beautiful apartments for sale in Istanbul Taksim.


Importance of Investing in real estate istanbul taksim?
Taksim is one of the most famous areas of Istanbul city at all, not only that, it is the most important center in the city.
Most foreigners and a lot of tourists want to spend their vacation there and live in its apartments, which are close to most of the city's important landmarks, or to live in the nearby areas such as Şişli, Karaköy, and other surrounding areas.
The investment return of the apartments for sale in Istanbul Taksim and within the square of this area is relatively high when compared to other areas, also, the demand for real estate istanbul taksim area is like no other. which increases the possibility of profit if you wanted to sell the property later.
Information and Details on Istiklal Street in Taksim
As for Istiklal Street which connects Taksim Square with Galata Tower, it used to be called "The Great Street" during the Ottoman era, then its name changed to Istiklal Street to commemorate Turkey's victory in its independence war.
The old tramway line runs all along Istiklal Street, which is a train used as a means of transportation from Taksim Square to Galata Tower, it is one of the most famous historical monuments in Istanbul.
Istiklal Street in Istanbul has many important cultural centers, like art centers, Ataturk Cultural Center, the Opera House, libraries, and entertainment places such as galleries, theaters, and commercial complexes specialized in clothing and beauty product shops, sweets, cafes, and restaurants, and in tur, this provides great accommodation options within the apartments for sale in Taksim.
Advantages of Ownership in Taksim Istanbul
Taksim area abounds with many historical and tourist attractions, making it a tourism magnet and historical center of the city, this was an additional incentive for everyone looking for apartments for sale in Istanbul Taksim, or the vicinity of this ancient area:
Near it, you will find the most important embassies of foreign countries, that have kept their place since the time of the Ottoman Empire until this day.
The monument stands tall in the middle of Taksim Square, it was built to commemorate the Turkish Republic which was founded in 1923, and was carved by the famous Italian artist Pietro in 1928, at 11 meters high, it symbolizes the leaders of the independence campaign and some politicians who played an important role in the Turkish politics in that era.
Taksim Square Mosque: it is a huge mosque that overlooks Taksim Square and the monument directly, the shape of its domes and minarets were built on the distinctive Ottoman style, to be a substitute for the small mosque next to it.
Its construction began several years ago, and its foundation was laid on the 17th of February 2017, with special efforts and support from President Recep Tayyip Erdogan, and the intention to open it was announced at the end of 2019.
Gezi Park: it is a park overlooking Taksim Square in Istanbul, Turkey, from one of its sides, with a view on the Bosphorus from its other side, it provides a spacious outlet for those who wish to own property and buy apartments for sale in Istanbul Taksim.
Galata Tower: overlooking parts of the old city, the Bosphorus, and the Golden Horn Bay, no accurate information is available on the construction date of the tower, but some sources say it was built in 507 AD.
The tower was restored by the architect Khair al-Din the pupil of the architect Sinan, during the time of the Ottoman Empire in 1509, after the earthquake that struck Istanbul at the time, the height of the tower is about 66.90 meters, while its outer diameter is about 16.45 meters and the thickness of its wall is about at 3.75 meters.
Galatasaray Museum: it is a sports museum rich in collectibles belong to the famous Galatasaray football team, located at the end of Istiklal Street, and it was established in 1915.
Wax Museum: located in the middle of Istiklal Street and near Taksim Square, it contains statues of the most important historical figures and world celebrities, as if these people are standing before you, they were created with unbelievable perfection.
And many other great landmarks that surround the area, which you will find when you search for apartments for sale in Taksim Istanbul.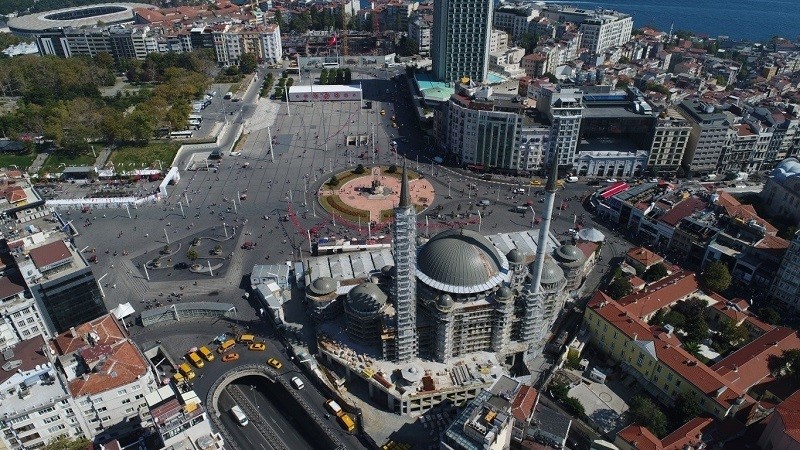 Information on the Transportations in Taksim
The Electric Tramway of Taksim - Istiklal Street: it is the historical tram that runs along Istiklal Street starting from Taksim Square until Galata Tower, the tram of Istiklal Street was put back in service after its locomotives were restored in 1989, which used to be on display in the museum before that following the suspension of its service for many years.
The tram runs back and forth in Istiklal Street, attracting attention with its red colors and bringing back the ancient history of this important historical region, it starts daily from 7:30 in the morning until 10:45 at night, passing through the middle of Istiklal Street as if it is a charged piece of ancient history.
The electric tunnel tramway: the tram line in the tunnel is another masterpiece just steps away from Taksim area.
The first electric tram line was established in Istanbul on the 11th of February 1914, and it is considered the second metro line in the world after the London tram line, it connects between Istiklal Street and Karaköy area at 573 meters long, this tram also works on electricity and its journey takes about two minutes.
Not to mention the diverse food markets and souvenir markets that are scattered between the historical alleys and Taksim Square, which never sleeps.
Apartments for sale in Istanbul turkey taksim- Imtilak Real Estate
Imtilak Real Estate provides many options for buying real estate in Turkey, such as apartments for sale in Istanbul Taksim, in addition to the best options for residence and owning property for sale in taksim istanbul and the surrounding areas, by searching on the site of Imtilak Real Estate for apartments for sale in Taksim, or apartments for sale in Şişli, or by contacting us directly.
Imtilak Real Estate provides all services regarding owning real estate in Turkey, through real estate suitable for obtaining Turkish citizenship in Taksim area and other vital areas, with real estate tours on apartments for sale in Istanbul Taksim, in addition to the free consulting service and its services that do not end even after completing the sale process, to be your loyal friend, from the moment you arrive at the airport until you own the property.
Edited by: Imtilak Real Estate ©
Did you like our topic? You can share it with your friends now!
Beyoglu Region Report


The most favorite cities for foreign investors
The nationalities that owned the most in Turkey