Apartments for sale in Sakarya in installments in 2023
With a variety of payment methods, Imtilak Real Estate provides apartments for sale in installments in Sakarya, Turkey within the best areas, with the most beautiful views and the cheapest prices, contact us.
Properties found: 4
USD

EUR

SAR

AED

KWD

OMR

QAR

BHD

JOD

DZD

YER

TRY

GBP

CHF

CAD

AUD

CNY

RUB
Are there offers of apartments for sale in Sakarya in installments?
Imtilak Real Estate provides you with various offers for apartments for sale in installments in Sakarya, with beautiful architectural designs, perfect housing specifications, within full-service housing projects and facilities, that make housing a safe environment for families.
But what makes a real estate company your choice if you're interested in buying a property within the province of Sakarya?
We'd like to make it clear that whoever wants to buy a property is going to face a variety of options, from retail real estate offers, especially since this kind of purchase has many advantages. These include installments for years, in addition to taking advantage of the first batch of the value of the property, which reduces the value of the total general price of the property, as well as other deductions if the buyer pays the remaining premiums at once.
Therefore, we at Imtilak Real Estate provide the buyer with multiple proposals for the property according to the owner's goal of it, whether it is for investment or housing, or both, we provide the buyer with the advantages they're looking for in terms of location, space, view, construction design, aesthetic and modernism, and government guarantee, until we eventually reach the property closest to the buyer's request.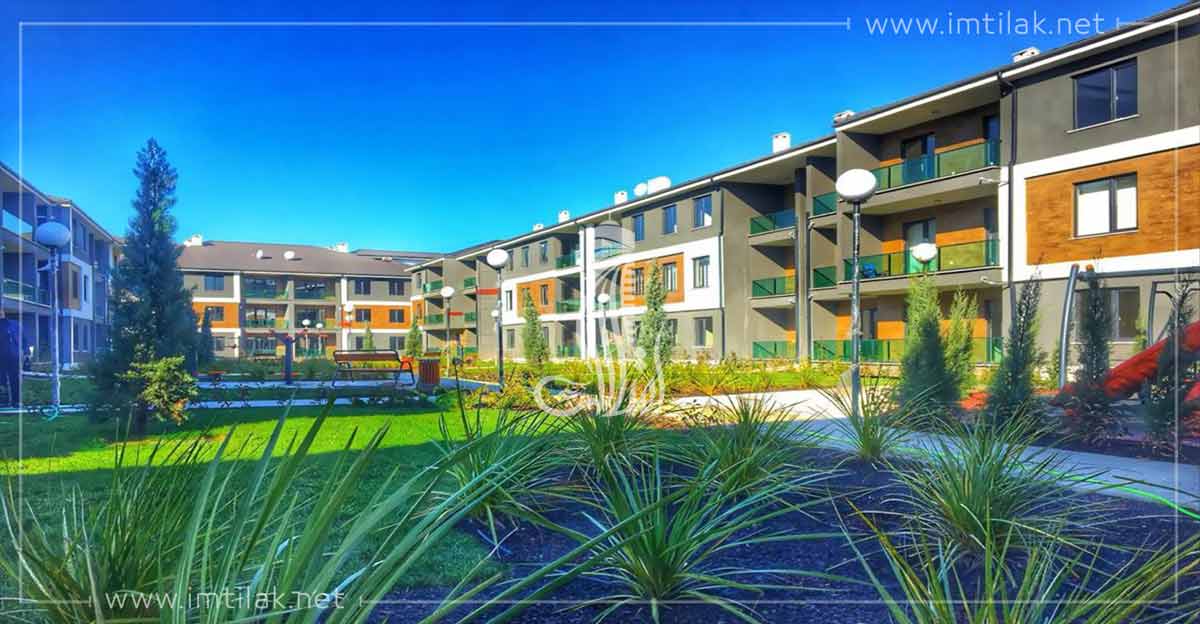 What are the prices of apartments in Sakarya in installments?
Sakarya has great tourism facilities, intended by visitors from everywhere, to enjoy its lakes, its green spaces, and the beauty of its charming nature. Especially since it is near to the Turkish capital of commerce and tourism, Istanbul. Sakarya is located in the north-west of the Turkish capital Ankara. The distance between Istanbul and Sakarya is approximately 153 km, while the distance between Turkey and Ankara is 302 km.
Sakarya, therefore, is an ideal choice for housing and stability, and as a result of its importance, Imtilak Real Estate company provides offers on apartments for sale in installments, with beautiful architectural designs, perfect housing specifications, cheap prices  starting at $39,000, and another starting at $45,000.
The most important offers of Imtilak Real Estate within apartments for sale in installments in Sakarya
Imtilak Real Estate offers a variety of residential apartment offers, within the installment system, taking into full consideration the location of the residential complexes, their liveliness, the proximity of the area to the most famous tourist attractions in Sakarya, and the availability of the most important facilities and infrastructure, which give the residents an atmosphere of comfort and stability.
We will show you the advantages of one of the projects that adopt the installment payment system for the buyer, which is:
Demir Sakarya project 666 - IMT
The complex is located in the central area of Adapazari in Sakarya, close to Lake Sapanca, surrounded by a number of vital facilities from hospitals, schools and markets that meet the needs of the population, as well as 30 km from Sabiha International Airport.
The project also has all the modern features, from a smart home system, a security and protection system, and CCTV camera surveillance around the clock.
The method of payment and breakdown of prices is as follows: in installments 50% down payment and the rest 50% in two years.
The number of rooms and lounges is 3+1, with spaces starting at 155 m2, and 2 bathrooms with prices starting at $79,000.
In case you have a query about the offers of apartments for sale in Sakarya, contact us now, for more details, we'll share with you the best offers that Imtilak Real Estate company has.
Imtilak Real Estate services in Sakarya
Imtilak Real Estate office was opened in Sakarya on 7/10/2019. The company began providing real estate services to investors and businessmen in the region, with offices in Istanbul and Trabzon.
Imtilak Real Estate provides important services, most notably brokerage and real estate consultancy, such as the sale and rental of apartments, villas, shops, land and real estate, and offers real estate projects to customers, within distinctive areas of Sakarya.
If you want to reach the Imtilak Real Estate office in Sakarya, you can contact us to choose the best way to reach us where your stay was in Turkey.
Edited by Imtilak Real Estate©
Did you like this topic? You can share it with your friends now.
Sakarya Region Report


The most favorite cities for foreign investors
The nationalities that owned the most in Turkey