Your guide to getting to know the hospitals in Ankara
We give you an overview of the best hospitals in Ankara, including public and private hospitals in Ankara, and the residential complexes nearby Learn about the most prominent public and private hospitals in the Turkish capital, Ankara, and residential complexes near health centers through Imtilak Real Estate company.
Advantages of the health sector and hospitals in Ankara
The health sector in Turkey in general, and Ankara hospitals in particular, has many advantages that make it superior to many health systems in the world. Among these advantages and services are the following:
Easy access to hospitals thanks to its central locations near bus stops and metro lines.
Benefit from the integrated health services provided by these hospitals.
Going to these hospitals through the advanced appointment system without having to wait for a long time.
Providing all modern systems used in diagnosing diseases from X-ray imaging devices to laboratory test devices.
The strong infrastructure of these hospitals and their provision of all amenities for patients
Relying on an advanced health system that allows patients to view all results related to analysis and imaging

Public hospitals in Ankara
1. 29 Mayıs State Hospital in Ankara
29 Mayıs State Hospital is one of the best hospitals in Ankara. It was listed among the hospitals of the Turkish Ministry of Health on 05/22/2014. It consists of two buildings, connected by a corridor in the form of a tube, with the aim of facilitating transportation between the two buildings.
The hospital was built using the most modern building methods, using the latest technological technologies, and based on all standards adopted locally and globally in the face of natural and unexpected disasters such as earthquakes and fires.
The total area of ​​the hospital is 13,097 square meters, with a total capacity of 106 beds. All rooms have been designed according to the latest technological systems, in a way that ensures complete privacy for patients with their companions and takes into account the needs of the patients and those in charge of them.
The rooms available in this hospital provide all the ideal health conditions for patients and their companions, where electronically controlled beds, electronically controlled air conditioners, wireless telephone systems, and LCD screens are available in all rooms.
As for the advantages of the electronic information system, it is done by following up all the records and results of the patient's examinations on the computer, and they can be safely shared with other health institutions. Also, all the results of the analysis and examination can be followed up by doctors and patients 24 hours a day inside and outside the hospital.
With the PACS system used in the radiology department, patients are provided with access to radiological images, thus speeding up all the processes related to accessing the results of analyzes and imaging.
The rooms that contain medical devices are equipped with the latest advanced technologies in the health sector, as this contributes to providing high-quality services to patients, speeding up medical examinations, diagnosing cases, and conducting examinations and health interventions easily and accurately.
There are 5 operating rooms in the hospital; ultrasound devices, microscopes, and advanced microscopes are available in these rooms, where the process can be monitored by those concerned in the hospital, and patients' examinations can be viewed on computers in all operating rooms.
After the patient is discharged from the operating room, he/she is taken to a specific room in 3 separate units from the rest of the rooms in the hospital, designated for intensive care, and separated according to the age and health status of the patient.
The hospital includes various medical departments and many surgical clinics, and it has medical staff, through which it provides the finest health care services to patients, who attract this hospital from inside and outside Ankara.
29 Mayıs State Hospital is located in the central Çankaya district of Ankara, and it can be reached by public transport buses designated for the municipality, and by all available means of public and private transport, there is a dedicated parking section in the hospital.
2. Medical City in Ankara
The medical city in Ankara is one of the most prominent public hospitals in Ankara, and one of the largest medical cities in Turkey. It is the ninth medical city to open in Turkey after the medical cities of Yozgat, Mersin, Isparta, Adana, Kayseri, Elazig, Eskişehir, and Manisa.
Ankara Medical City is located in the university district on the western side of the Çankaya district in Ankara and is easily accessible via subway, public transport, and dolmuş buses.
Ankara Medical City started receiving patients in various medical departments in February 2019, after an opening ceremony attended by the Turkish President, accompanied by a number of important figures in the health and institutional sector.
Ankara Medical City consists of 8 hospitals with a closed area of ​​about 1,312,000 square meters, and contains the largest medical laboratory in Turkey, as well as two helicopter landing and take-off areas, and is characterized by its daily capacity to receive 30,000 patients, and 8,000 emergency cases, and these are some numbers for Ankara Medical City:
4,190 beds in total
General hospital building: 665 beds
Cardiovascular hospital building: 556 beds
Neurological hospital building: 578 beds
Children's hospital building: 611 beds
Maternity hospital building: 563 beds
Oncology hospital building: 632 beds
Physiotherapy and Rehabilitation hospital building: 300 beds
Forensic Psychiatry hospital building: 100 beds
Total interior space: 1,312,358 square meters
Total land area: 674,000 square meters
131 operating rooms
Intensive care unit: 1,010 beds
Adult dialysis center: 29 beds
Pediatric dialysis center: 11 beds
Adult Chemotherapy Center: 90 beds
Pediatric Chemotherapy Center: 24 beds
Lab area: 7,400 square meters
Iodine treatment service: 10 beds
Radiography service area: 17,500 square meters
Sterilization service area: 11,330 square meters
Car parking capacity: 6,918 cars
Read more about Transportation in ankara Turkey
3. Gazi Mustafa Kemal State Hospital
Gazi Mustafa Kemal Occupational and Environmental Diseases Hospital was intended to receive patients only from employees working in the railway sector in Ankara. The motive for its establishment was to relieve the enormous pressure on the Eskişehir Vocational Hospital, which receives patients from the same sector.
The hospital was opened under the old name TCDD Ankara on January 18, 1943, for educational purposes, whereby a physiotherapy unit with medical equipment, a biochemistry laboratory, and an operating room was established.
The name of the hospital was changed to Gazi Mustafa Kemal Governmental Hospital for Occupational and Environmental Diseases by decision of the Ministry of Health of Turkey No. 22157 on June 4, 2009, and it continued to provide health services after expansion works to include all medical departments in it.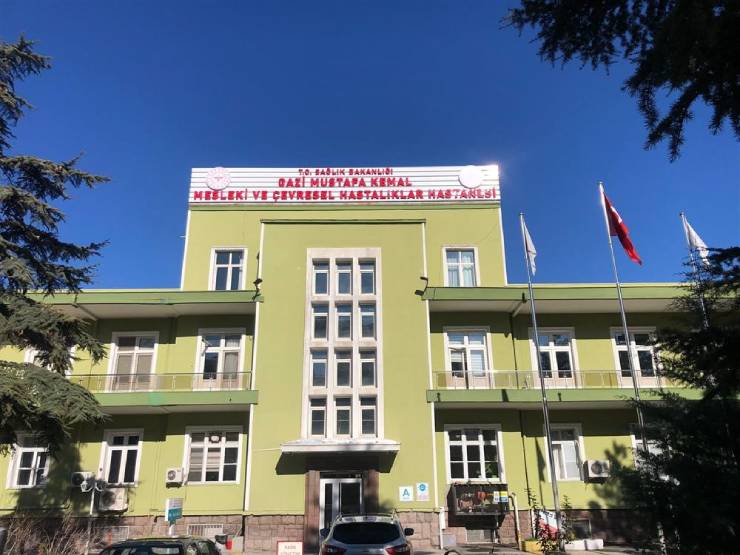 4. State Hospital in Akyurt
The Akyurt State Hospital of the Ankara Health Directorate was operated in 2001 with a capacity of 106 beds in the Akyurt district, which is one of the vital areas in terms of real estate and commercial investments in Ankara.
Akyurt Hospital provides health services in an area of ​​20,000 square meters on Çankırı Road, where health care is provided 24 hours a day.
The emergency department at Akyurt State Hospital consists of one examination room, one intervention room, one recovery room, and an observation room in which there are 4 beds.
In addition to the emergency department, there is the dialysis unit for which the State Hospital in Akyurt is famous, which began providing health care services on the date of September 1, by Resolution No. 2583 issued by the Ankara Health Directorate, and dialysis services are provided to patients who need dialysis days Monday, Wednesday and Friday.
The hospital has 11 medical units made up of various medical departments such as obstetrics and gynecology, ENT, outpatient physiotherapy clinic, and general surgery clinic.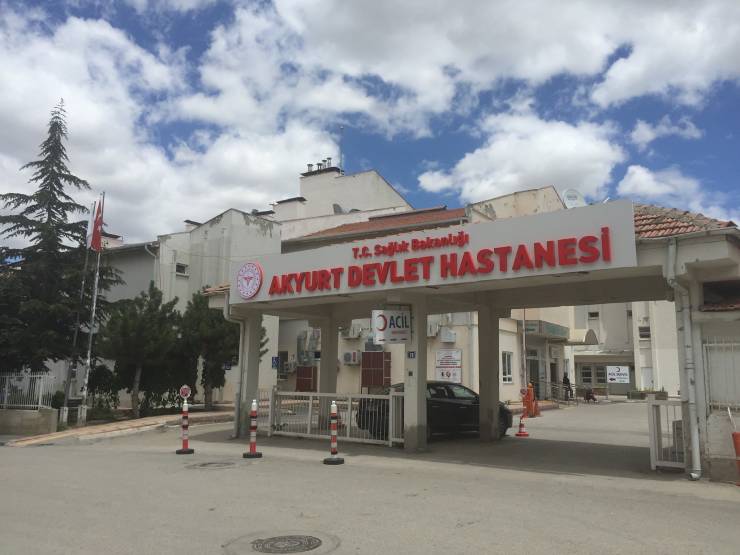 5. Ankara Mamak State Hospital
The medical care services in Ankara Mamak State Hospital were started on July 1, 2021, and it provides health services with a capacity of 200 beds in a closed area of ​​53,000 square meters.
The State Hospital in Mamak seeks to provide an effective service in diagnosing and treating diseases with advanced technical devices by closely following the current developments in the world of medicine, and always trying to conduct surveys, observations, evaluations, and arrangements to maintain and improve the quality of service.
Private hospitals in Ankara
1. Memorial Ankara Hospital
Memorial Health Group, the backbone of the health sector in Turkey and the reference center for its scientific and medical achievements on the international scene, has many branches in many areas of Istanbul, and a huge center in the capital, Ankara.
Memorial Ankara Hospital represents the health base in Ankara, with its departments that stand out as the reference centers in the world, it has an academic staff consisting of doctors who are experts in many medical fields, a patient-oriented service medical curriculum, and diagnostic treatment units with advanced medical technology.
Memorial Hospital in the heart of Turkey is the tenth hospital of the International Memorial Group, and it is one of the large and leading medical sectors that combine science and technology, as it extends over a closed area of ​​42,000 square meters, and is also characterized by its high-tech infrastructure.
Memorial Ankara offers medical services with a capacity of 230 beds, 60 intensive care units, 11 operating rooms, and 63 polyclinics. The most prominent medical departments in this hospital are; cardiovascular surgery, cardiology, oncology, oncology, bone marrow transplantation, IVF, orthopedics, neurosurgery, and ophthalmology.
The special thing about Memorial Ankara Hospital is the application of the most advanced sterilization techniques, which provides rest to health workers, and ensures that patients enjoy plenty of health benefits in this hospital.
Memorial Ankara Hospital is located on the international road between Konya and Ankara, at a strategic point in terms of its central location, so that patients from central Anatolia, the Black Sea region, and from abroad can easily reach Memorial Hospital in Ankara.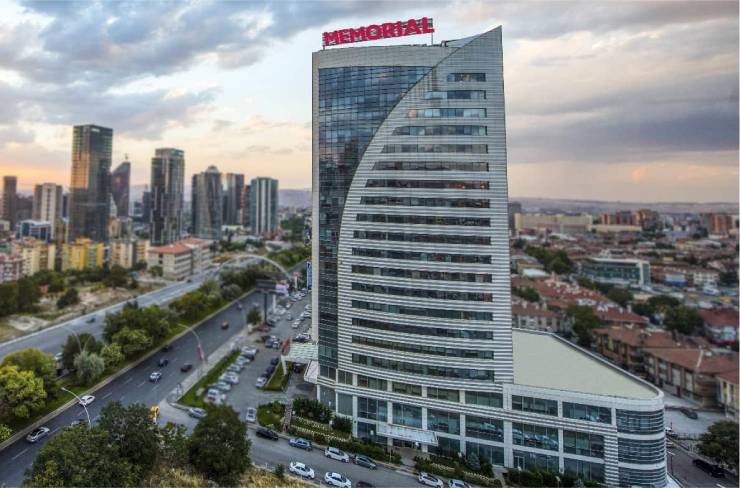 2. Özel Ankara Umut Hospital
Ankara Umut Private Hospital in Ankara provides services in line with international quality standards by constantly reviewing its services, in line with scientific, technological, and social developments in medicine and other fields.
Ankara Umut Private Hospital in Ankara with its wide vision and quality of health services is one of the preferred health institutions not only in the country but in the international arena as well, providing qualified service to all patients from regions such as Europe, Asia, and Africa from the moment of contact in order to get the appointment to some period After leaving the hospital.
All treatment departments in Ankara Umut Private Hospital are designed to provide health services in peace and security to each of the patients, in this context the patient rooms are ergonomically designed to meet all expectations, in all rooms, there are sofas for the companions, TV, telephone, mini-bar, wardrobe, valuables safe, personal care products, nurse call system, air conditioning, and ventilation systems.
3.  Akropol Hospital
Akropol Private Hospital is one of the largest private hospitals in Ankara, providing world-class health services because over the past 20 years it has worked to introduce the latest technological developments in the global health sector within its medical institutions and expanded the scope of its uses.
By combining the latest technological developments in the health sector with 20 years of experience, the doctors at Akropol Private Hospital work to provide a high-quality service in every field of medicine.
The medical staff working in the Akropol Private Hospital believes that providing medical knowledge and skills to individuals directly in the community will greatly contribute to improving the health level of people, so it has established a large health center that includes 50 single rooms (each room has one bed), and 3 operating rooms, 10 intensive care units, and 95 employees work in the staff of specialist doctors, nurses, health staff and assistants.
4. Medical Park Ankara
Medical Park Ankara Hospital is one of the important health centers in the most widespread chain of hospitals in Turkey, and it offers a range of health services that it has developed day after day, adding to it all its knowledge and experience in the health sector.
The health services provided by the Medical Park Hospital chain in Ankara are within a closed area of ​​22,000 square meters, with 158 beds, 52 intensive care beds, 6 operating rooms, and 80 polyclinics.
5. Medicana International Ankara Hospital
Medicana International Hospital in Ankara has been providing world-class health services since 2008, and it is one of the most important investments in the health sector, as it has managed to gather all health services of the capital under one roof.
Medicana International Hospital is located in the Söğüt district of Ankara, with an area of ​​20,000 square meters, and is among the private hospitals with modern technologies and technical features in the capital, Ankara, and the surrounding areas.
The quality policy of Medicana Hospital Ankara is a philosophy aimed at continuous improvement of business operations and health services, as it opens all doors to learning and benefiting from all medical technologies, to be the most effective way to develop the culture of health institutions, based on excellence, team spirit, transparency, continuous improvement, and reliability.
Medicana International Ankara Hospital provides health services with nearly 120 doctors and 800 employees in 50 branches in Istanbul, Ankara, and the rest of the countries around the world. In addition, some health centers consist of 207 beds, 8 operating rooms, 26 observation beds, 17 internal and surgical intensive care units, 9 intensive care units, 10 incubators, and 5 beds designated for coronary intensive care units.
6. Loqman Hakim Hospital
The Patient Services Department of Loqman Hakim Group provides health services in accordance with European standards, in terms of service quality, size, and equipment, especially with its medically qualified staff and a team of experts working in the health sectors in the hospital.
As for the buildings in Loqman Hakim Hospital, they are equipped with the latest technological facilities, and the smooth medical services in this medical group attract attention and delight foreign patients.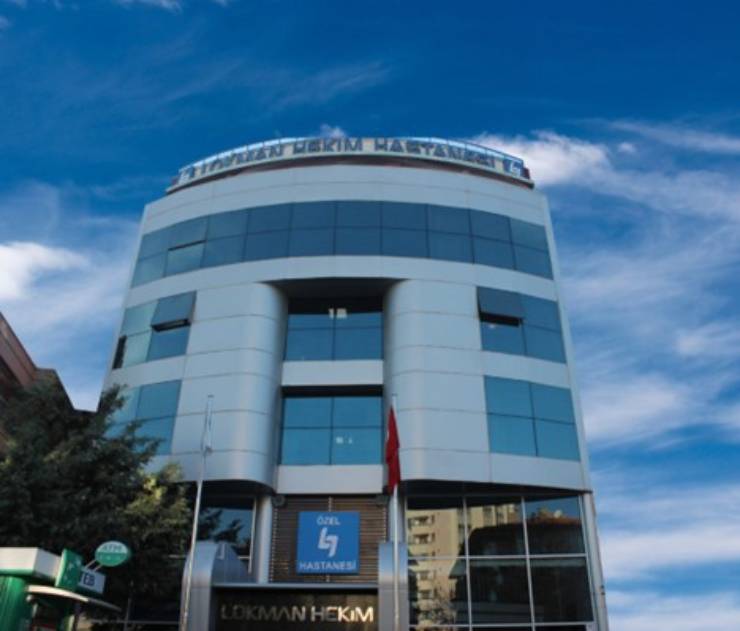 Residential projects close to hospitals and public facilities in Ankara
In areas close to hospitals, schools, malls, and many other services, and in strategic locations in the heart of the Turkish capital, real estate projects abound that offer the opportunity to live well, which promise great investment opportunities, and make an opportunity to obtain Turkish citizenship, and among the most prominent of these real estate projects in Ankara:
Ankara Pearl Project: It is a promising investment opportunity, suitable for Turkish citizenship, and is located within a full-service residential complex, 8 km from the 29 Mayıs State Hospital.
Ankara Legend Project: It is located within a luxurious residential complex built with a distinctive architectural style, and it is a promising investment opportunity near the center of the Turkish capital and is located 4 km from the State Hospital in Mamak.
Ankara Spirit Project: it has modern specifications, various services, and city views, it's one of the most luxurious residential projects in the capital, 6 km away from the State Hospital in Mamak.
Edited by Imtilak Real Estate ©