Bungalows for Sale in Istanbul
Ready to invest? What is your budget ?
How many living rooms are in the apartment?
Thank you!
Thank you, we have received your request, and we will contact you as soon as possible.
Istanbul is a veritable gold mine of architectural marvels, hopping marketplaces, and magnificent scenery. Bungalows are classic one-story homes that stand out against this appealing background. They have sloping roofs that provide a touch of architectural refinement. Istanbul's bungalows promise a dreamy place to call home, from charming, inexpensive homes that evoke nostalgia to opulent residences that transcend extravagance. This article will serve as your guide to the greatest bungalows available for purchase in Istanbul, whether you are a native wishing to relocate or a traveler searching for a taste of the city's appeal.
What is a Bungalow?
A bungalow is a style of home or cottage distinguished by its one-story design, which is usually devoid of interior stairs. It frequently has a low-pitched roof that slopes downhill from the center, typically with a gable or hipped style. Because of its simple, functional form, bungalows are recognized for their warm, inviting atmosphere.
Advantages of Living in a Bungalow in Istanbul
Great for Kid-Friendly Living
Due to its single-story design, bungalows offer a secure and kid-friendly atmosphere. With no steps to worry about, parents can relax knowing that their young children may move around without danger of mishaps or falls. Children may play in the backyard or garden with more supervision because of the convenient access to the outside.
Open-Concept Designs are Highly Desirable
In many bungalows in Istanbul, the living, dining, and kitchen spaces flow into one another without any barriers. This fosters a sense of community among family members and visitors in addition to giving the space a big and airy atmosphere. The lack of barriers between these locations makes networking and communication simpler.
Check out our offers for the best villas in Turkiye.
Easier & Less Expensive to Maintain
In comparison to multi-story homes, bungalows often require less care due to their small size and one-story design. For people or families with busy schedules or limited money, it is the perfect option since cleaning, repairs, and improvements become more doable and affordable.
Bungalows Come with Big Backyards
The availability of sizable backyard areas is one of the bungalows' alluring qualities in Istanbul. These external spaces provide plenty of space for gardening, outdoor recreation, or even the construction of a relaxing patio or deck. The lush green areas can make a tranquil haven at home as a respite from the hectic city life.
Get the best deals on Bungalows in Turkiye and enjoy a peacful life.
Bungalows Are in High Reasle Demand
The real estate market in Istanbul is very vibrant, and bungalows have proven to be very sought-after homes. Both domestic and foreign purchasers are drawn to them by their elegance, convenience, and family-friendly qualities. As a result, bungalows frequently maintain a high level of value, making them profitable investment properties for house owners.
Learn more about the advantages of buying a house in Turkiye.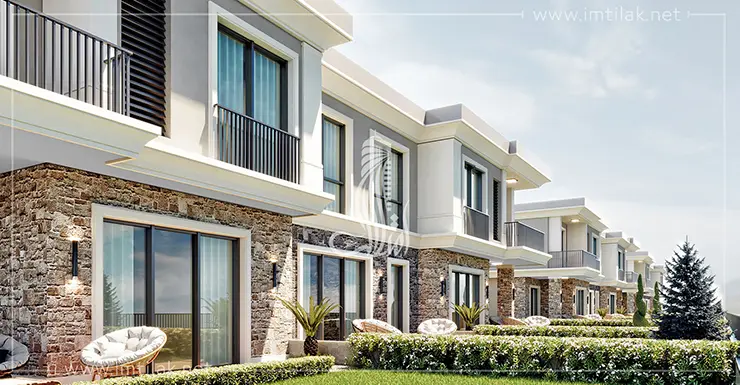 What to Look for When Buying a Bungalow in Istanbul?
Carefully consider the bungalow's location. Find a community that fits your interests and way of life. The accessibility of facilities including schools, hospitals, markets, public transit, and leisure sites are important considerations. Check the neighborhood's safety and security as well.
Examine the bungalow carefully to determine its general state and structural soundness. Consider including these expenditures in your budget since upkeep and renovations on older houses could be more necessary. A bungalow that has been modernized and well-maintained would probably be more pleasant to live in.
Make sure the bungalow's layout and design match your demands by inspecting them. Take into account elements like the number of bedrooms and bathrooms, the size of the living areas, and the kitchen's usability. Look for open-concept layouts that encourage a feeling of space and provide simple movement between areas.
Huge gardens or yards are common features of bungalows. Examine the outside area to see if it satisfies your needs for outdoor recreation, gardening, or other hobbies. Take into account how the yard is oriented with respect to the sun and other houses.
The bungalow's accessibility characteristics should be taken into account if you have mobility issues or intend to age in place. Look for stairs, broad doors, and other features that make moving about the house simple.
Check out our guide to learn
How to Choose the Right Property
. 
Are Bungalows a Good Investment?
Under the correct conditions, bungalows may be a profitable investment. Their desirability as an investment choice, however, relies on a number of variables, including location, market circumstances, and financial objectives, just like any real estate investment.
Let Imtilak Help You Find Your Next Bungalow
Imtilak is a leading real estate company in Turkey. It has a wide range of bungalows for sale in Istanbul, with different features and prices to suit your needs and budget. Imtilak also offers you a free consultation, legal support, and after-sales services to make your purchase process smooth and hassle-free.
Edited by Imtilak Real Estate ©
Do you like this topic? You can share it with your friends now!