Cheap bungalows for sale in Trabzon, Turkey 2023
Special offers from Imtilak Real Estate company within cheap bungalows for sale in Trabzon, Turkey. For distinctive homes in the middle of nature with great views, contact the Imtilak Real Estate team now
Properties found: 9
USD

EUR

SAR

AED

KWD

OMR

QAR

BHD

JOD

DZD

YER

TRY

GBP

CHF

CAD

AUD

CNY

RUB
Is it possible to buy a bungalows at cheap prices in Trabzon?
Cheap prices are not the only reason that drives many to the countryside in search of the property they want to own, but the calm and serenity, as well as escape from the hustle and bustle of life and the environmental pollution in the city.
Trabzon is considered one of the most important Turkish states and one of the most popular in its modern real estate, especially for foreigners, as recorded by annual statistics figures over recent years in particular.
This is mainly due to the fact that Trabzon is a tourist area visited by tourists from all over the world, due to its charming nature and its many archaeological and tourist attractions, in addition to its availability of options with lower budgets and relatively cheap house prices compared to the prices of rural houses in Turkey within the tourist areas in general.
Trabzon, Turkey has a diversity of beautiful natural environments, including plains, mountains, waterfalls, springs, and agricultural lands across its sprawling countryside, in addition to a long coastline on the Black Sea.
What are the cheapest bungalows prices in Trabzon?
The prices of houses (villas) in Trabzon within the new Imtilak Real Estate projects, with high-end specifications and various facilities, can start at approximately $272,000.
In fact, it is the price of a medium-sized apartment in Istanbul, which indicates the great difference between the prices of rural houses and villas in Trabzon and other areas in the major cities.
Offers cheap bungalows for sale in Trabzon
bungalows may not be the exact meaning, but we can address some of the villa projects that we are marketing for in Imtilak Real Estate company in the impressive countryside of Trabzon:
1. Kalecik Garden Villas
Kalecik Garden Villas is a modern residential complex that includes elegant apartments and villas in Kalecik, which is known among the most beautiful areas of Trabzon with its charming nature, away from the hustle and bustle of the city, and with distinctive views of the Black Sea starting from the first floor, a few meters away from it.
The project is located directly on the main road between Trabzon and Rize, within walking distance (walking distance) of cafes, restaurants, shops, and the city center.
The project has various facilities, including an open and closed swimming pool, green spaces, a children's playground, and indoor and outdoor parking.
The project villas contain 4 bedrooms, 2 halls, and 5 bathrooms, and their prices start from $475,000, while the prices of apartments of 2+1 size start at $120,000 (as of writing this article).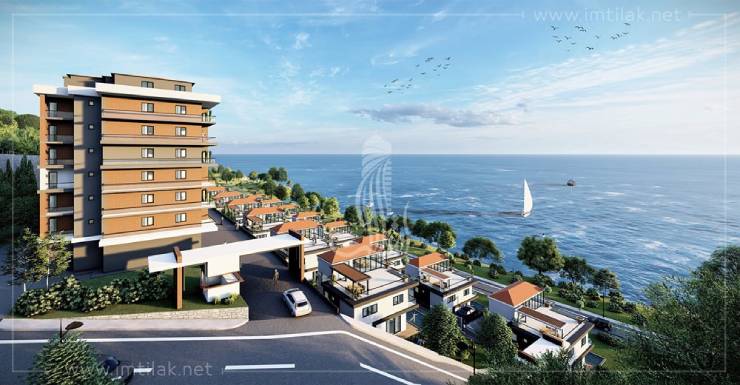 2. Guzalan Hill Villas
In the Ortahisar area of ​​Trabzon, which is distinguished by its green nature and fresh air, in a rural environment characterized by calm and greenery, in a location not far from markets, stores, shopping malls, health centers, and hospitals.
The Guzlan Hills Villas offers luxury villas that have the characteristics of a healthy home, in addition to a beautiful architectural design. Each villa has 4 bathrooms, with internet extensions, air conditioning, smart home control systems, satellite TV reception system, and an electronic heating system.
The project also has private gardens and protection services throughout the day and the prices of villas in this project of a size of 4+2 start at a price of $272,000.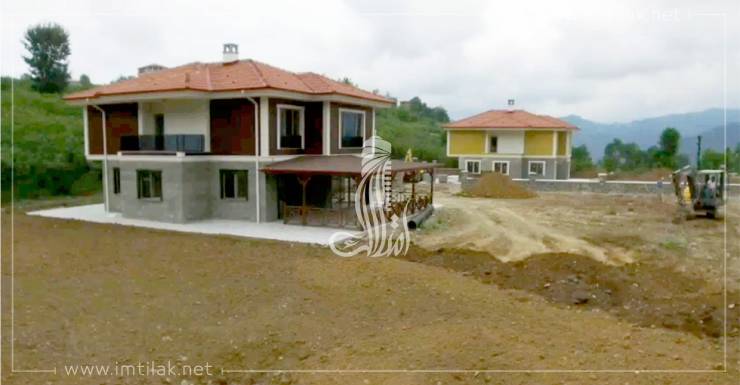 How does Imtilak Real Estate company help in buying cheap bungalows in Trabzon?
The offices of Imtilak Real Estate Company are spread around the most important Turkish cities, to cover the largest possible number of the most active real estate places in the country, including the green city of Trabzon.
Direct communication with Imtilak Real Estate is your way to ownership in Trabzon and gives you the opportunity to learn about dozens of suitable and cheap real estate models and offers that suit your desire within rural houses for sale in Trabzon.
Imtilak Real Estate company works on meeting your ambition to own all types of real estate in Trabzon, through its wide offers that suit all different budgets, with complete professional services starting from the moment you arrive in Turkey, until you get the right property, in addition to our high-end after-sales services, which include decoration, resale, property management, and application services for Turkish citizenship through real estate investment.
Edited by Imtilak Real Estate ©
Did you like this topic? You can share it with your friends now.
Trabzon Region Report


The most favorite cities for foreign investors
The nationalities that owned the most in Turkey