The Turkish President to Inaugurate the Largest Botanical Park in Europe
The date of the opening of the National Park of Basaksehir was announced on 17 November 2018 2018-11-16
Last update
2021-09-15
The Turkish President to Inaugurate the Largest Botanical Park in Europe
At a rapid pace, and within a package of service projects and infrastructure development, at the level of Turkey in general and Istanbul in particular: The date of opening of the National Park of Basaksehir was announced on 17 November 2018, in the presence of Turkish President Recep Tayyip Erdogan, also at the same time, a number of associated pilot projects will be launched.
Basaksehir National Park
This project gives Istanbul a unique new characteristic, where this garden will be the biggest in Europe where it was built on an area of 368 thousand m2 in the new center of Basaksehir
The park will include playgrounds and units for various activities, such as sports, hiking, cycling, rest and recreation for families and other entertainment activities.
Yenikent Square
The central square in Basaksehir and is located near the Botanical Park and will be opened in conjunction with the garden opening ceremony.
Yenikent square will be the largest square not only in the city of Istanbul, but also in Turkey at large, Where it will equal double area of the famous Taksim Square, and will be distinguished from the rest of the squares of the city and the country in terms of space and infrastructure and the efficiency of the means of transport.
This square was built over an area of over 60,000 m2. The project also includes parking lots for thousands of cars, luxury restaurants and cafes and leisure centers, In addition, a mosque will be opened in the square of Basaksehir, a mosque that can accommodate 5,000 people!
This will take place in the center of the new city of Istanbul, Therefore, these projects will contribute to making Basaksehir of the model center in Turkey.
Public invitation to the opening ceremony
The municipality of Basaksehir has invited the public to attend the opening ceremony, which will be held in a personal presence of Turkish President Recep Tayyip Erdogan.
The invitation as follows:


In the presence of the Turkish President
Mr. Recep Tayyip Erdogan
You are invited to the inauguration ceremony of the national park of Basaksehir
And Yenikent square
On the 17th Saturday of November 2018
2:30 pm
Place of the ceremony: Kayasehir - Area Eighteenth - Adnan Menderes Street
Best regards from the Mayor of Basaksehir
Yasin KARTOLLU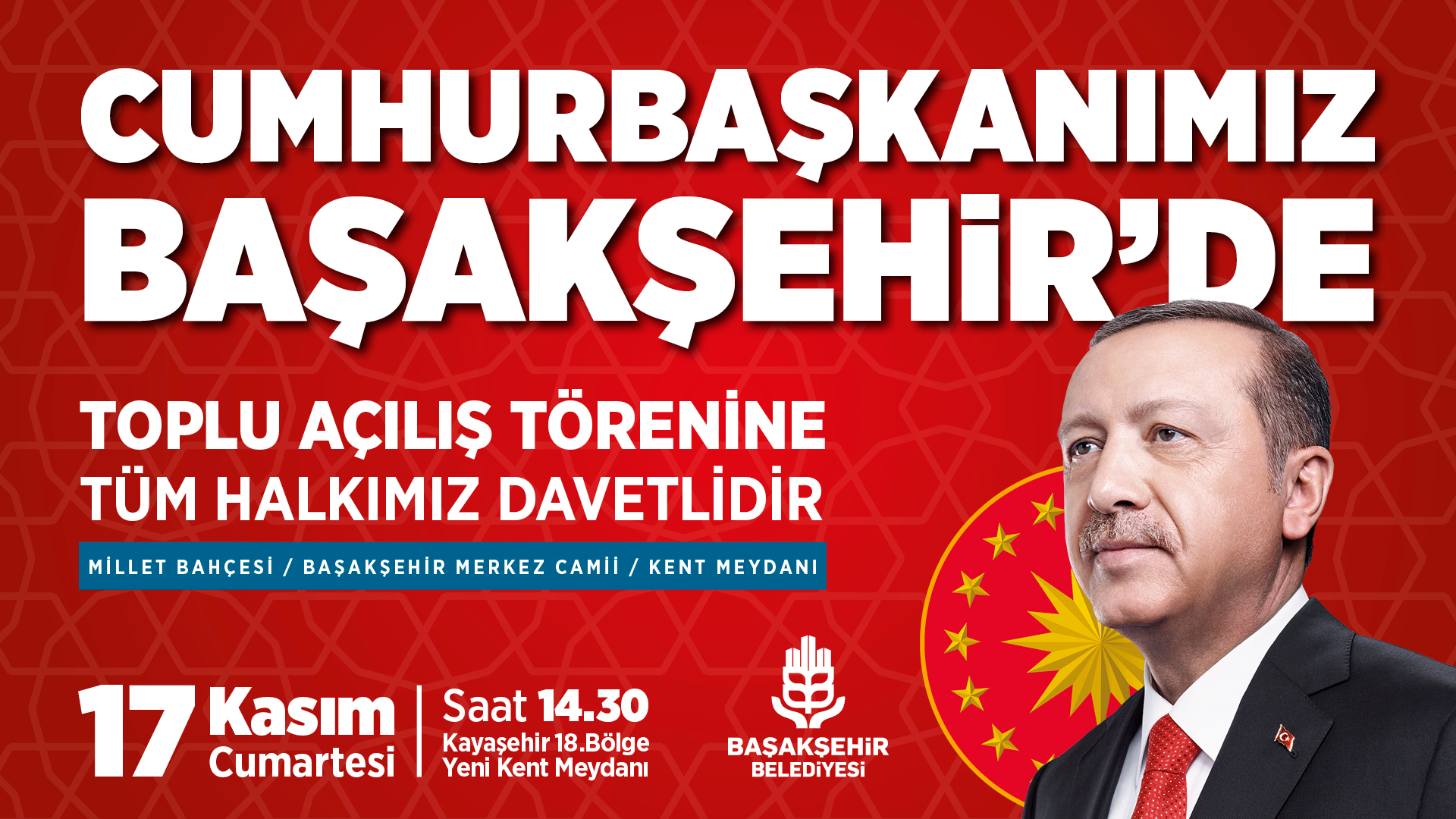 Edited by: Imtilak Real Estate ©
Source: Municipality of Basaksehir