Properties for Sale in Alanya
Looking for your dream home in Antalya? Discover the best homes for sale in Antalya with our comprehensive online listings. From stunning apartments to charming houses.
Properties found: 25
USD

EUR

SAR

AED

KWD

OMR

QAR

BHD

JOD

DZD

YER

TRY

GBP

CHF

CAD

AUD

CNY

RUB
Alanya is a popular tourist destination located in Antalya province on the southern coast of Turkey. It is known for its beautiful beaches, historic landmarks such as the Alanya Castle and Red Tower, as well as its lively nightlife and delicious local cuisine. The city also has a rich cultural heritage with influences from the Byzantine, Ottoman, and Roman empires. Alanya is a popular destination for both domestic and international travelers and attracts millions of visitors every year.
Moreover, Alanya is known for its beautiful beaches and crystal-clear waters. Some of the most popular beaches in Alanya include Cleopatra Beach, Keykubat Beach, and Damlatas Beach. Cleopatra Beach is particularly famous for its soft sand and clear water and is named after the Egyptian queen who is said to have swum there during her visit to the area. Keykubat Beach is known for its wide sandy shore and shallow waters, making it a popular destination for families with children. Damlatas Beach, located beneath the famous Alanya Castle, is known for its stunning views and clear water. These beaches, along with many others in the area, attract millions of visitors to Alanya every year.
Alanya offers a variety of properties for sale, including apartments, villas, and houses, that are suitable for both vacation homes and permanent residences. The city's popularity as a tourist destination has led to a growing real estate market, with a range of properties available at different price points and in different locations.
Why Are Properties for Sale in Alanya Attractive?
There are several reasons why properties for sale in Alanya are attractive:
Beautiful Location: Alanya is a beautiful coastal city located in the Antalya province of Turkey. It is known for its long stretches of sandy beaches, clear blue waters, and scenic views of the Taurus Mountains.
Affordable Prices: Properties in Alanya are relatively affordable compared to other popular Mediterranean destinations. This makes it an attractive location for those looking to invest in a holiday home or retirement property.
Growing Tourism Industry: Alanya is a popular tourist destination, and its tourism industry is growing rapidly. This has led to an increase in demand for rental properties, making it an excellent opportunity for investors looking to generate rental income.
Modern Amenities: Alanya has modern amenities such as hospitals, schools, shopping centers, restaurants, and entertainment venues, making it an ideal place to live, work, and play.
Cultural Heritage: Alanya has a rich history and cultural heritage, with ancient castles, churches, and ruins. This makes it an exciting destination for history buffs and cultural enthusiasts.
Investment potential: Alanya is a popular tourist destination, which means that properties in the area have the potential to generate rental income for buyers. The city is known for its long stretches of sandy beaches, crystal-clear waters, and warm climate, making it a popular vacation spot for both local and international tourists. Investing in a property in Alanya can be a great way to generate rental income, particularly during the peak tourist season. Many property owners choose to rent out their homes or apartments on a short-term basis, either through vacation rental platforms or local property management companies.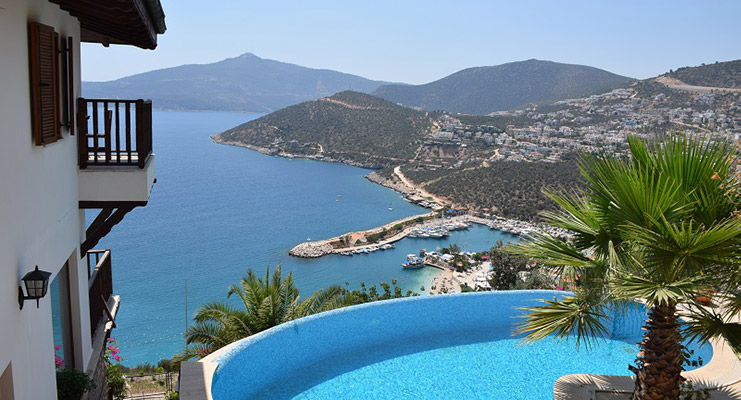 The Best Neighborhoods in Alanya to Buy a Property
 Alanya has many great neighborhoods to buy a property, each with its own unique character and amenities. Here are some of the best neighborhoods in Alanya to consider:
Alanya Center
One of Alanya's most developed areas is Alanya Center. This area is home to nearly all of the significant and well-known landmarks that contribute to Alanya's popularity, including the renowned Cleopatra Beach, Red Tower, Alanya Castle, Old Shipyard, and Alanya Harbor.
Oba
This residential neighborhood is located a bit farther from the city center, but it's still close to the beach and has a more relaxed vibe. Oba has many shops, restaurants, and amenities, making it a popular choice for families and retirees.
Mahmutlar
Located about 12 km from Alanya, Mahmutlar is a growing neighborhood with many new residential developments. It has a more affordable cost of living than some of the other neighborhoods in Alanya and offers a wide range of amenities, including shops, restaurants, and a weekly bazaar.
Avsallar
Because to its sandy seabed and kid-friendly shallow depth, Avsallar offers among of Alanya's most jovial and family-friendly beaches. Due to Avsallar's stunning sea and green public parks, social activities tend to revolve around hiking and water sports. Moreover, the most gorgeous and green picnic places may be found in this area.
Kestel
Kestel provides its residents with a more serene and quiet atmosphere when compared to the other areas of Alanya. Low-rise buildings and complexes make up the majority of Kestel's architectural projects. The shoreline of Kestel is where the majority of the housing developments are located.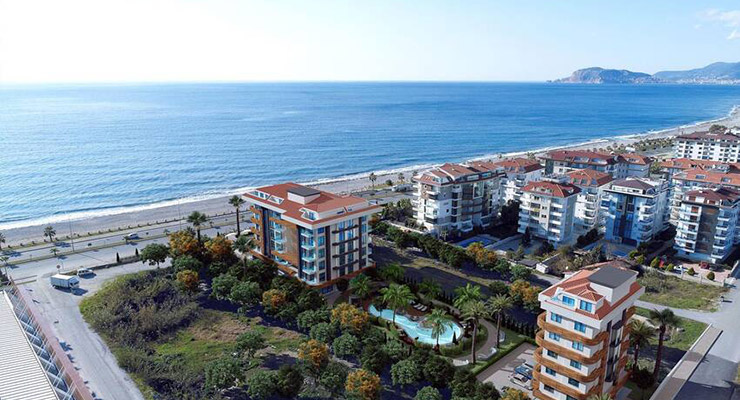 What Is the Average Price of a Property for Sale in Alanya?
As of 2021, the average price of a property for sale in Alanya is around €75,000 to €150,000, with prices for luxury properties and villas going much higher. It is important to note that these prices are subject to change and may differ from the current market conditions. It is recommended to consult with a reputable real estate agent in the area for the most accurate and up-to-date information.
Types of Properties for Sale in Alanya
There are various types of properties for sale in Alanya, Turkey. Some of the most common types of properties include:
Apartments in Alanya
Alanya has a wide range of apartments for sale, ranging from small one-bedroom to larger units with several bedrooms and larger penthouses. These apartments are available in different locations and are suitable for both individuals and families.
To get more information, watch the following promotional video about apartments for sale within the mountains in Alanya.
Villas in Alanya
Villas are another popular type of property for sale in Alanya. They come in different sizes and styles, ranging from small, cozy villas to luxurious and spacious ones. Villas can range from small, cozy villas to large luxury villas with private swimming pools and gardens.
Farms and Lands in Alanya
There is also an option to buy land and farms in Alanya and build your own property. This is a popular choice for investors looking to build their dream home or develop a new project.
Edited by Imtilak Real Estate ©
Do you like this topic? You can share it with your friends now!
Alanya Region Report


The most favorite cities for foreign investors
The nationalities that owned the most in Turkey