Properties for sale in Yalova Turkey 2023
Unique offers within real estate for sale in Yalova, Turkey by Imtilak Real Estate. The best specifications at the lowest prices. (Apartments, villas, farms, and land in Yalova). Check our offers and contact us.
Properties found: 1
USD

EUR

SAR

AED

KWD

OMR

QAR

BHD

JOD

DZD

YER

TRY

GBP

CHF

CAD

AUD

CNY

RUB
12/2022
Yalova Paradise 1801 - IMT
Apartments for sale in Yalova, opposite of Istanbul, in a luxurious residential complex, suitable fo...
Starting at
56,000 $
What are the advantages of owning in Yalova, Turkey?
Yalova has many advantages that increase the number of people wishing to own property in it, including its proximity to the city of Istanbul and its close connection with it to the land and sea transportation network, and the availability of various types of real estate suitable for all, through convenient options.
In addition to the ease of movement smoothly, with the rapid investment growth, making it the destination for investors, and one of the most important features that distinguishes it is the richness of its educational sector, as it is one of the best educational options among other Turkish cities; As its tuition costs are cheap, and it provides a quiet learning environment in it due to the lack of housing complex.
Yalova is also distinguished by its health sector, as it is a center for medical tourism, in addition to a group of leading health institutions and facilities in Turkey, such as Ata Kent Hospital and the Governmental Hospital.
Advantages of real estate investment in Yalova, Turkey
The most important characteristic of real estate investment in Yalova, in addition to its marine nature mixed with the greenness of nature, is that it is a destination for foreign tourists. It is close to Istanbul and Bursa, which makes it easy to move around, as it is one hour away from Istanbul, and it is linked with fast land transportation besides the sea transport lines, modern transportation, and the road network facilitate access to any place in and around Yalova with the least possible effort. In addition to the fact that the city's population is small compared to its area, and the real estate prices in it are distinctive and competitive with Istanbul, so you can get a distinctive property in the style and specifications of any property in Istanbul at half the price approximately.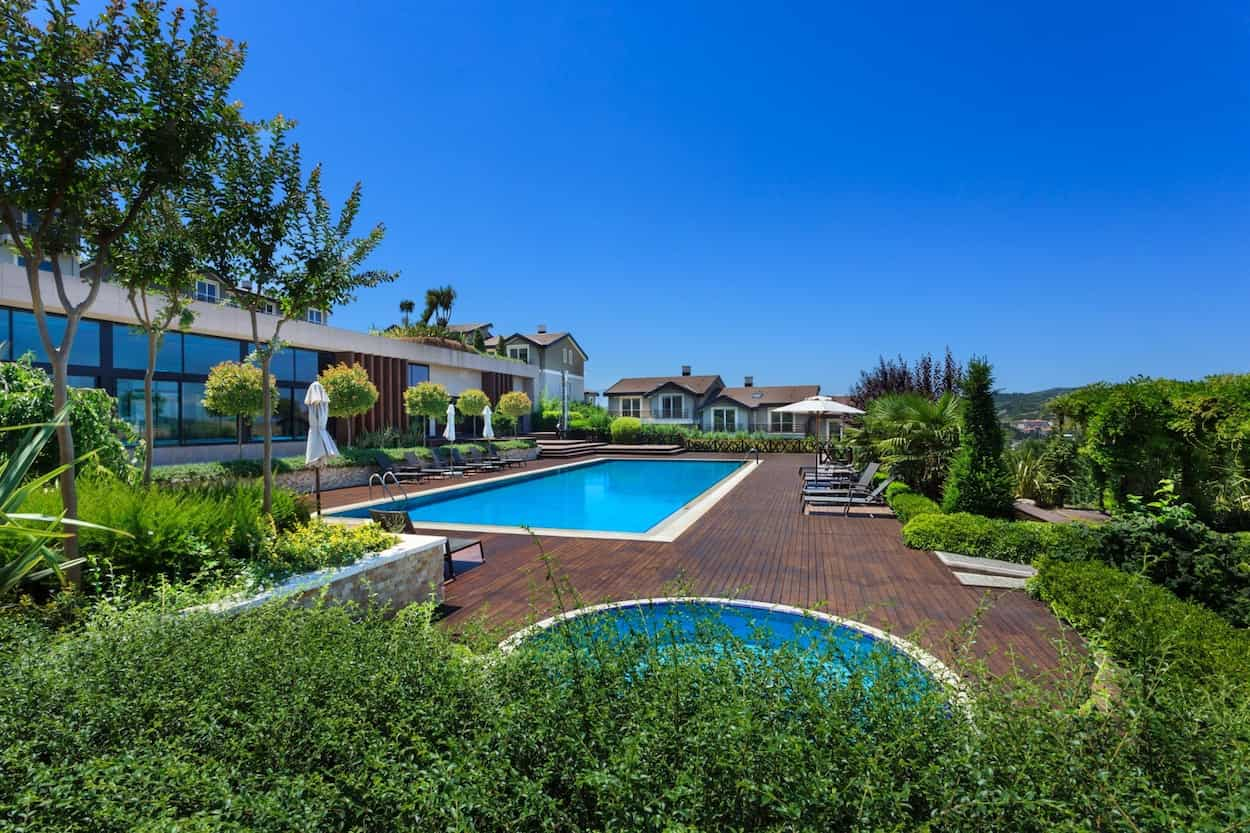 Real estate offers for sale in Yalova by Imtilak Real Estate
Apartments for sale in Yalova, Turkey
Imtilak Real Estate offers many offers in Yalova, such as Modern Residence properties. The project's unique location in the stunning city of Yalova gives it special importance, in addition to its proximity to the city center, the IDO station, as well as being 10 minutes away from the famous tourist "Termal". Its hot springs make it an excellent investment opportunity. Besides, there are many educational institutions, hospitals, and shopping centers around the project. Most of the apartments in the project have a wonderful panoramic view of the natural green hills surrounding the area.
As well as the Magic Yalova complex; the project is only ten minutes away from the center of Yalova and the IDO station, and it is also ten minutes away from Termal and minutes from the beach, on foot. It is distinguished by its luxurious and modern design, as the building was designed from the bottom up to be covered with glass, giving a more beautiful view of the surrounding nature from inside the apartments.
Villas for sale in Yalova, Turkey
The most luxurious real estate in Yalova; Jerry Villas, is designed in Japanese style, offered by Imtilak Real Estate at the cheapest prices and the best payment options. The complex is a mixture of natural beauty, contemporary life, and a traditional Japanese house. It is three kilometers away from the center of Yalova and five kilometers from the sand, and it is also away from Uludag Mountain. In Bursa for fifty minutes, from the morning airport, half an hour.
The project is characterized by its spacious green spaces, as the complex includes 35,000 square meters of green space with a basketball court, tennis, children's play parks, water basins, and various trees, in addition to indoor swimming pools, a gym, sauna, steam, a coffee shop, a cinema hall, and table tennis. All the entertainment and the project is also 2 km away from the shopping malls, with protection for twenty-four hours throughout the week.
The engineers designed the project to save energy by 60% through the heating system used. It also takes advantage of rainwater and groundwater and uses plants to irrigate through extended pipelines. The complex consists of seven Konak model villas, thirteen villas of three types (B, D, and K), and twenty-six villas of four types of twins.
Lands for sale in Yalova
The lands in Yalova are characterized by their proximity to vital centers, and their suitability for the various activities to be established on them, with a variety of options for spaces, locations, and views. The lands in Yalova are distinguished by their greatness for real estate projects, especially villas, apartments, and farms, and are suitable for various investment activities in the fields of dairy, cheese, and meat.
Farms for sale in Yalova
Farms in Yalova are generally characterized by their beautiful and quiet environment, providing an atmosphere of spaciousness and exhilaration as a place for housing and recreation at the same time, in addition to the possibility of owning a farm away from the hustle and bustle of major cities in Yalova at competitive prices for Istanbul prices due to its proximity and ease of access.
Imtilak real estate services for those wishing to own and invest in Yalova
Imtilak Real Estate offers the opportunity to own real estate in Yalova, by offering many options for each investment type. There are pre-sales services, including airport reception, assistance in choosing a place of residence.
In addition to providing specialized real estate consultations, with real estate tours throughout Yalova, and there are after-sales services, including the title deed, receiving the property and verifying its conformity with the contract, issuing a residence permit, opening a bank account, preparing the property and its accessories for use, in addition to managing real estate affairs: such as renting, or reselling it, and following up on taxes, fees and bills related to the property.
Edited by Imtilak Real Estate©
Did you like this topic? You can share it with your friends now.
Yalova Region Report


The most favorite cities for foreign investors
The nationalities that owned the most in Turkey