Sea View Villas in Istanbul for Sale
Looking for sea-view Villas in Istanbul for sale? Browse our wide range of sea-view properties in Istanbul, from Bosphorus Villas to affordable homes in the suburbs.
Properties found: 4
USD

EUR

SAR

AED

KWD

OMR

QAR

BHD

JOD

DZD

YER

TRY

GBP

CHF

CAD

AUD

CNY

RUB
Are you looking for a unique way of life amidst Istanbul's captivating allure? Imagine waking up each day to panoramic views of the Bosphorus, Marmara Sea, or the Black Sea, which reveal their mesmerizing beauty. Our selection of sea-view villas in Istanbul is made for you if you long for the peace and quiet of the water and want to immerse yourself in the captivating tapestry of nature.
Sea View Villas: The Benefits of Living in a Villa in Istanbul
Comfortable Lifestyle
You could experience the utmost luxury if you live in a villa with a sea view. Today's villas are created with the comfort and relaxation of the resident in mind. A villa with a private lawn or balcony and a stunning ocean view says a lot about the way of life of the owner. In large part, villas are seen as a sign of opulence, class, and a luxurious way of life. Additionally, it makes living comfortable.
Maximum Privacy
Villas give residents a place to live their life without being concerned about what their neighbors may think. And who doesn't enjoy living their life alone, free from prying eyes? Without worrying about what other people might think, one can take morning coffee on the patio, organize garden parties, work out on the grass, and have a romantic supper on the terrace. Nothing compares to the absolute privacy that comes with villa living.
A Sea View
If one owns a villa with a view of the ocean, one may enjoy the sound of the waves. One might go for a walk at the beach whenever they like because the shore would be close to the villa as a result of this. According to some, going to the beach is therapeutic and aids in relieving stress and anxiety issues.
Great Investment
Villas provide a fantastic possibility for investment in addition to being wonderful places to live. The real estate market for villas in Istanbul has been seeing considerable price variations due to the rising demand for opulent residences, making it an alluring market for potential investors.
Read more about the Advantages of living in villas in Turkey.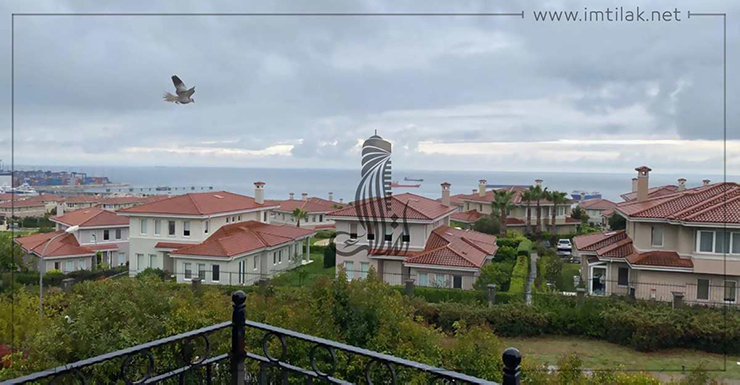 Drawbacks of Living in a Sea View Villa
Sand in the House
There will always be sand in your home, no matter how frequently you clean the floors, vacuum your carpets, and wipe your furniture. Living close to the ocean may not appear to provide many challenges, but having to clean your house many times a day, especially on windy days, may become a nuisance very fast.
Too Many Tourists
Beaches can get pretty crowded during the summer months. Depending on where you live, you might have to deal with a lot of traffic, crowded streets, random cars blocking your main gate and driveway, and a lot of people hanging out around your house. Since you'll be living in a tourist hotspot, you will also have to deal with the lack of privacy that comes as a part of oceanside living.
High Maintenance Cost
Rust may impact a beachside property's inside and exterior due to humidity and salty sea wind. As a result, houses close to the seaside require much more maintenance than those farther away. You would need to spend a significant amount of your household budget on home maintenance if you are going to purchase a property close to the beach. This entails frequently cleaning your electrical gadgets, polishing your furniture to prevent erosion, and refreshing the paint on your home's external walls every few months.
Check out our listings of the best villas for sale in Turkey.
What to Consider Before Buying a Villa in Istanbul?
The Right Locations
Many foreigners hold the misconception that only famous and historical areas are modernized and developed. Actually, this is among the most incorrect facts because Istanbul is a major metropolis with its own facilities, including hospitals, schools, retail malls, amusement parks, and other services. So, to be completely honest with you, if you are lucky, you may locate your ideal villa in Istanbul's Sisli or Bebek districts, but the cost of the property may be far higher than your budget. We understand that there are other villa alternatives available to you in the different districts.
Sea View or Forest View
After considering the location you should think also about whether you like to live in front of the sea or inside of nature of the green. Maybe the view is not one of your preferences. Zeytinburnu, Beylikduzu, Buyukcekmece, and Bakirkoy have coasts on the Marmara sea it means apart from the Bosphorus coastline these are alternative districts for the investors willing to enjoy the sea view from his/her house, while if you have more nature-friendly character and you want to spend your time amongst trees Sariyer, Silivri, Tarabya suburbs of Istanbul would be more available for your lifestyle.
Villas are More Expensive
Compared to apartments or townhouses, villas are often bigger and provide greater living space. Large suites, private gardens, swimming pools, and other facilities are frequently included. The price is reflected in the greater construction and maintenance expenditures caused by the bigger size and more living area.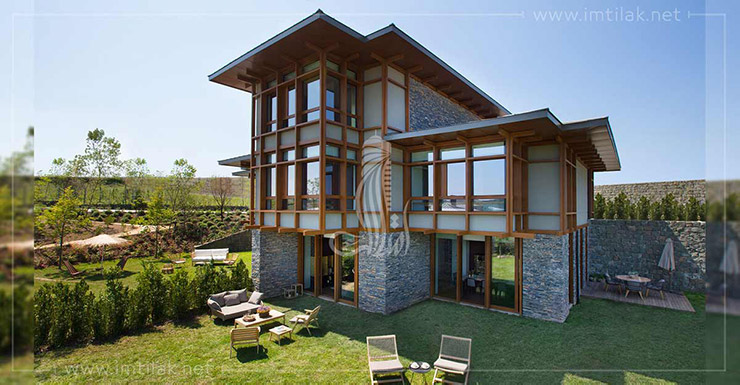 Garden in Front of My House
The main benefit of owning a villa is actually experiencing the real pleasure of life while touching the ground and cultivating fruits and veggies. Additionally, you may create a tiny stable for your cows or horses or feed some pets.
Best Places to Buy a Sea View Villa in Istanbul
Bebek:
Bebek is one of the most famous areas in Istanbul, especially among tourists. It's known for its luxury properties alongside the coastline of the Bosphorus, filled with elegant restaurants, green areas, and cafes. The region is known for having many recreational areas between Rumeli Hisar Castle and Arnavutkoy.
Sarıyer:
Saryer, a city on Istanbul's European side, is renowned for its stunning Bosphorus shoreline. This neighborhood provides beautiful scenery and a variety of opulent mansions with breathtaking sea views. The upscale seaside properties in places like Yeniköy, Stinye, and Tarabya are highly sought after.
Kadıköy:
Kadköy, which is located on Istanbul's Asian side, is a bustling neighborhood with a dynamic vibe. Some sea-view homes in Kadköy's Moda and Fenerbahçe areas have breathtaking views of the Marmara Sea. This neighborhood is well-known for its cultural landmarks, hip eateries, and active street life.
Beylikdüzü:
Beylikdüzü, which is on Istanbul's European side, has recently grown in popularity as a place to live. It provides a variety of modern housing alternatives, including villas with sea views. Beylikdüzü is a desirable option for people looking for a sea-view home due to its close proximity to the shore and great infrastructure.
Üsküdar:
Üsküdar has a lovely shoreline on the city's Asian side. It provides a fusion of contemporary conveniences and old-world charm. There are areas of Üsküdar, including Kuzguncuk and Beylerbeyi, where it is possible to find villas with sea views that look out over the Bosphorus. These places are well-known for their beautiful scenery and rich architectural history.
Watch the following video for more information about villas in Istanbul:
Find Your Perfect Villa with Sea View in Istanbul with Imtilak Real Estate!
Imtilak Real Estate has a wide range of villas with sea views in Istanbul, suitable for all budgets and preferences. It also provides you with many services, such as legal advice, property management, after-sales services, and Turkish citizenship application. You can trust Imtilak Real Estate to guide you through every step of your real estate journey in Turkey.
Contact us today and let us make your dream come true!
Istanbul Region Report


The most favorite cities for foreign investors
The nationalities that owned the most in Turkey