Villas for sale in Silivri Istanbul 2023
Imtilak Real Estate offers villas for sale in Silivri, Istanbul with the highest standards of quality and luxury, with the most beautiful views, and at special prices, contact us.
No results about ( Villas for sale in Silivri | Istanbul villas | Imtilak Real Estate )
What are the advantages of the Silivri district in Istanbul?
Silivri is known as one of the most beautiful areas of Istanbul, with a distinctive view of the Marmara Sea, and one of the most important features of Silivri is that it is a fully serviced independent area, with a developed infrastructure, in addition to its distinctive calm atmosphere and beautiful coastline. It also contains high-end residential complexes, which are rich in recreational places and services.
Tourists come from everywhere, where historical places are spread, and it is located on important land roads and is characterized by the health sector. One of the most important health services is the presence of Necmi Ayanoğlu Governmental Hospital. It also includes the municipality's sports facilities, and the area contains many hotels.
There are luxurious villas overlooking the Sea of ​​Marmara directly, and it is famous for many restaurants, in addition to schools and various shops, so that residents do not have to constantly go to the city center.
Silivri is an important agricultural center with its large area, despite the huge projects, and what encourages investment in Silivri is that it is a remarkably growing commercial, real estate, and tourist area. It is also distinguished by the fact that it is on the highway, which makes it a service with many transportations, and makes it connected to Europe by the same route.
Is buying a villa in Silivri Istanbul a good option?
Silivri is witnessing a great development in the real estate sector compared to the rest of Istanbul, as it expands every day through the establishment of new real estate projects, which provides beautiful opportunities in the investment and luxury residence sector, such as modern residential complexes and villas with a charming view; and this continuous expansion in the urbanization of Silivri, Istanbul contributes significantly to increasing real estate prices in it, and rising land prices as well.
It is also famous for its villas overlooking the sea, due to its location on a luxurious coast in its beauty and charm. It has become an outstanding tourist area, with stunning nature and tourist grounds, being one of the most prestigious places away from noise and noise. In addition to its excellence in public services, it has a large complex that combines all the means of entertainment and luxury under its roof. Where there are restaurants, conference rooms, and clubs that offer fun shows, as well as health centers, fitness centers, and a golf club.
What are the prices of villas in Silivri, Istanbul?
The average price of villas in Silivri, Istanbul 2021 in dollars varies according to the quality of the villa and its finishes and views, and according to the luxury of the complex that includes the villas, and generally, the price starts from three hundred thousand dollars, and the price can reach more than that for large luxury villas, which are known for their spaces, beauty, and finishes.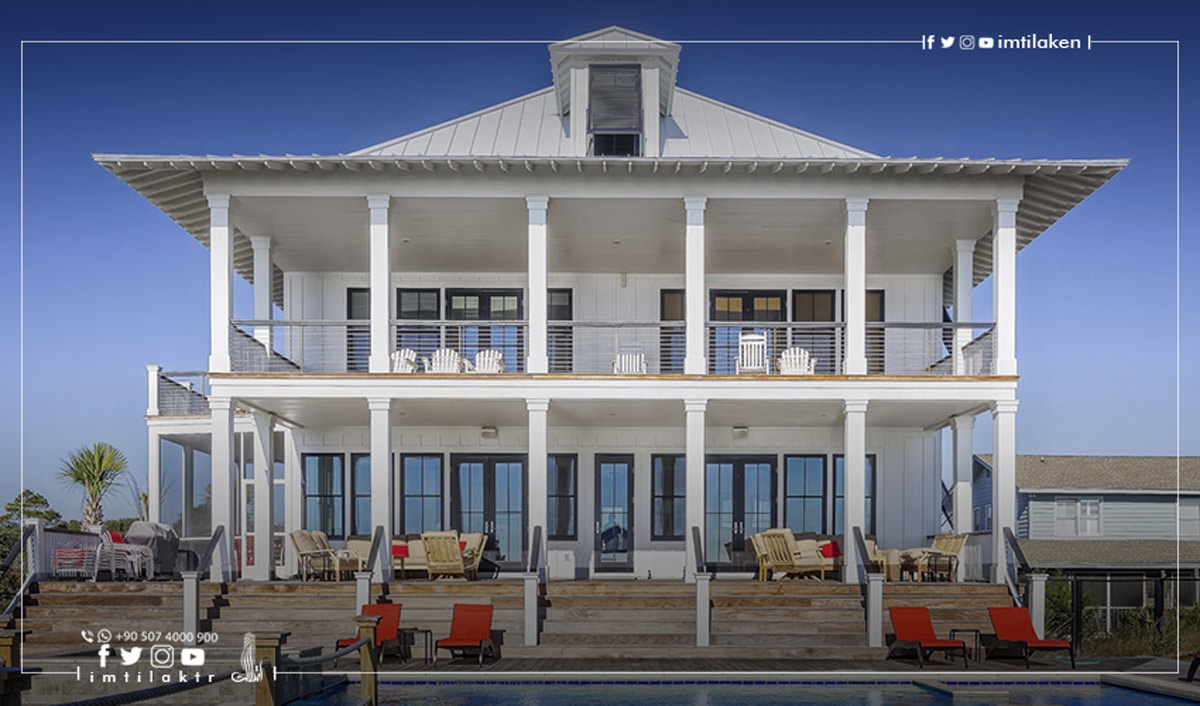 Villas for sale in Silivri, Istanbul by Imtilak Real Estate
Silivri includes the most luxurious villas, it is also distinguished by a special luster due to the nature of the coastal area and its natural aesthetics, including Green Life Villas, within the Ortakoy neighborhood in the Silivri district, one of the most beautiful European suburbs of Istanbul, and its western resort located on the shores of the Marmara Sea. The villas are in Silivri with their attractive buildings and villas, and their beautiful green nature. The project includes twelve villas with distinctive architecture, in an area classified among the attractive summer areas, and in a location close to public transportation.
The high-quality infrastructure, with a private garden and a swimming pool for each villa, all makes it a suitable opportunity for housing or summer, and the interior design gives the villas the highest levels of flexibility and comfort, with complete independence, in addition to that, the project is in accordance with the terms of real estate ownership in order to obtain Turkish citizenship, within a location close to the city and away from its crowding at the same time.
Imtilak real estate services for those wishing to buy villas in Silivri
Imtilak Real Estate services are not limited to one side for anyone who wants to buy a villa in Silivri, as Imtilak Real Estate provides its integrated services, through its offices in Istanbul, and its services, in addition to installment services, include pre-sales and after-sales and during-sales, by receiving the customer from the airport to the hotel, assisting him in choosing the place of residence, providing specialized real estate consultancy, and accompanying him on tours of Silivri villas.
We also have a team specialized in following up the procedures of the title deed, receiving the villa, verifying its conformity with the contract, getting a residence permit, opening a bank account, preparing villas and their accessories for use, in addition to managing villa affairs, such as renting it, reselling it and following up on taxes, fees, and bills for the villa. We also have a team especially to follow up the procedures for obtaining Turkish citizenship through real estate ownership in Silivri, Turkey.
Edited by Imtilak Real Estate ©
Did you like this topic? You can share it with your friends now.
Silivri Region Report


The most favorite cities for foreign investors
The nationalities that owned the most in Turkey