Sea View Apartment in Istanbul for Sale
Looking for sea view apartments in Istanbul for sale? Browse our wide range of sea view properties in Istanbul, from Bosphorus apartments to affordable homes in the suburbs.
Properties found: 42
USD

EUR

SAR

AED

KWD

OMR

QAR

BHD

JOD

DZD

YER

TRY

GBP

CHF

CAD

AUD

CNY

RUB
Are you looking for the ideal combination of luxury and unspoiled nature in Istanbul? There are fantastic living areas with amazing perspectives waiting at Sea View Apartments, so look no further. These apartments, which are tucked away in this bustling metropolis, provide a rare chance to luxuriate in the serenity of sea views while taking advantage of the comforts of contemporary, upmarket living. You're sure to discover the perfect home that suits your tastes and lets you live out your dreams of waking up to beautiful seaside vistas with our vast selection of expertly constructed flats.
Our sea-view apartments are strategically positioned in Istanbul's most sought-after coastal neighborhoods, giving tenants unprecedented access to the enthralling views and sounds of the surrounding environment. These apartments offer the perfect location for a life rich in natural beauty and refinement, whether you choose a peaceful retreat or a vibrant metropolitan experience with a dash of seaside charm.
Benefits of Living in a Sea View Apartment in Istanbul
Serene Environment
A sea-view apartment offers a calm and tranquil setting. You may unwind and rest in the comfort of your own home thanks to the tranquilizing views and sounds of the sea. The closeness to nature and calming effects of the seaside atmosphere promote well-being and a more laid-back way of living.
Improved Standard of Living
Sea-view apartments are frequently thought of as being opulent and prestigious. These homes have been thoughtfully planned to provide large living spaces, premium finishes, and contemporary utilities. You may raise your level of living by residing in a sea-view property in Istanbul, which gives you a cozy and opulent home that represents your preferences and objectives.
Better Amenities
In gated communities or expensive residential complexes, Istanbul has several apartments with sea views. These complexes frequently include a variety of features and amenities, including 24-hour security, swimming pools, exercise centers, and manicured gardens. You may be confident that living in such a community gives you access to useful and well-kept amenities that improve your everyday life.
Increased Investment Capacity
The potential for high investment returns exists for sea-view apartments in prime areas. Properties with sea views are still in great demand, making them desirable for both habitation and investment. By making an investment in a sea-view apartment, you may not only profit from an opulent house today but also perhaps experience capital growth and rental revenue in the future.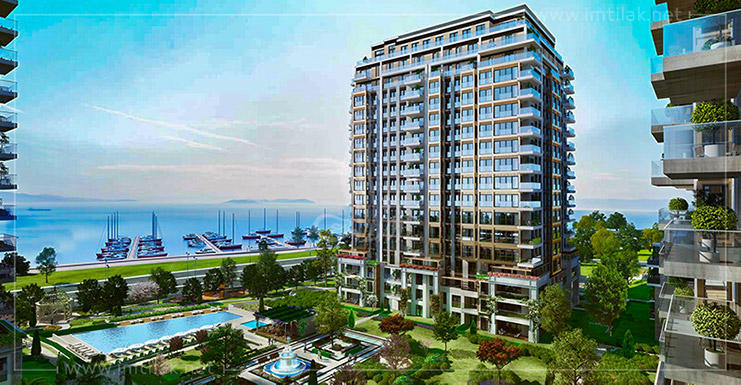 Drawbacks of Living in a Sea-view Apartment
Sand in the House
Sand may enter your home more readily if you live close to the ocean, especially if windows or doors are left open. Maintaining a clean, sand-free living area, may call for more regular cleaning.
Too Many Tourists
Istanbul's neighborhoods with views of the water frequently draw a sizable number of visitors, especially during the busiest travel times. While tourism might make the region more lively, it can also make it less calm and tranquil than other residential districts due to busy streets, higher noise levels, and a lack of parking.
High Maintenance Cost
Due to the exposure to salty air and the potentially corrosive effects it might have on building materials, properties near the sea, particularly sea-view apartments, may need more frequent maintenance. In comparison to apartments in non-coastal regions, maintenance expenditures, such as painting, repairs, and upkeep of sea-facing balconies, may be greater.
Potential for Humidity
Living in an apartment with a view of the ocean exposes you to greater air humidity and moisture levels, which might affect your home's interior. To avoid problems like mold or mildew, you may need to take further steps to maintain humidity levels, such as utilizing dehumidifiers or making sure there is adequate ventilation.
Best Places to Buy a Sea View Apartment in Istanbul
Bebek:
Bebek, a wealthy district in Istanbul's European side, is well-known for its breathtaking Bosphorus vistas. The neighborhood is distinguished by its posh homes, hip eateries, and a lively environment. Bebek is a desirable option for people looking for a sea-view apartment with a dash of elegance since it combines natural beauty with a modern lifestyle.
Sarıyer:
Another popular area along the Bosphorus that has amazing sea views is Saryer. It includes a number of communities, including Yeniköy, Tarabya, and Rumelihisar. Saryer is renowned for its verdant green scenery, historical landmarks, and a blend of contemporary and conventional building styles. Living in Saryer offers a serene and gorgeous setting while still being close to the city's conveniences.
Kadıköy:
Kadiköy, a dynamic and colorful district with breathtaking views of the Marmara Sea, is situated on Istanbul's Asian side. The vibrant street markets, cultural landmarks, and variety of food and entertainment options in this busy neighborhood are well-known. Kadiköy attracts people seeking a more active and alternative lifestyle because of its distinctive combination of urban living and stunning sea views.
Beylikdüzü:
On the European side of Istanbul, Beylikdüzü has grown to be a well-liked residential neighborhood distinguished by its sea-view homes. The neighborhood provides access to the Sea of Marmara, spacious promenades, and contemporary constructions. Beylikdüzü has seen major urban expansion recently and offers a more cost-effective choice for people looking for flats with sea views. For more information about sea apartments in Beylikduzu, watch the following video on YouTube:
Üsküdar:
Üsküdar has expansive views of the Bosphorus and the old city skyline. The area has a long history and is home to famous structures like the Maiden's Tower and old mosques. The ambiance is more laid-back and traditional in Üsküdar, which yet offers easy access to the city center.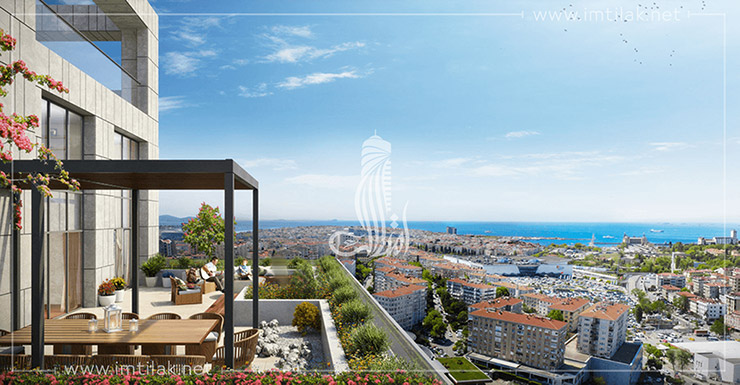 Tips for Finding the Perfect Sea-View Apartment
Figure Out What You Can Afford
Prior to beginning your search, establish your financial capabilities and budget. Take into account elements like the apartment's purchase price, ongoing maintenance expenses, property taxes, and any other levies. This will enable you to focus your search and make sure it is within your budgetary capabilities.
Decide Which Location Is Best for You
When deciding where to put your apartment with a sea view, take into account your priorities and way of life preferences. To make sure the location lives up to your expectations, research the facilities, accessibility, and long-term development plans of the neighborhood.
Determine Which Amenities You Want
Make a list of the amenities that are essential to you, such as neighboring recreational places, parking, swimming pools, fitness centers, and security systems. Consider which facilities are most important to you and concentrate on finding apartments that provide them.
Make appointments to visit possible sea view apartments once you've identified them. Note the layout, condition, natural lighting, and most notably, the view from several rooms, of the flat. Pay attention to any prospective problems or locations that could require repair or improvement.
Review the terms and conditions, including the sales contract, homeowners' association bylaws (if applicable), and any other legal papers related to the unit, thoroughly before making any commitments. If necessary, get expert counsel or speak with a real estate attorney to make sure you comprehend all of your rights and duties before making the acquisition.
How Imtilak Can Help You Find Your Ideal Apartment?
Are you dreaming of owning a sea-view apartment in Istanbul? If so, Imtilak Real Estate can help you make your dream a reality. Imtilak is the leading real estate company in Turkey, and we offer a wide range of sea-view apartments to choose from. Whether you're looking for a luxury apartment with stunning views or a more affordable option, we have something for everyone. Contact us today and live a luxurious life.
Edited by Imtilak Real Estate ©
Do you like this topic? You can share it with your friends now!
Istanbul Region Report


The most favorite cities for foreign investors
The nationalities that owned the most in Turkey