Apartments for sale in Izmit, Turkey with sea view 2022
Check Imtilak real estate offers within apartments for sale in Izmit overlooking the sea, and also read about the advantages of owning and investing in Izmit apartments, and what are their average prices?
Properties found: 5
USD

EUR

SAR

AED

KWD

OMR

QAR

BHD

JOD

DZD

YER

TRY

GBP

CHF

CAD

AUD

CNY

RUB
What distinguishes the apartments with sea views in Izmit?
Once you descend from the sea road between Istanbul and Kocaeli, you'll be captured by the majestic view of the last curves of the Marmara Basin, at the wonderful Gulf of Izmit. A masterpiece of creativity and beauty to feel as if the great sea had become a small lake surrounded by green mountains and facing the city of Izmit lying directly on the bank of the sea.
Many who wish to own their dream apartments in the sea of ​​Izmit find their hopes of obtaining the property they were aspiring to settle, due to the many features and services that all come together there, providing ideal ownership opportunities, especially for owners of limited capital.
What is the average price for apartments with sea views in Izmit?
There is no doubt that the price base is directly related to the features of the property itself, and the features of its location and characteristics.
Speaking of the average prices of apartments overlooking the sea in Izmit, we can talk about a 2+1 apartment with an area of ​​119 m², with a price starting from $68,000 (at the date of writing the article) in the Garden project, which is one of the projects marketed by the company Imtilak Real Estate company in Izmit, Kocaeli.
Read also: Prices Of Apartments In Izmit, Turkey In 2022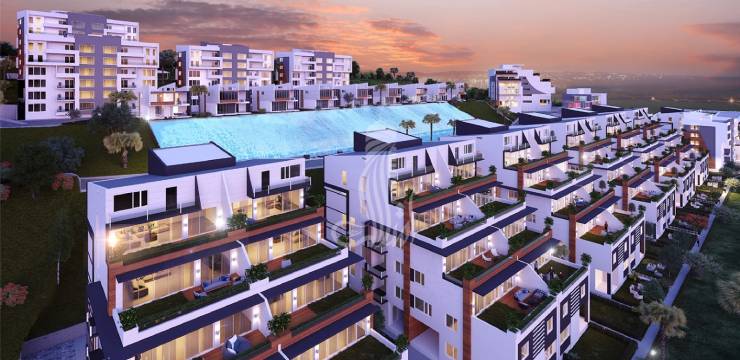 Imtilak Real Estate offers apartments for sale in Izmit, Turkey by the sea
Imtilak Real Estate company in Izmit offers an ideal group to own in its most important residential projects with attractive specifications in terms of price and features. In this context, we find it good to move from the general to the detail, thus, we give three examples of our projects with multiple budgets, and varying specifications.
1. Garden Project
The Garden Project is located in Izmit, close to the coast of its sea bay, and not far from Istanbul and the most important tourist attractions in Sakarya and Kocaeli, such as Mount Kartepe and Lake Sapanca.
The project is located a few steps away from the D100 road linking Izmit and Istanbul, which provides ease of movement towards the surrounding areas, in addition to its proximity to the roads and means of transportation that connect it to all parts of Izmit and its environs, the most important of which is the E80 highway linking Istanbul, Kocaeli, and Sakarya.
The project is surrounded by shopping malls, educational centers, hospitals, restaurants, cafes, and gardens. The project also has a charming sea view, and it is built according to impregnable construction systems, using high-quality building materials.
The project consists of one block with a height of 6 floors, and the styles of the project apartments range from 2+1, 3+1, and 4+1, with duplexes options available.
2. Yuvacik City Project
The Yuvacik region of the state of Kocaeli ranks among the most beautiful natural areas on the coast of the Gulf of Izmit.
The project is close to the transportation routes that connect it to the city and its surroundings. The project also has integrated life services that are located next to its site, in addition to its proximity to many tourist attractions, such as Sapanca Lake and Kartepe.
The Yuvacik City project extends over an area of ​​12,000 m² and consists of 6 residential buildings. The project combines the standards of structural durability and the beauty of architecture, providing luxury apartments with styles ranging from 1+1 to 4+1, in addition to duplex apartments with terraces on the upper floors.
The project has many social and recreational facilities that meet the requirements of family accommodation and are rich in entertainment for adults and children, including:
Gardens and large green spaces, an open swimming pool for adults and another for children, and an aqua park, in addition to a kindergarten, a football field, a basketball court, a tennis court, next to a fitness center, a sauna room, a Turkish hammam, places for barbecue, a path for bicycles and walking in the garden, and a lake with artificial waterfalls, a massage center.
The project complies with the terms of the real estate ownership law for foreigners in Turkey, which leads to obtaining Turkish citizenship.
3. Valley Complex
Our project is located in a privileged place in Izmit, combining the beauty of nature through its supervision on the coast of the Marmara Sea and the wonderful green valley, and the strategic location near the lively city center.
The Vadi Complex project provides residential apartments with sea views and distinctive scenes on a panel of charming nature surrounding the project.
The project is also characterized by its wide terraces, horizontal extension, and low-rise buildings, with a hierarchical model, in addition to its good apartment spaces, where there are many types of apartments available between 1+1 and 4+1, in addition to duplex apartments with a garden or with a terrace with an open view and beautiful.
The project also includes a group of modern villas of very elegance and luxury, most of which have been sold.
The project includes some pleasant service facilities, in addition to spacious green gardens with seating areas under the umbrellas, a mosque within the complex, and closed car parking, as well as an outdoor and closed swimming pool, a Turkish hammam and sauna, a gym, and football, basketball and tennis courts, restaurant, café, supermarket, and kindergarten.
You may also like: Apartments For Sale In Izmit Turkey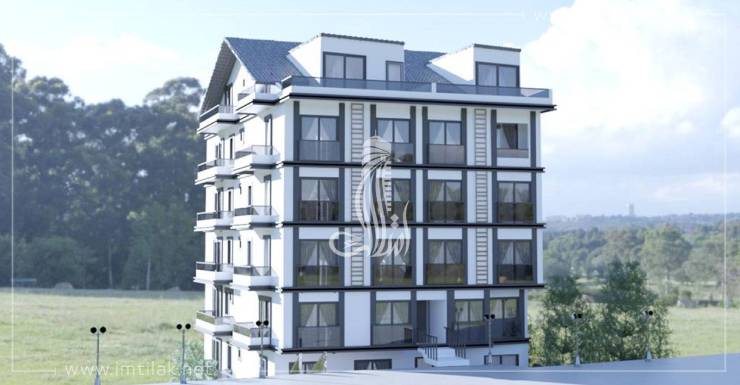 How does Imtilak Real Estate company help you buy an apartment with a sea view in Izmit?
Imtilak Real Estate company has achieved a pioneering position in its field, by providing real estate ownership services in Turkey and within many major cities, starting from the moment you contact one of the representatives or consultants of Imtilak Real Estate, until Imtilak gives you advice through the free consulting service, moving to help you find the best opportunities to secure the process of ownership smoothly, whether in Izmit apartments with sea views or in other cities and other regions.
Imtilak Real Estate company also accompanies its clients in the stages of real estate ownership and after it, through its supportive after-sales services to ensure that the best service is provided.
Edited by Imtilak Real Estate ©
Did you like this topic? You can share it with your friends now.
İzmit Region Report


The most favorite cities for foreign investors
The nationalities that owned the most in Turkey