How to Get Turkish Citizenship by Investment 2023
In recent years, there has been an increase in interest in the ownership in Turkey, especially in the field of real estate investment 2019-05-30
Last update
2023-02-18
How to Get Turkish Citizenship by Investment 2023
In recent years, there has been an increase in interest in the ownership in Turkey, especially in the field of real estate investment, where this vital sector witnessed unprecedented support from the Turkish government.


Table of Content
Foreign Property Ownership in Turkey- Significant High Trends
Returning to the figures that explain the reality of ownership in Turkey in 2018, Istanbul topped the list of the best-selling Turkish states with 235,055 apartments and, accounting for 17% of total real estate sales.
Ankara came second with 131,161 apartments, 9.5% of total sales across Turkey.
The state of Izmir ranked third in the list of best-selling residential apartments, with 75 thousand and 672 apartments, and by 5.5%.
Turkish Citizenship by Property Ownership- Best Investment Ways
After the amendment of the Turkish Nationality Law for investors in 2018, it became possible to obtain Turkish citizenship for a real estate investment of only $ 400 thousand instead of a million dollars in the previous decision.
By buying a property worth at least US $ 400000 and pledging not to sell it for three years. Under the ownership of the property, the owner is entitled to apply for Turkish citizenship.
The Turkish passport occupies an advanced global position, ranking 39th globally, registering 114 points on the Visa Free Travel Index, and allows its holder to enter more than 72 countries without a prior visa!
The Turkish passport holder can also enter more than 42 countries with an entry visa issued immediately upon arrival. More than seven countries grant an online visa for the Turkish passport holder.
The recent legal amendments have contributed to more turnout of foreign investors, especially Arabs, to own in Turkey for obtaining Turkish citizenship. Indeed, investors began to obtain Turkish citizenship after completing transactions at record speed.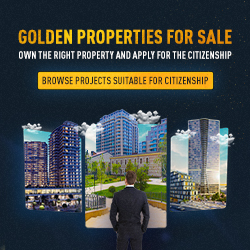 Where the waiting period after completing the official papers does not exceed forty-five days maximum!
In addition to the benefits of Turkish nationality, we should not forget the investment side represented by the economic feasibility of the investment process.
In the following exclusive video, we explore the benefits you get from having turkish passport.



Edited by: Imtilak Real Estate ©
Source: Anadolu
Did you like our topic? You can share it with your friends now!