The Opening of a New Saudi Commercial Attaché Office in Istanbul
The Saudi Ambassador to Turkey Walid Al-Khuraiji participated in the opening of the new office of the Saudi Trade Attaché in the Turkish city of Istanbul amid a high officials' presence 2019-03-26
Last update
2021-03-03
The Opening of a New Saudi Commercial Attaché Office in Istanbul
Saudi Ambassador to Turkey Walid Al-Khuraiji participated in the opening of the new office of the Saudi Trade Attaché in the Turkish city of Istanbul amid a high officials' presence.
According to a statement published by the Saudi embassy in Turkey through its official account on Twitter.
The Saudi embassy said Ambassador Waleed Al-Khuraiji opened the office of the new Saudi Commercial Attaché in Istanbul.
According to the embassy statement, the Saudi Commercial Attaché was attended by Mr. Fawaz bin Saad bin Rabah and SABIC Director in Turkey Mr. Fahad Al Harthy.
Director of Turkey Finance Bank Mr. Wael Al Rayes, and Director of Saudi Airlines in Turkey Mr. Yarub Madani has also participated in the event.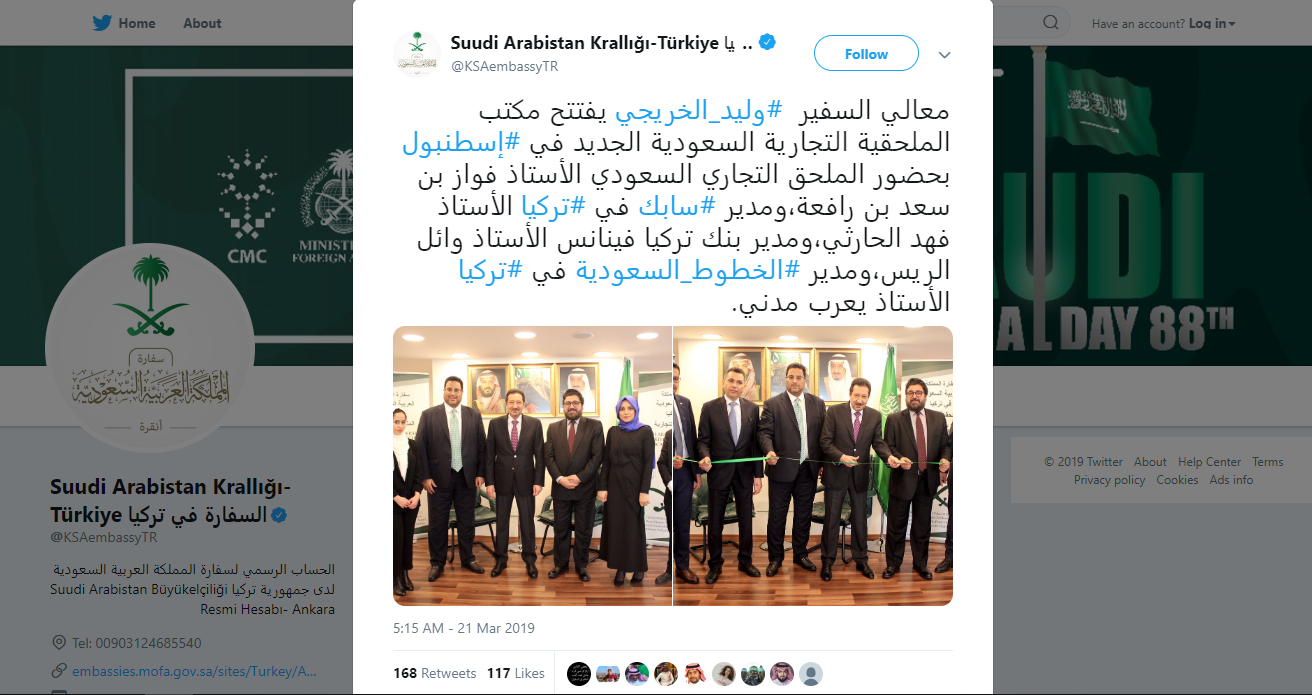 Saudi investments in Turkey: Broad prospects and mutual trust
The Turkish real estate sector is one of the most popular commercial sectors in Saudi Arabia, where investors are active in various fields of investment in Turkey.
Studies indicate that Saudi companies and investments in Turkey have increased significantly after Turkey's adoption of more laws and regulations that help to invest in many sectors, such as tax cuts and other facilities that attracted investors significantly.
Over the years, Saudi Arabia has been one of the most foreign countries to invest in real estate in Turkey.
According to data from the Turkish Statistical Institute, the ownership of Saudis in Turkey in real estate for 2017, for example, exceeded 3,300 properties by up to 100 percent from 2016, thus the Saudis were the second most foreign nationalities that owned real estate that year.
In accordance with the 2012 law on foreign nationalities entitled to own real estate in Turkey, the principle of reciprocity was reviewed on the subject of foreign ownership of real estate in Turkey and the restrictions on the ownership of some foreigners, including Saudi citizens were increased. Thus, the Saudis in Turkey could own real estate in Turkey Without conditions.


Edited by: Imtilak Real Estate
Sources:
Turk Press