Turkish President: The sky bridge in Çanakkale shortens the crossing of the Strait to 6 minutes
Çanakkale Bridge 1915 will contribute to reducing the transit time of ships in the strait to 6 minutes and will be one of the important symbols in Turkey 2021-11-15
Last update
2021-12-26
Turkish President: The sky bridge in Çanakkale shortens the crossing of the Strait to 6 minutes
With the participation of Turkish President Recep Tayyip Erdogan, the completion of a new phase of building one of the longest suspension bridges in the world in 2021, learn about the details through Imtilak Real Estate.
The Sky Bridge in Çanakkale will reduce the transit time for ships to 6 minutes
During his participation in the ceremony of laying the last surface of the Çanakkale Bridge in 1915, Turkish President Recep Tayyip Erdogan said in a speech on this occasion that the time for ships to transit the Dardanelles Strait would be reduced to 6 minutes.
The Turkish President has set next March 18, which coincides with the anniversary of the victory in the Naval Battle of Çanakkale, as the date for the opening of this bridge, and with it the state highway, which is 101 km long.
The Turkish president pointed out that the starting point for the construction work of this bridge was in 2017, noting that the investment value allocated to the bridge and highway projects amounted to 2.5 billion euros.
He added that this bridge will contribute to reducing the transit time of ships from the Çanakkale Strait to only 6 minutes, through which Turkey will enter a new phase in which all land, sea, and airlines on the three continents will start crossing from our country and our straits.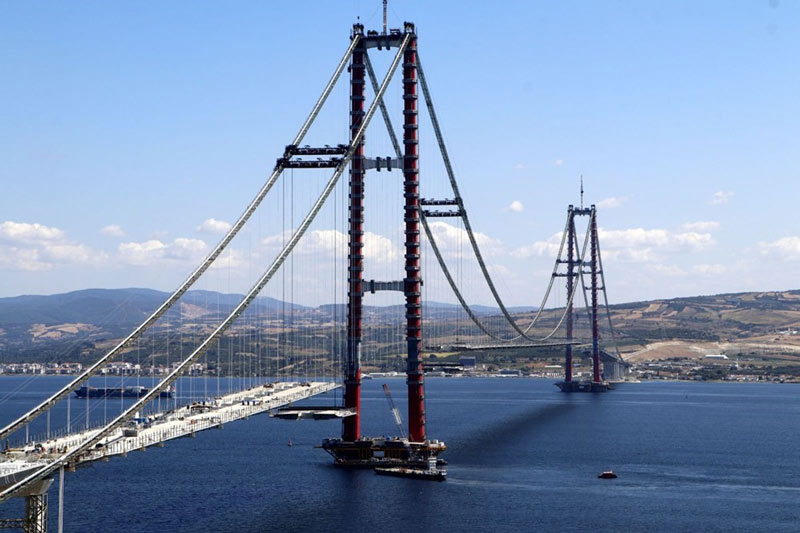 Çanakkale Bridge 1915 will be a symbol of Turkey
The Turkish president drew attention to the fact that the specifications of the Çanakkale Bridge 1915 include national and nationalist signs dating back to the ancient history of Turkey, where the height of the bridge, which reaches 318 meters, refers to the date of March 18, the day of victory in the Battle of Çanakkale, while its length  (2023 meters) symbolizes the year that coincides with the centenary of the founding of the Turkish Republic.
The Turkish president emphasized that the 1915 Çanakkale Bridge, which was built by 670 engineers, more than 5,000 workers, and 740 machines, participated in the construction process with the state highway, and it will be evidence that we are approaching another step towards our goal of building a great and strong Turkey, and it will constitute one of the most important symbols of the country.
Edited by Imtilak Real Estate ©
Reference: Anadolu Agency
Did you like this topic? You can share it with your friends now.