Fatih Istanbul apartments for sale 2022
Special offers within Fatih Istanbul apartments for sale, suitable prices, high-end specifications, and an opportunity to own property in the city center. Our services are free, contact us.
Properties found: 3
USD

EUR

SAR

AED

KWD

OMR

QAR

BHD

JOD

DZD

YER

TRY

GBP

CHF

CAD

AUD

CNY

RUB
Ready IMT-180 Topkapi Park Complex
explore apartments in istanbul for sale within topkapi complex with its history and heritage, instal...
Starting at
539,000 $
Ready This project is government guaranteed
IMT-156 Yedikule Project
find sea view apartments for sale in istanbul within yedikule project, wonderful sea views on the Bo...
Starting at
1,847,000 $
12/2022 Advantages of buying Fatih Istanbul apartments for sale
The advantages of buying an istanbul fatih apart are many, as the area has advantages that cannot be found in the rest of the other regions. As it is a touristic area, and its geographical location is of great importance, as real estate development is continuous. Since it is in the center of Istanbul and provides all types of transportation, such as buses, metro, and Metrobus, allowing the owner to go from this area to all parts of the city without any trouble, as well as health and educational centers, and a number of universities, in addition to a large number of commercial centers that provide all the requirements.


Information about the Fatih district in Istanbul, Turkey
Fatih is the spiritual and historical center of Istanbul. The area is located in the center of the European city of Istanbul. It has a distinguished geographical location, with the Golden Horn on the north and the Sea of ​​Marmara on the south, while the western borders of Fatih are surrounded by the walls of Constantinople. It is one of the civilizations and cultures that it has experienced in the eras of history, in addition to being considered the tourist and commercial center in Istanbul, due to the large number of tourist places in which it is located and the large number of commercial projects that take place there.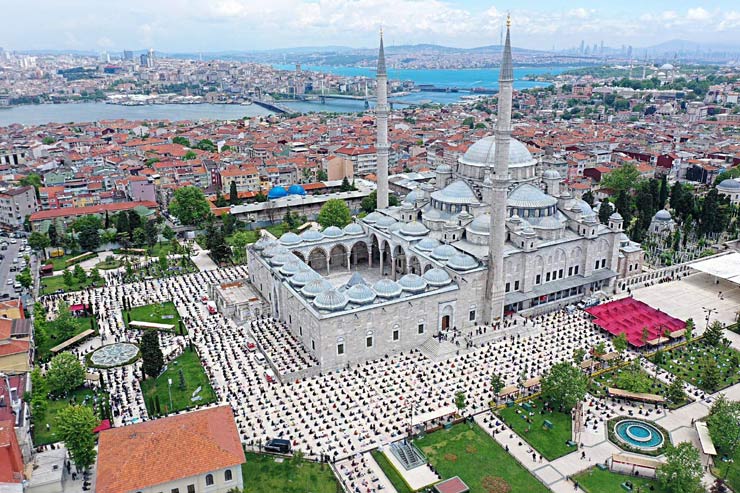 Apartment for sale in Fatih, Istanbul: what are their specifications?
There are distinctive house for sale in Fatih istanbul with modern specifications, such as the Topkapi housing project and the Yedikule project. Such projects provide apartments near monuments and historical museums, such as the Panorama Museum of History, in addition to the distinction of its elegant buildings, and its apartments with multiple spaces, ranging from apartment styles range from 1+1 to 4+1, with a high-end architectural layout, with an elegant cladding, in addition to useful and pleasant social service facilities. The Yedikule project includes a five-star hotel with nearly 60 suites. It is the first project that includes a hotel and an integrated residential complex with historical value in Istanbul.
Apartments for sale in installments in Fatih, Istanbul
Imtilak Real Estate provides options for apartments for sale in installments in Istanbul in Fatih district. Offering several projects and apartments ready for delivery in several places in Fatih, with distinctive prices and specifications, suitable for investment in the city, with the option of paying in installments that give an opportunity to obtain Turkish citizenship. The installments are in two ways; the first payment is a down payment of 25%, a second payment after a year, 25%, and the rest 50% in installments over 36 months. While the second payment method is a 10% down payment and the rest in installments over 24 months.
Cheap Fatih Istanbul apartments for sale
The prices of Istanbul Apartments For Sale in Turkey vary according to many and multiple factors, and the most important of these factors is the space associated with the apartments, as well as the location in which they are located, the view that each apartment has, the finishings, and the proximity to some famous landmarks in the Fatih area. One of the most important factors that contribute to determining the prices of cheap apartments in Fatih is the state of construction, is it a ready-to-move-in or is it under construction, as the price of an apartment that is under construction is relatively low, which leaves room for a good investment return compared to ready-to-move-in property. The cheapest apartment prices in Fatih can be found with Imtilak Real Estate, contact us to inform you about all the options for real estate ownership in Fatih.
Prices of apartments in Fatih, Istanbul
The prices of apartments in Fatih Istanbul vary due to many factors, ranging between $115,000 and $350,000, depending on the area of ​​the apartment, and its proximity to the famous landmarks of the area. With its central vital location, which connects to various areas in Istanbul, and the large number of landmarks visited by thousands of tourists from around the world every day, which made it a strategic choice for a successful investment, as the prices of Istanbul Fatih apart, Istanbul are growing and rising, achieving investment income in the medium and long term.
Edited by Imtilak Real Estate©
Did you like this topic? You can share it with your friends now.
Fatih Region Report


The most favorite cities for foreign investors
The nationalities that owned the most in Turkey