Istanbul Canal is a project to save the future of the city
Showing the Turkish government's determination to complete Canal Istanbul on time, Turkish President Erdogan: Canal Istanbul will be the hope to save the city's future. 2021-07-01
Last update
2021-11-04
Istanbul Canal is a project to save the future of the city
Turkish President Recep Tayyip Erdogan stressed that the Istanbul Water Canal will be a project to save the city's future. He explained that the canal will contribute significantly to solving the problems of ship movement on the Bosphorus, as well as preparing against earthquakes.
Table Of Contents
Constant determination of the canal project
Erdogan said in a speech on June 30, 2021, in the capital, Ankara: "Turkey will implement the Istanbul Canal project, like all other projects and service works that have been implemented before."
He continued, "We believe that this project will make a significant contribution to solving the problems of one of the largest cities in the world and saving its future, such as traffic in the Bosphorus, and earthquake preparedness."
Declaration to start
Erdogan indicated that he laid the foundation stone for the first "Istanbul Canal" bridges, to actually start implementing the Istanbul Canal project.
He stated that his government aims to complete the Istanbul Canal project within 6 years and put it into service.
According to the engineering plans, the canal will connect the Sea of ​​Marmara and the Black Sea in the European part of Istanbul. The canal will be 45 kilometers long, 20.75 meters deep, and at least 275 meters wide at its base.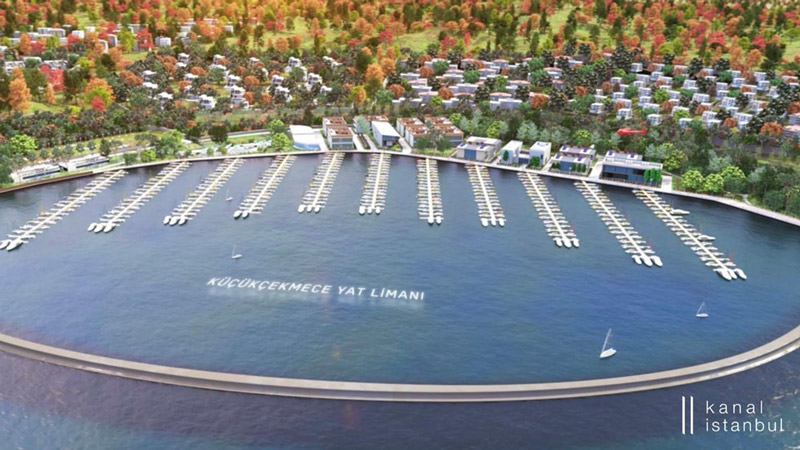 The goals of creating the canal
The Istanbul Canal project aims to:
Protection of the historical and cultural fabric of the Bosphorus.
Increasing the security of navigation and the movement of ships in the Bosphorus and reducing pressure on it.
Making a new international waterway.
It is planned to establish a modern earthquake-resistant city on the banks of the Istanbul Canal, according to the horizontal architecture style.
Edited by Imtilak Real Estate©
Reference: Anadol
Did you like this topic? You can share it with your friends now.