Apartment for Sale in Esenyurt, Istanbul
Browse our selection of Esenyurt apartments for sale in Istanbul and find your dream home. Explore many apartments that are modern, spacious, and affordable.
Properties found: 4
USD

EUR

SAR

AED

KWD

OMR

QAR

BHD

JOD

DZD

YER

TRY

GBP

CHF

CAD

AUD

CNY

RUB
Esenyurt, a vibrant and well-connected neighborhood, is located on Istanbul's charming European side. Look no further if you're looking for the ideal home that blends luxury living with convenience just outside your door. Esenyurt apartments are a smart choice for both homeowners and astute investors since they provide an amazing balance of accessibility and comfort.
Esenyurt's excellent location, which provides quick access to public transit, retail malls, medical facilities, schools, and parks, is one of its main benefits. As a result, homeowners are guaranteed to lead simple, convenient lives with quick access to all facilities.
Location of Esenyurt
Esenyurt, historically known as Ksenos, is a district in the province of Istanbul and a part of the Istanbul metropolitan area. Esenyurt, which is situated on Istanbul's European side, has boundaries with Lake Küçükçekmece and Avclar to the east, Büyükçekmece to the west, Başakşehir, Arnavutköy, and the TEM road to the north, and Beylikdüzü and the E-5 highway to the south. The district, which has had its own municipality since 1989, has a total size of 2.770 hectares.
The Advantages of Buying an Apartment in Esenyurt
Access to amenities and services
Esenyurt is renowned for its superior infrastructure and close closeness to necessities. Residents enjoy convenience and a good standard of living because of the convenient proximity to retail malls, supermarkets, healthcare facilities, schools, parks, and recreational places.
Affordable housing options
Esenyurt District has more cheap housing alternatives when compared to other areas of Istanbul. It is a desirable option for first-time buyers and young families since there are a variety of flats available to meet various budgets and lifestyle choices.
The growing economy and job opportunities
Esenyurt is a component of Istanbul's quickly expanding economy, which translates to more employment options for locals. For individuals looking to further their careers and develop professionally, the district's strategic position and expanding business sectors make it the perfect place to call home.
The vibrant social and cultural scene
A broad and active social and cultural environment can be found in Esenyurt. A variety of cultural events, concerts, art exhibits, and community meetings are available to residents, building a sense of belonging and involvement.
Safety and Security
Esenyurt is renowned for its security and safety, giving people a sense of security. Public areas in the neighborhood are kept up to date, and inhabitants' safety and well-being are a top priority for the local government.
Learn more about the advantages of buying an apartment in Istanbul.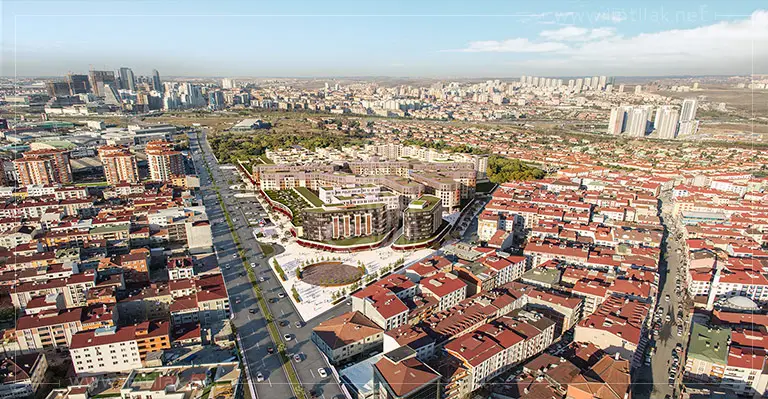 Where to Buy an Apartment in Esenyurt Istanbul?
A complex of commercial buildings including a unique hotel. The distance to Istanbul's international highway E5 is only 100 meters.
The project is situated in a prestigious neighborhood with a potential return on investment inside the confines of the municipality of Esenyurt and close to the Bahcesehir district, which is rich in contemporary developments. The Istanbul Water Canal project may be reached on foot from the project, which is close to the busiest roads for transit such as TEM Road and North Marmara Road.
The project is close to a network of roads and transportation options, allowing for simple access to all sections of Istanbul. The E5 road, the Metrobus line, and the Esenyurt metro line project are among the most significant of them. The project is distinguished by a top-notch exterior architectural design, which is reflected in the façade of its unique buildings and tastefully landscaped gardens.
Tips Before Buying an Apartment in Esenyurt
Affordability and Budget
Establish your budget and what you can spend on your Esenyurt apartment purchase. Take into account elements like the down payment, regular mortgage payments, and any supplemental expenses like property taxes and maintenance expenditures. To prevent financial burden, adhere to a reasonable budget.
Read more about the Real Estate Prices in Esenyurt District.
Appropriate Location
Esenyurt is a diversified area with a number of communities, each of which offers its own way of life. When selecting the area, take your demands and preferred way of life into account. Consider the distance from your home or office to places of employment, schools, services, and green space. Visit various neighborhoods to get a sense of the place and identify the one that best fits your lifestyle.
Consider the Amenities
Examine the facilities offered by the apartment complex or building. Consider amenities like a gym, pool, children's play area, and security elements that fit your lifestyle. Apartments with well-kept facilities may enhance your quality of life and increase your likelihood of being sold in the future.
Find a Good Realtor
Work with a competent Esenyurt-focused realtor or real estate agent. A professional and experienced realtor can walk you through the purchasing process, offer insightful information about the neighborhood market, and assist you in finding apartments that fit your requirements. Additionally, they will bargain for you to get the greatest possible value.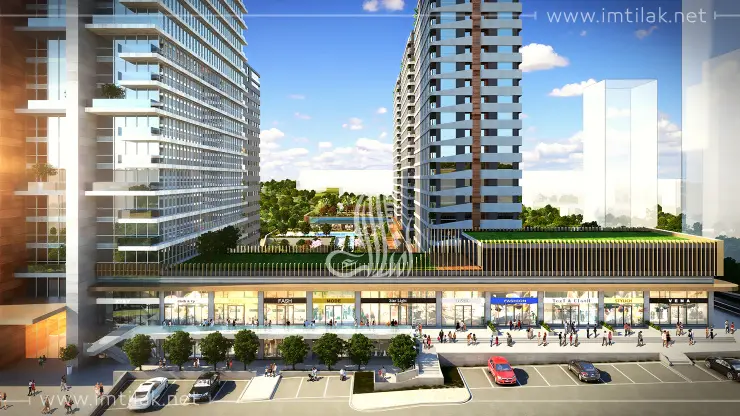 How Imtilak Can Help You Find the Best Esenyurt Apartment for Sale?
Esenyurt is a developing and dynamic area with many advantages such as easy transportation, social facilities, and affordable prices. You can find a variety of apartments in Esenyurt that suit your needs and budget.
At Imtilak, we are ready to help you find your dream apartment in Esenyurt. We have a professional team of experts who can guide you through the whole process of buying property in Turkey.
Contact us today and let us help you make the best Investment.
Edited by Imtilak Real Estate ©
Do you like this topic? You can share it with your friends now!
Esenyurt Region Report


The most favorite cities for foreign investors
The nationalities that owned the most in Turkey