Apartments for Sale in Vadi Istanbul
Browse our selection of apartments for sale in Vadi Istanbul and find the perfect property to suit your needs. Vadi Istanbul offers you a unique living experience with its location and facilities.
Properties found: 1
USD

EUR

SAR

AED

KWD

OMR

QAR

BHD

JOD

DZD

YER

TRY

GBP

CHF

CAD

AUD

CNY

RUB
Ready
Sky Land Complex IMT-68
Apartments in Istanbul European side within Sky land project, located in "Seyrantepe with real estat...
Starting at
861,000 $
Location of Vadi Istanbul
The Vadi Istanbul neighborhood is situated on Istanbul's European side, and it is suitably titled given that the project is situated on a small parcel of ground.
The modern architecture and urban planning of Vadi Istanbul, which aims to build a self-sufficient neighborhood with residential, commercial, and recreational amenities, are well renowned. It is built around a sizable central park and provides a variety of services including retail stores, dining establishments, cafés, workplaces, and recreational areas.
The project is distinguished by its proximity to vast open areas of forests, the largest in Istanbul, "Belgrade Forests," which extend starting from along the valley and does not end until the shores of the Black Sea! Its surroundings are made up of higher areas topped by tall towers with modern designs.
What are the advantages of Vadi Istanbul Real Estate Investment?
Vadi Istanbul district is strategically located for both residential and business uses because it is located in the Kagithane neighborhood on Istanbul's European side. The project provides quick access to other core districts of the city and is located adjacent to Maslak, a significant commercial center.
A large-scale mixed-use project with the goal of building a self-sufficient community is called Vadi Istanbul. Residential apartments, business spaces, retail establishments, office buildings, and recreational amenities are all included in one integrated idea. Such a well-thought-out development might improve the neighborhood's convenience and appeal overall.
The project has cutting-edge architecture and first-rate amenities, which appeal to both residents and renters as well as companies. Luxury facilities, green areas, and recreational places may increase the value of the houses and help occupants live more aesthetically pleasing lives.
As the development matures and gains traction, investing in a project like Vadi Istanbul may provide opportunities for capital growth. Projects that are well-designed and well-managed frequently generate demand, which can eventually improve a property's value.
If you want to incorporate real estate as an asset class with other assets, investing in Vadi Istanbul real estate will help diversify your investment portfolio.
Where to Buy an Apartment in Vadi Istanbul?
Ideally situated on the motorway that connects Istanbul's European and Asian portions, "Seyrantepe" is one of the most significant neighborhoods for real estate investment.
 The project has strategic relevance and investment because of its location in the Istanbul European Center in the municipality of Kağıthane, which is just five minutes from the Taksim and Levent districts, 10 minutes from the Bosphorus, and 25 minutes from Istanbul Airport.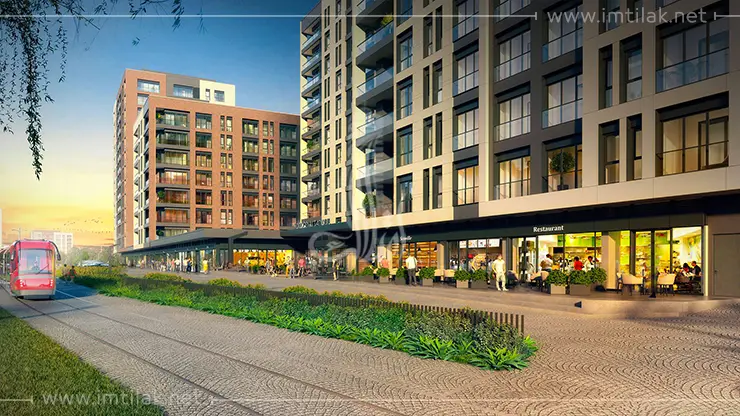 Steps for Buying an Apartment in Vadi Istanbul
Understand cash flow
Examine your financial condition and grasp your budget before beginning your quest. Take into account the initial outlay, the down payment, the closing fees, and recurring expenditures like the mortgage, property taxes, upkeep, and prospective rental revenue. Make sure you understand your cash flow and affordability well.
Select a market
Choose the Vadi Istanbul neighborhood or market where you wish to buy the flat. To make sure the community fits your lifestyle choices and investment objectives, research its amenities, transit options, and closeness to schools, retail areas, and other crucial facilities.
Read more about our guide to buying aparment in Istanbul.
Research properties and make offers
Start looking for apartments that fit your requirements and price range. To obtain a thorough list of homes that are available, work with neighborhood real estate agents that are knowledgeable about the Vadi Istanbul market. Attend property viewings, examine the specifics, and base your offers on market trends and property assessments.
Get the building inspected
Plan a professional examination as soon as you've found a possible apartment to determine the state of the building. Any hidden problems or required repairs will be made clear during an inspection, enabling you to make an educated choice and, if necessary, negotiate the price. Our team at Imtilak will be happy to accompany you on a real estate tour to get to know the properties firsthand.
Hire a management company
Consider working with a reliable property management company if you intend to utilize the flat as a rental property. By taking care of tenant selection, rent collecting, maintenance, and property upkeep, a management firm may relieve you of day-to-day duties and make sure the property runs well.
How Imtilak Can Help You Find the Best Vadi Istanbul Apartment for Sale?
Imtilak Real Estate offers a variety of apartments for sale in Vadi Istanbul at competitive prices in distinctive locations. Buying an apartment in Vadi Istanbul is a profitable investment because you can rent it out or resell it at a higher price. Imtilak provides a range of services and facilities to ensure that you achieved your goals.
Contact Imtilak today and buy your future home!
Edited by Imtilak Real Estate ©
Do you like this topic? You can share it with your friends now!
Kagithane Region Report


The most favorite cities for foreign investors
The nationalities that owned the most in Turkey