Apartments for Sale in Sisli
Browse a group of the best apartments for sale in Sisli, and find the perfect property with modern amenities, and leisure facilities. Contact us to get the best offers.
Properties found: 7
USD

EUR

SAR

AED

KWD

OMR

QAR

BHD

JOD

DZD

YER

TRY

GBP

CHF

CAD

AUD

CNY

RUB
Overview of Sisli
Sisli District is one of Istanbul's oldest historic areas and home of one of its most beloved monuments - Sisli Mosque - it lies along the Europan side. Bounded on each side by Besiktas, Sariyer, Eyupsultan, and Beyoglu this area can be reached easily from every direction by public transit and car services.
Sisli was initially used for farming, fishing, and recreation until 1800. Subsequently, it became designated for residential purposes during the late 19th and early 20th century as an Ottoman Empire holdover and early Republic of Turkey's early days, designated primarily to middle classes of different ethnic backgrounds like Greeks, Balkans Armenians, and Turks residing within.
Sisli district boasts an abundance of attractions for all tastes, social needs, and tourist requirements for both residents and visitors. With an illustrious past dating back millennia and filled with historical landmarks like the Army Museum, Ataturk Museum, Ihlamur Palace, Tsevikiye Mosque Mecca Modern Art Gallery, and Harbiye Acik Hava.
The Advantages of Buying an Apartment in Sisli
Great Diversity of the Population
Sisli Is Home to an Enormously Diverse Population Sisli boasts an extremely varied population. The properties in Sisli are widely recognized for being developed with modern architecture trends in mind using only top-grade building materials for their development and completion. Headquarters to Multiple Commercial Centers occupying property here as well.
Headquarters of Many Commercial Centers
Sisli serves as the hub of several commercial centers across Turkey and contains some of the country's premier shops offering international brand merchandise.
The Infrastructure
Infrastructure Situated within Sisli are many luxurious hotels, restaurants, and cafes as well as high-end shopping malls like Cevahir Mall and Trump Mall that all contribute to providing residents a lifestyle of unparalleled excellence. Sisli also presents investors with ample opportunity to invest in its real estate properties for both short- and long-term gains.
Chec out our offers for affordable villas for sale in Turkiye.
Prime Houses for Sale
Just minutes from shopping centers, transport hubs, main roads, restaurants, cafes, and sea-view apartments offering luxurious comfort offered only by Turkish properties.
Turkish Citizenship
Foreign investors continue to make profits investing in properties throughout Turkey. Due to new regulations by the Turkish government, foreign investors may obtain Turkish citizenship by making an investment of $400,000. It's an amazing chance to realize your dreams!
Average Price of Apartments in Sisli
With two-bedroom properties up to $350,000 or one-room properties reaching up to $180,000; these prices significantly lessen from our original estimate of $400,000.
Is it a Good Investment to Buy an Apartment in Sisli?
Sisli's expansion and development were inevitable given Istanbul's growing population. Many individuals took advantage of new immigration laws easing up on getting Turkish Passports in 2018 to purchase real estate there, leading to dramatic increases in property demand that resulted in prices becoming much more costly - leading to large investors getting involved with Turkish real estate investing themselves.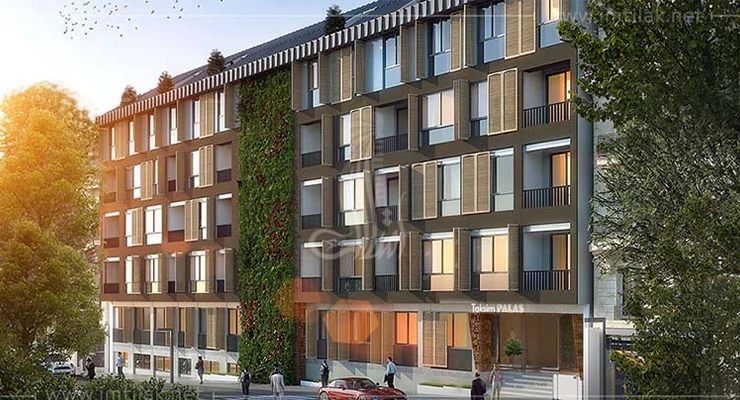 Most Luxurious Projects in Sisli
This complex is located in the heart of Istanbul in Esentepe, Sisli. Work and social life are combined in this complex. The complex is located near workplaces, shopping centers, restaurants, schools, and hospitals. It offers a peaceful life in the middle of Istanbul, yet close to the city.
The project is situated in Bomonty-Sisli which is the commercial center of Istanbul. It offers a panoramic view of the city, the Bosphorus, and the Istanbul Gulf. It is only a few minutes from the highway, and the tunnel to Besiktas. This makes it easier for people to travel between Asia and Europe.
How Imtilak Can Help You Find the Best Apartment for Sale in Sisli, Istanbul?
Real Estate in Sisli is one of the most appealing areas in Istanbul for its modern amenities and luxury shopping centers. Therefore, in recent years, the demand for real estate in Sisli has increased significantly, leading to increased apartment prices. However, Imtilak, with years of experience in the real estate market, offers you a great opportunity to own your dream home in Sisli at competitive prices that will satisfy your needs. Imtilak also strives to serve its clients through a wide range of services from consulting to meeting legal requirements and procedures.
Contact Imtilak today and get a free consultation!
Edited by Imtilak Real Estate ©
Do you like this topic? You can share it with your friends now!
Sisli Region Report


The most favorite cities for foreign investors
The nationalities that owned the most in Turkey