Installment Villas for Sale in Istanbul
Discover the best villas for sale in Istanbul with installments. Imtilak offers a wide range of options to suit your budget and lifestyle. Contact us today.
Properties found: 2
USD

EUR

SAR

AED

KWD

OMR

QAR

BHD

JOD

DZD

YER

TRY

GBP

CHF

CAD

AUD

CNY

RUB
09/2024
Country Villas 1398 - IMT
Luxury villas for sale in installments in Istanbul with luxury and modern standards, amid nature in...
Starting at
1,670,000 $
Ready This project is government guaranteed
Marina Marmara Villas IMT-507
Find luxury villas in Istanbul within Marina villas, huge project for investment and tourism in the...
Starting at
2,850,000 $
Benefits of Buying a Villa in Installments in Istanbul
Covers Insufficient Finances
Some individuals don't have enough financial coverage to purchase property up-front; therefore, installment properties offer relief on tight budgets by enabling buyers to make payments over a longer time. With an installment property purchase option, initial deposits may be made before payments continue over an agreed-upon timeline.
Provides Quick Housing
Housing solutions in Istanbul Istanbul apartments can be purchased on installment, even for those with limited funds, making buying your dream home quicker by paying only what is feasible at that moment and the rest later on.
Secures the Savings
Savings accounts do not offer the greatest return over time as their value depreciates over time while investing in property can increase in value over time. An installment plan offers buyers with limited budgets an affordable solution while still giving them enough room to select an appealing residence or rent out their space and divide up monthly rent payments among themselves or rent-out agreements.
Avoids Tying all The Money in One Property
Apartments that can be paid in installments offer more flexible budgeting over time, making the whole purchase of an apartment easier on you and more financially secure in the long run. No longer must you stick to strict monthly budgets while saving enough to buy it all outright; with installment properties, you can use what savings you already have towards purchasing property immediately while paying monthly installments to own it outright! Using installment properties is also an excellent way of building reserves against rainy-day expenses!
Easy Payment Scheduling
Every property payment schedule varies. The timing may change over months or even years depending on its seller and/or initial payments received; in any event, Istanbul property buying makes for an appealing proposition, with installment payments set according to an established schedule that must be adhered to; monthly installment payments must reach their due dates with no variance and remain fixed - at which point, full ownership becomes yours and can begin.
Can We Buy Real Estate in Installments in Istanbul?
Real estate purchases in Turkey may be done using installment payments and various financing solutions are available to help finance them. Bank loans provide one option; normally between 10-20 years repayment plans may be offered with 70-80% of property value covered as loan amounts; good credit scores and regular income may also help. To qualify for one of these bank loans.
How Much Deposit Do You Need to Buy A villa in Istanbul?
Deposit requirements vary for real estate purchases in Turkey depending on a number of factors, with an initial 20% downpayment typically required; though this figure can change depending on size, type, location, and market condition; apartment deposits located near larger cities might require higher deposits than homes located further out in less popular neighborhoods; when using loans to purchase real estate they typically stipulate payment of 20% of total property value as the deposit payment requirement.
Where to Buy Installment Villas in Istanbul
Villas in Sariyer
Sariyer Villas for Lease In Istanbul Sariyer on Istanbul's European side is well known for its breathtaking natural surroundings and luxurious residential communities such as Emirgan and Istinye - two neighborhoods where villas can be purchased on rental contracts.
Villas in Uskudar
Uskudar on Istanbul's Asian side offers an eclectic blend of contemporary and traditional living, making the neighborhood an excellent location to find villas for rent with payment plans available by searching real estate listings via portals and local agencies.
Villas in Arnavutkoy
Arnavutkoy on Istanbul's European side is becoming an attractive real estate investment area, so be sure to inquire with real estate agents or developers regarding installment villas available.
Villas in Bahcesehir
Bahcesehir is known for its modern housing developments and family-oriented atmosphere, and you're likely to find villas there with flexible payment plans that suit you perfectly - many housing complexes also provide such plans!
Villas in Beylikduzu
Beylikduzu is an Istanbul neighborhood on its European side that features many housing options, such as villas. If you are interested in purchasing one in this district, searching the market online and offline should yield results.
Villas in Sile
Sile, located on Istanbul's Asian side coast, is famed for its natural beauty and beaches. When purchasing or leasing real estate here, consult local developers or real estate agents about villas available with installment plans that could fit within your budget.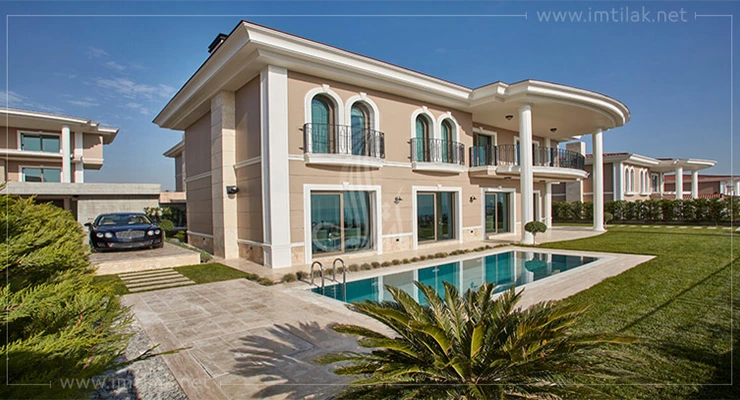 Buy Your Dream Villa in Installments with Imtilak
Imtilak offers you the possibility to pay in installments for your dream home in Istanbul, regardless of its expense. Villa living will change your life. Villas can be purchased using installments even though they're expensive - Imtilak is among the top real estate agencies in Turkey and strives to deliver excellent services and overcome barriers within its market, working alongside our consultants and experts side-by-side to meet customer requirements in a seamless fashion. Contact us now so that purchasing your villa becomes effortless.
Edited by Imtilak Real Estate ©
Do you like this topic? You can share it with your friends now!
Istanbul Region Report


The most favorite cities for foreign investors
The nationalities that owned the most in Turkey