Villas for sale in Istanbul Buyukcekmece 2022
Check the offers of villas for sale in Buyukcekmece, Istanbul, and find out about the features and prices. Learn about the investment importance of owning a villa in Buyukcekmece, and contact us.
Properties found: 2
USD

EUR

SAR

AED

KWD

OMR

QAR

BHD

JOD

DZD

YER

TRY

GBP

CHF

CAD

AUD

CNY

RUB
03/2023
Toksa Villas 1352 - IMT
Villas for sale in Buyukcekmece, Istanbul with stunning views of Buyukcekmece Lake and the Marmara S...
Starting at
856,000 $
02/2023
Brand Villas 518 - IMT
Villas for sale in Buyukcekmece, Istanbul with stunning views of Buyukcekmece Lake and the Marmara S...
Starting at
1,524,000 $
What are the advantages of the Buyukcekmece area in Istanbul?
Buyukcekmece, Istanbul is one of the most important and newest areas in Istanbul, on the European side. It is located parallel to the coast of the Marmara Sea, it is famous for its high infrastructure and modernity. It has the third-largest TV broadcasting station in Istanbul. It also hosts the largest exhibition city in Turkey. In addition to many huge commercial complexes, gyms, water cities, and many tourist attractions, such as Sultan Suleiman the Magnificent Bridge, Khan Kursunlu, Sokolu Mehmet Pasha Mosque, and the Sabil of Sultan Suleyman the Magnificent. It has a large number of schools, institutes, and educational institutions. The district includes 265 schools, many institutes, and several universities.
It has more than 240 health facilities, and the area can be reached by sea, land, and air, as it can be accessed by sea ships coming from many Istanbul ports, in addition to landmass transportation.
Is Buyukcekmece considered special for buying a villa?
There are many advantages that drive investors to buy villas in Buyukcekmece Istanbul; It has a sea view, where there are three coasts in Buyukcekmece, which are Mimar Sinan coast, Buyukcekmece beach, and Albatross coast. The region of Buyukcekmece also hosts a lake named after it, and this lake is connected to the shore of the Marmara Sea, which gives it a special advantage.
Buyukcekmece is also rich in its landmarks, making it one of the important areas for spending summer holidays, recreation trips, and tourism, where residential tranquility is away from the hustle and bustle of high-quality villa complexes and integrated services. Buyukcekmece is also witnessing a clear and unmistakable urban renaissance, with the aim of residing, investing, or obtaining Turkish citizenship. The region has also gained importance and demand for its properties due to its importance and beauty and the influence of its surroundings, such as Silivri, Esenyurt, and Beylikduzu.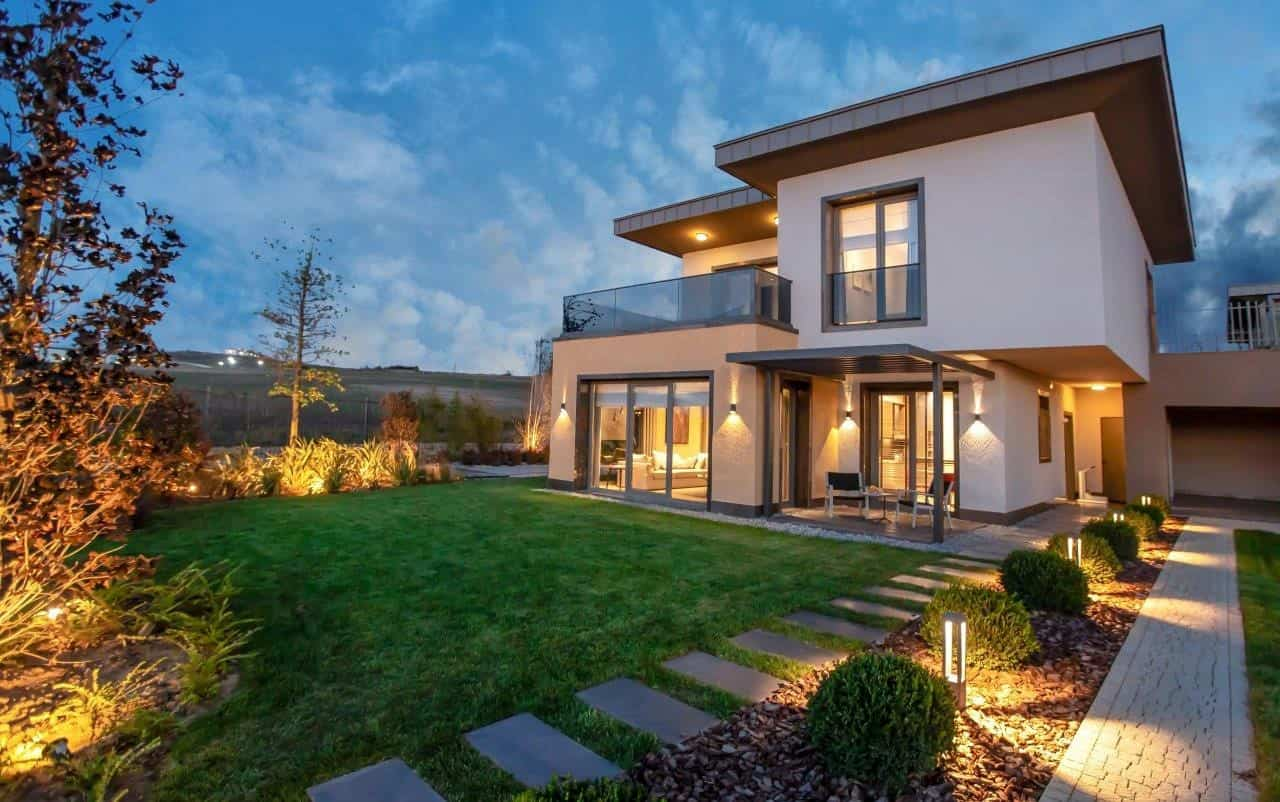 What is the average price of villas in Buyukcekmece, Istanbul?
The average price of villas in Buyukcekmece, Istanbul 2021 in dollars varies according to the type of villa, its size, location, and views, and according to the luxury of the complex that includes the villas, and generally, the price starts from half a million dollars, and the price can reach one million dollars for large luxury villas, which are known for their spaces, beauty, and finishes.
Villas for sale in Buyukcekmece, Istanbul by Imtilak Real Estate
The villas in Buyukcekmece are characterized by a variety of designs, tastes, and views, between luxury and sea views. They are also characterized by a developed infrastructure, such as the villas of Tracha Palaces, where the embrace of nature, away from the hustle and bustle of the city, without interruption, it is close to all means and transportation methods that provide access to all parts of the city with ease.
The project provides villas with charming beach views and a contemporary architectural style. The location of the project is close to Buyukcekmece Bay, which makes it an ideal place for picnics in the lap of nature, on the seashore and the lake, and enjoy walking in the designated yards.
The project is close to the most important shopping centers in the region, as well as many historical and archaeological places, such as Mimar Sinan Bridge. It is also close to the Tuyap Exhibition City, and the water park, surrounded by restaurants and cafes. The green spaces cover 70% of the project land area, and the project real estate is suitable for the conditions of Turkish citizenship for those wishing to obtain it through Real Estate Investment In Turkey.
The Green Reserve, where luxury, originality, and subtle life are included for sale in Istanbul provided by Imtilak Real Estate, has a location no different from that of Tracha Palaces, as well as a water pond, which is located a few steps away and covers an area of 1500 m2, the villas have multiple spaces and rooms.
What are the services of Imtilak Real Estate for those wishing to buy a villa in Istanbul?
There are many Imtilak real estate services for those who want to buy a villa in Istanbul. Imtilak Real Estate offers its integrated services for buying villas in Istanbul, through its offices in various parts of the city. The services include, in addition to installment services, pre-sales and after-sales services, by receiving the customer from the airport to the hotel, help him choose the place of residence, provide specialized real estate consultancy, and take him on tours throughout Istanbul. We also have a team specialized in following up the procedures of the title deed, receiving the villa, verifying its conformity with the contract, getting a residence permit, opening a bank account, preparing villas and their accessories for use, in addition to managing villa affairs, such as renting, reselling it and following up on taxes, fees, and bills for the villa. We also have a team to follow up the procedures for obtaining Turkish citizenship through real estate ownership.
Edited by Imtilak Real Estate©
Did you like this topic? You can share it with your friends now.
Buyukcekmece Region Report


The most favorite cities for foreign investors
The nationalities that owned the most in Turkey