Villas for sale in Sile Istanbul 2023
Distinguished offers from Imtilak Real Estate within villas for sale in Sile, Istanbul, the prestigious and distinguished area. Villas with the highest quality specifications, at the best prices. Contact us for more information.
No results about ( Villas for sale in Sile | Istanbul villas | Imtilak Real Estate )
What are the advantages of the Sile district in Istanbul?
The most important feature of Sile in Asian Istanbul, is its advanced and integrated infrastructure, in addition to a series of clean and quiet beaches along the coast, which allows tourists to enjoy swimming and practice various water sports. In addition to the distinction of its educational sector with its various educational institutions for all levels, and the proximity of the private University of Işık to it, which adopts English as a primary language of study, and it is a distinguished area for real estate investment due to the availability of the necessities of life in it through the great attention it receives in the level of services. Sile is a permanent tourist destination thanks to that, in addition to its beautiful markets, and restaurants that offer seafood and Turkish food, and it is close to Sabiha Gokcen International Airport.
Why buy a villa in Sile?
Sile has a beautiful nature, a moderate climate, and a fresh air. It is quiet and far from the hustle and bustle. It also includes many tourist places, including: the Sheila lighthouse, the plateau and the beach of Kom Baba, which is rich in mineral water.
They are also villa complexes of high quality in design, services and spaces, in a quiet environment that is not provided by other places, where harmony, recreation, beauty and nature. The increasing growth of the tourism sector in Sile made it a profitable investment opportunity in the future, as it has been able over the recent years to attract a large number of investors wishing to enter the real estate field and engage in tourism investment.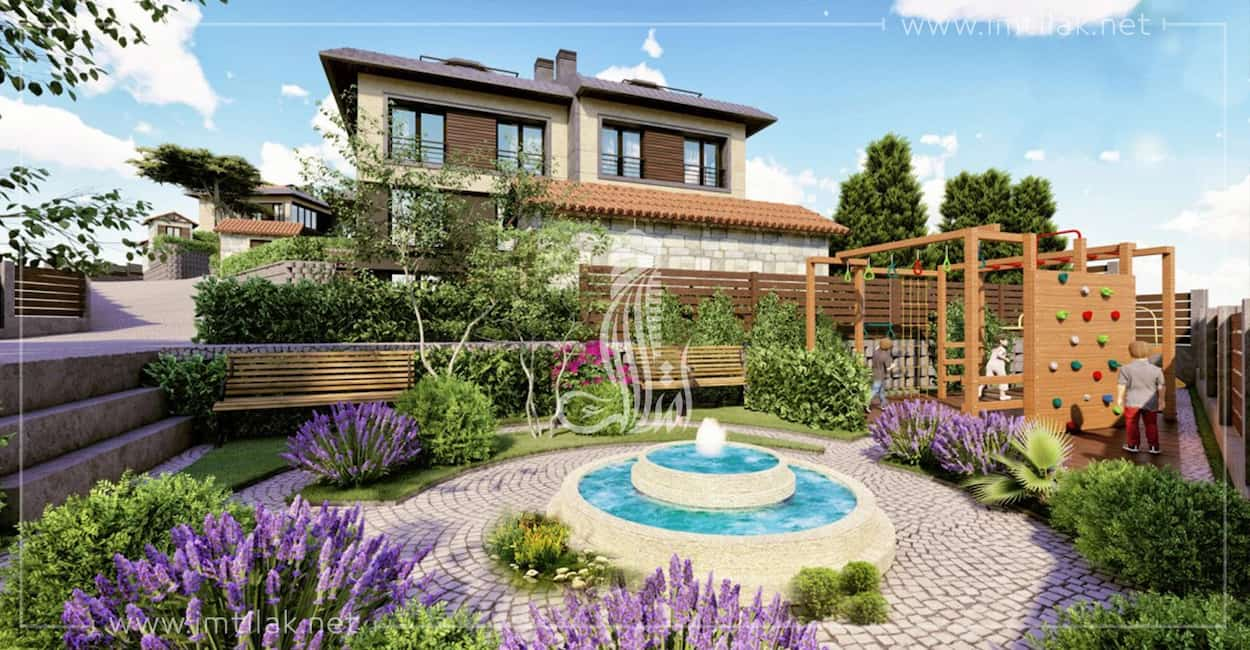 What are the prices of villas in Sile, Istanbul?
The average price of villas in Sile, Istanbul 2021 in dollars varies according to the type of villa, its size and location, and generally the price starts from $280,000 and can reach $330,000 for large luxury villas, which are known for their spaces and beauty.
Villas for sale in Sile Istanbul by Imtilak Real Estate
Imtilak Real Estate offers Yesil Vadi Villas with the best specifications within a calm natural surrounding and a pure rural environment. The project includes 44 independent villas, each consisting of two floors, a terrace and a private garden containing a wooden room, water bodies, fountains, beautiful gardens, parking lots, and a private pool for the residents of the project. An outdoor sports club, a basketball and handball court, in addition to an electronic inspection gate at the entrances, and a security protection system.
Imtilak real estate services for those wishing to buy villas in Sile, Istanbul
Imtilak Real Estate offers the opportunity to buy villas in Sile, Istanbul, by offering many options that suit the different tastes and financial capabilities of investors. There are pre-sales services, including airport reception, assistance in choosing a place of residence, in addition to providing specialized real estate consultancy, with internal tours on various villas in Sile, Istanbul, and there are after-sales services, including the title deed, receipt of the villa and verification of its conformity with the contract, issuance of residency, opening a bank account, preparing the villa and its accessories for use, in addition to managing the affairs of the villa: such as renting or reselling it, and following up on taxes villa fees and bills.
Edited by Imtilak Real Estate©
Did you like this topic? You can share it with your friends now.
ŞİLE Region Report


The most favorite cities for foreign investors
The nationalities that owned the most in Turkey