Cheap Houses for Sale in Istanbul
Looking for an affordable house in Istanbul? Our listing features cheap houses for sale in the heart of the city. Don't miss the opportunity to own your dream home at a low cost.
Properties found: 10
USD

EUR

SAR

AED

KWD

OMR

QAR

BHD

JOD

DZD

YER

TRY

GBP

CHF

CAD

AUD

CNY

RUB
Many people's dreams of living in this thriving metropolis come true since it offers the ideal fusion of modern allure and cultural wealth. Istanbul has much to offer to everyone, from its breathtaking historical sites to its busy marketplaces and colorful streets.
Advantages of Buying a Cheap House
Little Investment
Purchasing a cheap home demands a smaller down payment than doing so for an expensive one. For people who are just starting out in the housing market or have limited money, this is very beneficial. It makes it possible for purchasers to enter the housing market and become homeowners without having to pay a substantial upfront expense.
Less Financial Risks
The financial risks connected with purchasing a low cost property in Turkiye are often diminished with a lower purchase price. In comparison to a more costly property, the potential loss is lower in the event of economic downturns or market volatility. Buyers may feel more secure as a result, particularly during difficult economic times.
Potential Upside
The value of inexpensive homes might rise significantly over time. The value of the home may rise as the housing market in Istanbul and the community around it flourish, giving the owner the chance to accumulate equity and perhaps even turn a profit should they decide to sell in the future.
Potential Positive Cash Flow
The reduced purchase price may provide a profit if the buyer plans to utilize the inexpensive home as an investment, such as a rental property. Rental revenue may surpass property expenses with decreased mortgage payments and running costs, giving the owner positive cash flow.
Read more about the benefits of buying a home in Turkiye and learn about this opportunity.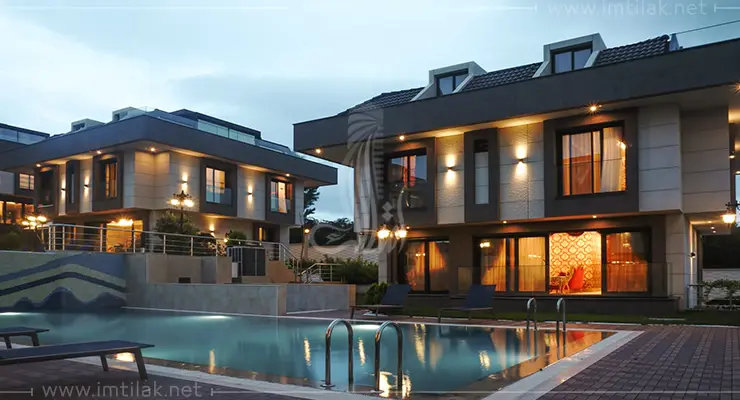 Should I Buy A Cheap House First?
Your unique position, financial status, and long-term objectives will determine whether or not you should purchase an inexpensive property as your first home. Here are some factors to consider before making your decision:
For first-time homeowners with limited funds or lesser income, an inexpensive property necessitates a smaller down payment and results in reduced mortgage payments.
The hazards of having a cheap property are often lesser because of a smaller mortgage and total investment. When you're worried about market swings or unforeseen bills, it offers a certain sense of financial stability.
It's possible to develop equity rapidly by purchasing an inexpensive home, especially if it increases in value over time or if you make modifications that make it more valuable.
Check out the
best deals for homes in Istanbul
and compare prices.
The Best Neighborhoods in Istanbul to Buy an Affordable House
Esenyurt
Esenyurt neighborhood is one that is quickly expanding. Recent years have witnessed a major urbanization and infrastructural upgrade. Apartments and small homes are among the inexpensive housing alternatives available in the region. Esenyurt is well-liked by families and young professionals since it has a lot of retail establishments, educational institutions, and parks.
Arnavutköy
Arnavutköy region, which is located on the city's European side, is another area with inexpensive homes. It is renowned for its natural areas, historical sites, and quaint appeal. Despite having less access to the city center than some other neighborhoods, Arnavutköy has a calm and welcoming atmosphere for families.
Avcılar
Avcilar district is located on Istanbul's European side beside the Marmara Sea. It is a coastal area with access to lovely beaches and promenades along the water. The fact that multiple colleges are close to Avclar makes it a favorite among students. There are both houses and flats in the region that are affordable.
Büyükçekmece
Büyükçekmece area, another beach region on the European side, provides a calm and unhurried atmosphere. The community includes a charming lake and a bustling town center. For those looking for a reasonably priced home with access to the outdoors and recreational opportunities, it is a fantastic choice.
Esenler
Despite being somewhat more central than the other districts mentioned, it nevertheless provides some possibilities for inexpensive living. Esenler neighborhood includes a mix of residential and business districts, and public transit is readily available.
What Is the Average Apartment Price in Istanbul?
According to data from endeksa.com, a website that collects information on the housing industry, the average property price in the nation increased to 1,14 million TL ($71,000), or 8,252 TL per square meter. The average cost of a home increased by 173% in Istanbul, Turkey's economic and financial center, to 1,6 million TL. The average price in Ankara was 802,000 TL, with a 129% yearly rise.
Find Your Dream House with Imtilak Real Estate
Imtilak Real Estate offers a wide selection of cheap houses for sale in Istanbul. It also assists you in finding the ideal house that satisfies all of your needs and exceeds your expectations. Don't miss out on this opportunity to own your dream home at an unbeatable price. Contact Imtilak today!
Edited by Imtilak Real Estate ©
Do you like this topic? You can share it with your friends now!
Istanbul Region Report


The most favorite cities for foreign investors
The nationalities that owned the most in Turkey