Villas for sale in Bursa, Turkiye
Find your ideal Villa in Bursa, Turkey. Browse our selection of Villas for sale in Bursa and choose the luxury home with a beautiful view.
Properties found: 1
USD

EUR

SAR

AED

KWD

OMR

QAR

BHD

JOD

DZD

YER

TRY

GBP

CHF

CAD

AUD

CNY

RUB
06/2024
Westone Project 1071 - IMT
Large apartments for sale in green Bursa with spacious family spaces and a variety of entertainment...
Starting at
285,000 $
Overview of Bursa City
Location:
The city of Bursa is situated in northwest Turkey. It is located in the Bursa Province, more precisely in the Marmara Region. The Uludağ Mountain, which is a component of the greater Uluda National Park, is situated at the base of the city. Bursa is well connected to other significant cities in the area and is located around 90 kilometers (56 miles) south of Istanbul.
History:
One of the most important cities in Turkey, Bursa has a long history that dates back to history.
The Advantages of Buying a Villa in Bursa
Natural Beauties and Green Spaces
Bursa City is known for its breathtaking natural beauty and a large number of green areas. Residents have access to beautiful scenery, hiking trails, and outdoor recreational opportunities thanks to the city's location at the base of Uludağ Mountain. Having a villa in Bursa gives you access to the peace and quiet of nature just outside your front door.
Bursa is a Cultural and Tourism Exhibition
Bursa is rich in legacy from its Ottoman past and is steeped in history and culture. The Grand Mosque and the Green Mosque are just a couple of the cultural icons that may be found close by if you own a villa in this city. The city's diverse culture gives daily life a special depth.
Check out our offers for the Top Apartments for Sale in Bursa.
Tourism in Bursa is Active All Year Round
The tourist industry in Bursa is busy all year round. While the city's pleasant summers and outdoor activities draw tourists, Uludağ Mountain's close proximity to the city makes it a popular winter destination for skiers. As a villa owner, you may take advantage of the wide variety of activities offered throughout both the warm and cold seasons.
Public Transport Exists in Brusa
Bursa has an efficient public transportation system that makes getting about the city and its environs convenient for both locals and visitors. This accessibility improves your ability to go around Bursa and take in all of its attractions without having to worry about transportation.
Proximity to Istanbul
Being strategically located near Istanbul, Bursa has a big benefit. Istanbul is one of Turkey's most vibrant and multicultural cities, providing a variety of options for business, culture, and pleasure. You may take advantage of the peace and quiet of Bursa while still having quick access to the conveniences and possibilities in Istanbul if you own a villa there.
Get the best prices for affordable apartments in Istanbul.
Best Areas to Buy a Villa in Bursa
Mudanya
A seaside community called Mudanya may be found on the Sea of Marmara's southern coast. It is renowned for its beautiful surroundings, restful ambiance, and historical significance. Purchasing a villa in Mudanya district offers the chance to take advantage of breathtaking sea views, waterfront access, and a relaxed way of life. People looking for a quiet escape by the water frequently choose the town because of its appeal and proximity to the sea.
Osmangazi
One of Bursa's key districts, Osmangazi, embodies the city's core. There are both modern conveniences and historic sites in this area. Villa ownership in Osmangazi entails being close to the city's entertainment, cultural, and business hubs. You'll have quick access to Bursa's dynamic city life as well as retail centers, dining options, historical attractions, and eateries.
Gemlik
East of Bursa is the beach community of Gemlik. It is renowned for its commercial operations, historical past, and beautiful surroundings. Purchasing a villa in Gemlik gives you the benefit of being near the shore while yet being close to the city's facilities. For those looking for a mix between metropolitan and seaside lives, the town's historical landmarks, closeness to the sea, and comparatively peaceful ambiance make it an intriguing alternative.
Nilufer
Bursa's rapidly expanding Nilufer neighborhood is renowned for its up-to-date infrastructure, parks, and open areas. Compared to some other locations, it provides a suburban and modern lifestyle. Having a home in Nilufer gives you access to parks, retail establishments, educational facilities, and other contemporary conveniences. The district is a popular choice for families and people who seek a contemporary suburban atmosphere because of its emphasis on green spaces and quality of life.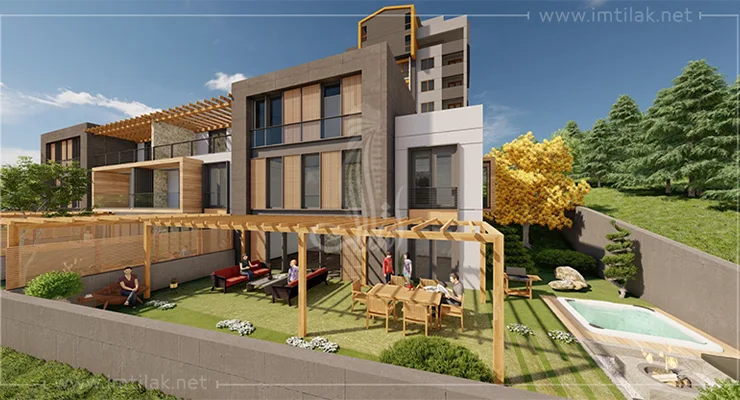 Reasons to Live in a Villa in Bursa
Villa Offers Complete Privacy
The degree of privacy provided by a villa in Bursa is one of its main benefits. Typically independent homes, villas have their own yards, gardens, and occasionally even pools. Residents benefit from a quiet, private living space that is removed from the commotion and bustle of cities.
Check out our offers for amazing villas in Turkiye.
Beautiful Environment
Bursa is a great place to live in a villa because of its natural beauty and lush surroundings. When you own a villa, you may awaken to stunning scenery, luxurious gardens, and tranquil vistas. An environment that is more serene and aesthetically pleasant may be created by combining natural components with thoughtful gardening.
Customization
Comparing villas to apartments or townhouses, greater space and customization options are frequently available. This implies that you have the option to design your ideal home based on your choices and requirements. Owning a villa gives you the blank slate to realize your concept for a customized garden, outdoor entertainment space, or interior design.
Good Amenities
In Bursa, a lot of villa communities are planned with an emphasis on offering top-notch facilities. Private swimming pools, gyms, jogging paths, and other amenities are examples of these. You may enjoy these upscale facilities while staying on your own private property if you live in a villa, which will improve your quality of life overall.
Villa Can Get You High Returns on Rent
You have the option to rent out a villa while not using it if you're thinking of living there part-time or as a second home. The popularity of Bursa as a tourist destination and the allure of villa living may result in high demand for rental houses. The possibility of receiving significant rental returns may be a tempting financial incentive.
Average Price of a Villa in Bursa
The price range of real estate in Bursa varies according to market factors, such as location, view, the caliber of building methods and materials, services offered, and distance to social facilities. The statistical website (Endeksa) determined that the annual average cost to buy a home in Bursa was around 1,548,504 TL ($83,039). In November 2022, the cost per square meter for residential real estate in Bursa Province will be 11,556 TL ($619 USD).
Related: Affordable Apartment Prices In Bursa.
Find the Best Villa for Sale in Bursa with Imtilak
Bursa is a wonderful city to live in because it has many historic and cultural attractions. Being located near the sea add importance to its real estate market. if you think life in a calm environment is better than living in a bustling city such as Istanbul, then Bursa is the ideal choice. However, Imtilak is a reputed company that provides professional services to clients who are willing to move to Turkiye. It also offers a wide variety of villas available for sale.
Contact us today and discover the golden opportunities!
Edited by Imtilak Real Estate ©
Do you like this topic? You can share it with your friends now!
Bursa Region Report


The most favorite cities for foreign investors
The nationalities that owned the most in Turkey