Villas for Sale in Turkey 2023
Offers of villas for sale in Turkey 2023 by Imtilak Real Estate. Luxurious and luxurious villas, small and cheap villas, and offers of palaces, rural villas, and villas overlooking the sea, with the option of installments, contact us.
Properties found: 45
USD

EUR

SAR

AED

KWD

OMR

QAR

BHD

JOD

DZD

YER

TRY

GBP

CHF

CAD

AUD

CNY

RUB
Top Advantages of Owning a Villa in Turkey
There are many advantages to buy a villa in Turkey:
Cost and Price: Villas in Turkey can be substantially less expensive than comparable homes in Europe. This implies that buying a villa in Turkey typically allows you to obtain greater value for your money.
Beautiful Locations: The beaches, mountains, and scenery of Turkey are breathtaking. In Turkey, there are several villas with stunning views that are situated in desired locales including Bodrum, Antalya, and Fethiye..
Investment Potential: The Turkish real estate market is expanding, so purchasing a villa there can be a wise investment. You can also rent out your villa if you don't use it all year long to earn extra money.
What is the average price of villas in Turkey?
The prices of villas in Turkey vary depending on their location, size, quality of materials and finishes, and the view they offer. Prices also differ from city to city. However, compared to similar properties in Europe, the prices of villas in Turkey are generally lower. On average, prices for Turkish villas range from $250,000 to $2,000,000.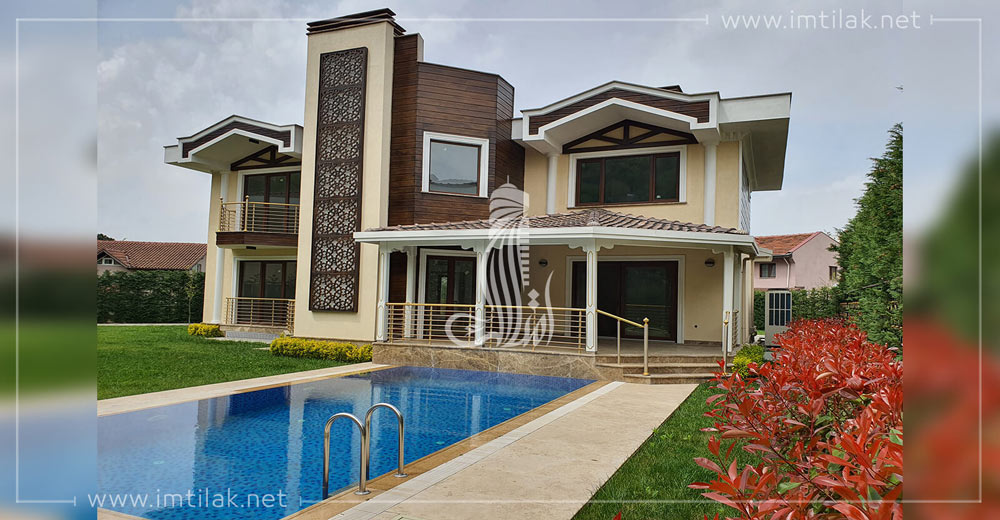 The Best Places to Buy a Villa in Turkey
Istanbul
Villas in Istanbul are characterized by being multiple, between luxury, cheap, old, overlooking the sea, etc., and they have different locations, various designs, and competitive prices, and they are characterized by a developed infrastructure, and Istanbul contains many villas in different areas and sizes.
Antalya
The villas in Antalya are among the most luxurious in Turkey, given the attractive factors for many who wish to own property in Antalya, as it is characterized by its charming nature, sea views, and beautiful sandy coasts, and the average price is $250,000.
Trabzon
Villas in Trabzon are cheap, given the beauty of their nature and views. Villas in Trabzon combine the sea and green nature, and the average price is $150,000.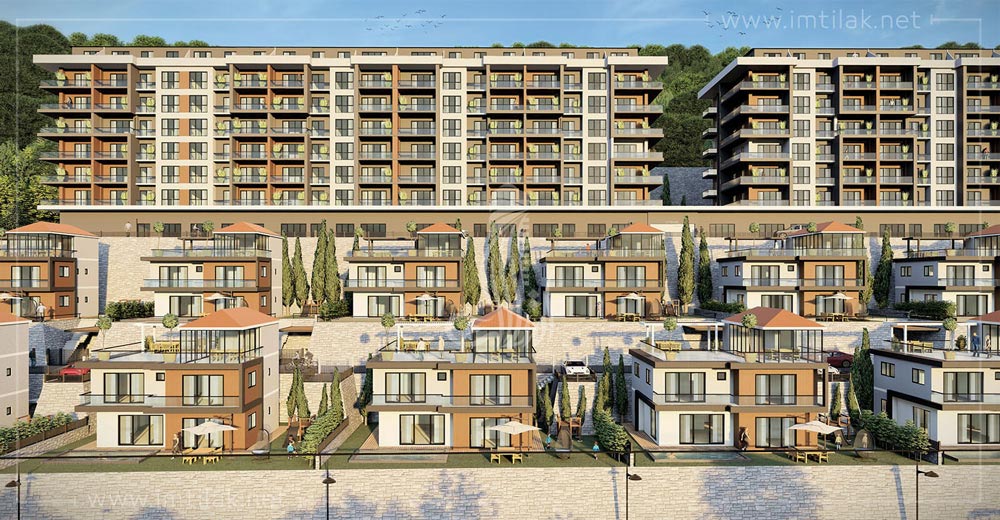 Sakarya
Sakarya are located in distinct places with their spacious spaces, in an organized distribution that gives them luxurious views, such as city villas, in one of the most beautiful natural areas surrounding Sapanca Lake in Sakarya, as well as Sultan villas and Kerbnar villas.
Bursa
Bursa are distinguished by being located in the most beautiful and most modern cities of Turkey, overlooking the sea, such as the Badmeli Bursa villas complex, in the Badmeli district, where the villas have a wonderful panoramic view, as well as the Terraces Bursa villa complex, about 45% of the project area is green spaces.
Yalova
The beautiful villas in Yalova are distinguished by their proximity to Istanbul, and their luxurious styles and distinct views, such as Jerry villas, in the Japanese style, and within a calm and charming nature, as the complex is half an hour away from Istanbul Sabiha Airport.
Fethiye
Fethiye villas in Mugla, Turkey's most famous tourist city, are famous for their location in the Aegean region, which means a stunning view of the Mediterranean Sea, and this region is characterized by its charming nature.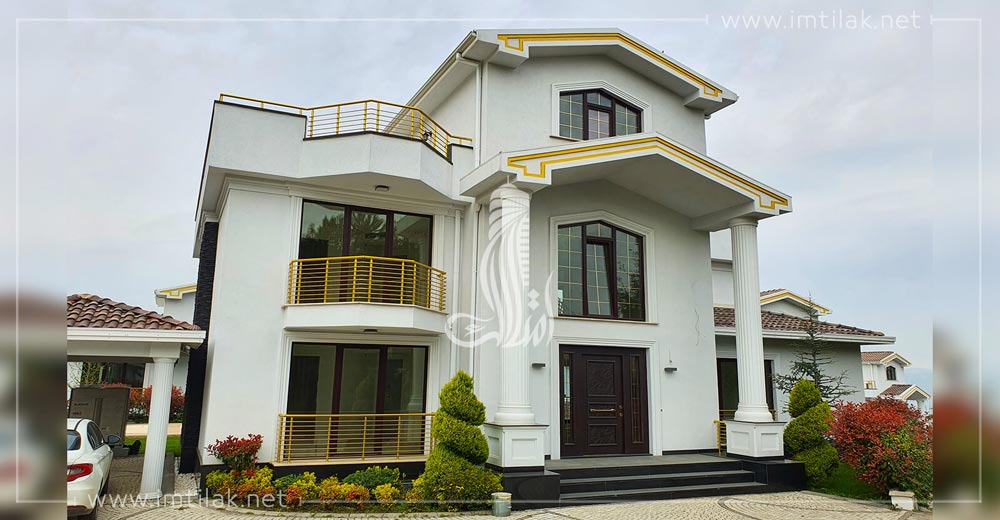 Explore Imtilak Real Estate's Collection of Villas for Sale in Turkey
Luxury villas for sale in Turkey
There has many locations for luxury villas in turkey, including Green Reserve villas, Al-Noor Complex villas, Western Mahalla villas in Istanbul, Digital Home Villas, and Eva villas in Antalya, Kalıcak Garden villas in Trabzon, City villas in Sakarya, and Sultan villas in Sapanca.
Rural villas for sale in Turkey
Rural villas in Turkey are distinguished by their low prices and are ideal for those looking for a residence that combines the modernity of Turkey with the instinct of calm, meditation, and natural beauty, such as Silivri, Çatlıca, Arnavutkoy, in the countryside of Istanbul, and Granda villas in Antalya, and so on.
Villas and palaces for sale in Turkey
Turkey is distinguished in offering all options for real estate ownership in various Turkish cities, and among the options are the presence of palaces for sale and villas in Istanbul and other regions of Turkey, such as Sariyer palaces, which are classified as the third richest, most luxurious and most expensive area in Turkey, and are classified as safer than earthquakes. The location of the project gives fresh outdoor air due to its proximity to Belgrade forests and beaches.
Small villas for sale in Turkey
Turkey is characterized by the fact that it includes options for buying small villas in Turkey, such as Yesil Valley villas in Sile, Green Reserve villas in Buyukcekmece, and Riva villas in Beykoz, and there are other areas that contain small villas such as Kalicik Garden villas in Trabzon, and Granda villas in Antalya, and a complex of Jerry villas in Yalova.
Buy villa in turkey by the sea
There are many villas with sea views in Turkey due to the many seas in it, and Buyukcekmece in Istanbul is characterized by containing villas overlooking the sea, such as Traca Palaces, Al-Noor Villas Complex, and Paradise Golf villas. In Sakarya, Marina Marmara villas, city villas, Sultan villas, and many more.
Buy villa in turkey in installments
It is possible to buy villas in Turkey in installments, and get all the offers for buying villas in distinguished places in Turkey, whether for the purpose of family housing or for the purpose of leasing and investment and obtaining monthly financial returns, through convenient installment options provided by Imtilak Real Estate, contact us.
What are Imtilak's real estate services for those who want to buy a villa in Turkey?
There are many Imtilak real estate services for anyone who wants to buy turkey villas. Imtilak Real Estate provides its integrated services for the purchase of villas in Turkey, through its offices in various Turkish states, and its services include, in addition to installment services, pre-sales, and after-sales services and during sales, by receiving the customer from the airport to the hotel, help him choose the place of residence, provide specialized real estate consultancy, and take him on tours throughout Turkey.
We also have a team specialized in following up the procedures of the title deed, receiving the villa, verifying its conformity with the contract, getting a residence permit, opening a bank account, preparing villas and their accessories for use, in addition to managing villa affairs, such as renting it, reselling it and following up on taxes, fees, and bills for the villa. We also have a team especially to follow up on the procedures for obtaining Turkish citizenship through real estate ownership
Edited by Imtilak Real Estate©
Did you like this topic? You can share it with your friends now.
Istanbul Region Report


The most favorite cities for foreign investors
The nationalities that owned the most in Turkey