Apartments for sale in Dubai 2023
If you are looking for distinctive apartments in Dubai, Imtilak Global puts in your hands the best offers for apartments for sale in Dubai, in the best areas, suitable for living and investment
Properties found: 30
USD

EUR

SAR

AED

KWD

OMR

QAR

BHD

JOD

DZD

YER

TRY

GBP

CHF

CAD

AUD

CNY

RUB
Information About Dubai
History
Dubai has come a long way since it first emerged from an ancient fishing village to becoming an immense symbol of prosperity. Situated on the Arabian Peninsula's Southeast coast, its roots date back to the 18th Century when a bustling port began operating thanks to its strategic position. After experiencing remarkable economic expansion since the 19th Century when oil reserves were discovered here; Dubai flourished into a dynamic modern city under the leadership of the vision of the ruling family of today.
Population
Dubai reflects itself in its population, which comprises an eclectic and dynamic mixture. Dubai's multicultural fabric has been enhanced by an influx of expatriates. Furthermore, residents exhibit both traditional and modern traits which create its unique social fabric.
Culture
Dubai's culture is vibrant and eclectic, both reflecting its past as well as modern life. Traditions Emiratis and global influences come together in celebration. This city hosts numerous cultural events such as traditional festivals and international art exhibits to foster cultural exchange and share knowledge across cultures.
Advantages of Buying an Apartment in Dubai
Tax-free Investment
Tax-free Investment Dubai stands out among cities worldwide as being unique for offering no personal income tax or capital gains tax; because of this advantageous tax regime, property ownership becomes more accessible while returns on investments increase substantially; investors can reap all of the advantages that property appreciation brings without incurring tax implications.
Stable Real Estate Market
Dubai has demonstrated consistent and stable real estate growth over recent years, even during times of global economic decline, drawing investors who seek reliable investments that offer potential capital appreciation and stable rental returns. Government initiatives, tourism industry expansion, and mega events all work to support Dubai's market; both offer compelling reasons to consider buying property there.
Diverse Property Options
Dubai property market offers investors an abundance of property options. Dubai boasts luxury villas, upscale apartments, and commercial spaces; as well as master-planned developments offering unique features and amenities allowing investors to select properties best suiting their budget and lifestyle needs.
Foreign Ownership Rights
Foreign Ownership Rights Dubai allows non-UAE nationals and residents alike to purchase freehold properties at 100% ownership with full rights of resale in certain zones or areas; foreign investment has increased dramatically as a result. This investor-friendly environment has resulted in the massive success of local construction industry growth in Dubai.
Golden Visa Relaxation
Recently, the UAE government made changes to its Golden Visa program which will permit individuals to stay longer in the Emirates whether investing, running a business, forming relationships, or living there. Candidates now only require investing Dh 2million for eligibility to receive one and validity can now last 10 years - this change will provide entrepreneurs and businessmen with better long-term opportunities to establish themselves and expand their businesses in UAE.
World-Class Infrastructure and Amenities
Dubai stands out as an exceptional infrastructure and amenities city with unmatched facilities, from world-class transportation systems and healthcare to educational, recreational, and property investments in Dubai are a great way to take part in this dynamic, fast-growing metropolis that consistently strives for new urban standards; property investing here attracts both property buyers and renters. It also creates high rental demand among its diverse multicultural population of inhabitants.
Advantages of Living in Dubai
Dubai is an increasingly diverse city where residents from various backgrounds reside together harmoniously - which has made integrating easier due to English being spoken daily by its population.
Dubai's job market is robust. Expats who possess extensive experience working in finance, IT, or the international trade sector tend to be in great demand.
Dubai offers endless entertainment and fun activities, whether alone, with family or friends, in couples, on honeymoons, for bachelor parties or simply to pass the time. Thanks to Dubai Tourism investments made throughout, something exciting is always new to discover!
Dubai stands out with an exceptionally favorable tax structure that does not levy taxes on employee salaries or profits.
Is Real Estate Investment in Dubai Worthwhile?
Property has long been one of the premier investments for both local and foreign investors alike. Property investments in Dubai have long been among the most lucrative options due to its luxury apartments, palm-tree-shaped islands, commercial centers, exhibitions, and mega-events; as more expatriates and visitors from business/industry representatives enter Dubai every day making these real estate investments all the more lucrative.
Related: What is the return on investment (ROI) in real estate?
Average Prices of Apartments in Dubai
Here's a peek into the average prices per square foot in some popular areas:
| | |
| --- | --- |
| Area | Avg. Price Per Sq. Ft. |
| Dubai Marina | AED 1,737 |
| Jumeirah Village Circle (JVC) | AED 1,036 |
| Downtown Dubai | AED 2,646 |
| Business Bay | AED 1,928 |
| Jumeirah Lake Towers (JLT) | AED 1,201 |
The Best Areas of Dubai to Buy an Apartment
Palm Jumeirah
Palm Jumeirah represents luxury at its best. This iconic archipelago offers breathtaking views over the ocean and exclusive amenities. It is not only beautiful to behold, it offers an opulent and sophisticated lifestyle.
Dubai Marina
Dubai Marina boasts an energetic and lively ambiance. There are various dining and entertainment venues scattered around its marina. Additionally, apartments located within its borders often boast stunning views overlooking both Arabian Gulf and marina waters.
Downtown Dubai
Downtown Dubai provides an unforgettable urban experience, featuring iconic structures like Burj Khalifa. Additionally, Downtown Dubai hosts numerous cultural and concert events.
Jumeirah Village Circle
Jumeirah Village Circle was designed as a community-driven development, making it the ideal option for any family. Offering parks, recreational areas, and schools all within close proximity creates an inviting setting compared to more expensive communities in Jumeirah Village Circle.
Check out our offers for apartments for sale in Jumeirah Village Circle.
Arabian Ranches
Arabian Ranches provides an idyllic suburban retreat from city life. Showcasing an excellent equestrian facility for horse enthusiasts.
International City
International City, an exciting fusion of cultures and lifestyles from countries all around the globe, provides an extraordinary living experience at an economical cost. While offering affordable housing solutions without compromising amenities.
Business Bay
Business Bay area offers working professionals an ideal location, boasting its centrality. Boasting modern skyscrapers dotting its skyline, Business Bay makes for an exciting atmosphere when out and about for work.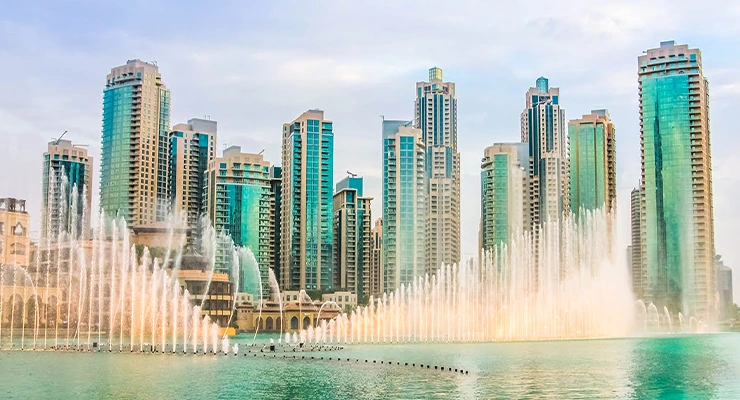 Apartments for Sale in Dubai by Imtilak Global
Sea View Apartments for Sale in Dubai
As soon as you wake up and look out at a gorgeous ocean scene, imagine coming home to an apartment featuring sea view apartments for sale in Dubai that offer peace and beauty as you wake. Many properties come equipped with luxurious amenities that enhance both tranquility and luxuriousness for residents to experience during their daily routines.
 Apartments for Sale in Dubai on Installments
You have the ability to spread out the costs of buying an apartment over time, making homeownership more accessible for those who find paying large sums all at once difficult. Installments make homeownership accessible for everyone who may find this method more manageable than paying upfront for ownership of one unit.
Steps and Conditions for Buying an Apartment in Dubai for Foreigners
Foreigners looking to purchase homes in Dubai need only follow three easy steps - depending on whether it is for resale or brand new: Select a DLD-approved developer (for new apartments); Secure an agent registered with RERA as your broker and
Get loans should you require them, Application for No Objection Certificate, when dealing with new or resale units; Registration with DLD.
Book a Free Consultation with the Imtilak Global Expert Team
Ready to turn your property dreams of Dubai into reality? Imtilak Global's expert team stands ready to guide the journey. Book a consultation now to begin finding your ideal property - they provide tailored advice specifically suited to each buyer's individual requirements!
Edited by Imtilak Global ©
Do you like this topic? You can share it with your friends now!
Dubai Region Report


The most favorite cities for foreign investors
The nationalities that owned the most in Turkey